China Vows Retaliation, India Boosts Defenses as Both Claim Border Incursions
China has vowed retaliation and India has bolstered its defenses amid a new flare-up in border tensions that saw both sides accuse the other of attempting to cross their disputed boundary in the Himalayan highlands.
In the latest episode to emerge from an ongoing standoff that erupted in May and turned deadly the following month, the Chinese People's Liberation Army and Indian Armed Forces charged one other Monday with trying to redraw the contested Line of Actual Control between India-administered Ladakh and China-administered Aksai Chin. The details of the incident remain difficult to discern, but heated rhetoric from the two nuclear-armed Asian powers suggest that attempts to resolve their violent border spat have failed so far.
The Indian military released a report Monday of the alleged incursion attempt by China.
"On the night of 29/30 August 2020, PLA troops violated the previous consensus arrived at during military and diplomatic engagements during the ongoing standoff in Eastern Ladakh and carried out provocative military movements to change the status quo," Indian military spokesperson Colonel Aman Anand said in a statement he provided to Newsweek.
Anand later confirmed to Newsweek there were "no physical clashes" between the two forces, but stated in his report that the Indian military repelled Chinese troops trying to take a strategic position near Pangong Lake.
"Indian troops pre-empted this PLA activity on the southern bank of Pangong Tso Lake, undertook measures to strengthen our positions and thwart Chinese intentions to unilaterally change facts on ground," he said.
Colonel Anand emphasized India's commitment to a diplomatic solution to the border dispute, but he did not rule out military action.
"The Indian Army is committed to maintaining peace and tranquility through dialogue, " Anand said, "but is also equally determined to protect its territorial integrity."
Colonel Anand reported that that Indian and Chinese brigade commanders were meeting at India's Chushul "to resolve the issues."
China outright denied India's claims that the PLA tried to incur across the border.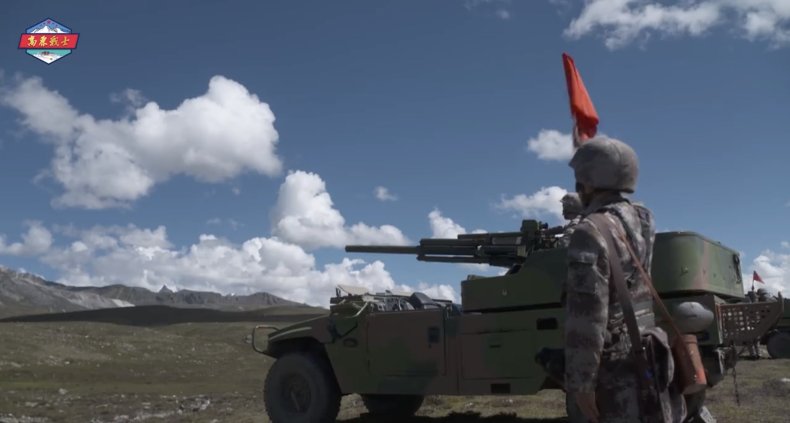 Chinese Foreign Ministry spokesperson Zhao Lijian told a press conference in Beijing that his country's frontier forces "have always strictly adhered to the line of actual control and have never crossed the line."
But Lijian confirmed that the two sides remain in close contact on the issue.
"The border defense forces of the two countries have always maintained communication on current issues," Zhao said, adding later that the two nations "maintain close communication through diplomatic agencies and military channels."
The Chinese military insists, however, that it was Indian troops who crossed the border into China.
"The Indian army undermined the consensus reached in the previous multi-level talks between the two sides," PLA Western Theater Command spokesperson Colonel Zhang Shuili said in a separate statement Monday, "and once again illegally crossed the line on the south bank of Pangong Lake and near the Reqin Pass, blatantly provoking and causing tension on the border."
He said China "strongly opposes" India's actions, which "seriously violated China's territorial sovereignty" and "severely undermined the peace and stability of the Sino-Indian border area."
Colonel Shiuli put the onus on India.
"We solemnly request the Indian side to immediately withdraw its illegally crossing troops, strictly control and restrain its frontline troops, earnestly abide by its commitments and avoid further escalation of the situation," he said.
Just as his counterpart in India, Colonel Anand, had done, Colonel Shiuli said his country was willing to use its military forces to enforce border security.
"The Chinese military is taking necessary countermeasures," he said, "and will pay close attention to developments and resolutely safeguard China's territorial sovereignty and peace and stability in border areas."
The most recent row between China and India comes despite both countries saying they were capable of resolving their long-running dispute. The two countries once went to war over their border troubles in 1962 but interactions have since largely been peaceful, turning violent only occasionally such as a high-profile skirmish in 2017.
China and India, home to the world's first and second-largest populations, respectively, have witnessed surges in nationalism as the rising powers translate growing economic, political and military clout into geopolitical ambitions.
As the top economic competitor to the United States, Beijing's regional moves have caught the attention of Washington, which has sought to counter them with a "Free and Open Indo-Pacific" group that includes New Delhi.
With Australia and Japan also on board, the U.S. has sought to push back on China's growing influence in the South China Sea and other strategic areas. As for the border dispute with India, U.S. officials such as Secretary of State Mike Pompeo and Under Secretary for Economic Growth, Energy and the Environment Keith Krach have blamed China, calling its actions indicative of an expansionist nature.
The latest India-China confrontation came just ahead of a virtual event held Monday nu by the U.S.-India Strategic Partnership Forum, which featured senior officials of President Donald Trump's administration.
U.S. Deputy Secretary Stephen Biegun said the administration's strategy to counter Beijing was "to push back against China in virtually every domain"—including at its border with India.
"I think India has even more alarm about the neighborhood in which it resides with the recent clashes with China," Biegun said. "We're very eager to help India become and remain a world-class power in contributing net security rather than worrying about net security and how it affects their interests and I think defense cooperation is a key avenue for this."
Vice President Mike Pence also appeared, ascribing much of the warming ties between Washington and New Delhi to the "larger-than-life" personas of Trump and Indian Prime Minister Narendra Modi.
Pence said Trump also enjoyed "very good relations" with his Chinese counterpart Xi Jinping and sought a more cooperative relationship, but argued that the U.S. would "continue to stand firm with our allies in the region like India."
Chinese officials like Zhao have demanded the U.S. stay out of issues regarding Chinese territorial disputes, including those regarding control over Taiwan, Hong Kong and the South China Sea, and that Washington respect Beijing's bilateral dealings with other countries across the globe.
"For some time, some U.S. politicians, out of a zero-sum mentality, the Cold-War mindset and selfish political interests, have been viciously attacking China's political system, smearing China and sowing discord between other countries and China," Zhao told reporters Monday. "China is firmly opposed to this."
This article has been updated to include remarks from U.S. Deputy Secretary of State Stephen Biegun and Vice President Mike Pence.