Japan went on high alert earlier this week after numerous warships spotted south of Tokyo indicated an increased presence of Russian and Chinese forces near the country's territory.
Seven Russian warships were spotted moving southward off the coast of Japan's northmost island, Hokkaido, on Thursday and Friday, according to the Japan Times, passing by the uninhabited Izu Islands. Japan's Joint Staff confirmed that the foreign vessels were monitored by ships and aircraft from the Maritime Self-Defense Force.
Prior to Thursday, Russian warships had not been spotted near Japanese waters since October. At that time, a total of 10 vessels from Russia and China were spotted making their way around the country, raising alarms about the foreign countries operating near Japan.
Later, on Friday morning, nine more Russian vessels were spotted around Cape Soya, near the northernmost point of Hokkaido. Despite the concern, none of the warships spotted last week were found to have actually entered Japanese waters and were not observed taking any dangerous actions.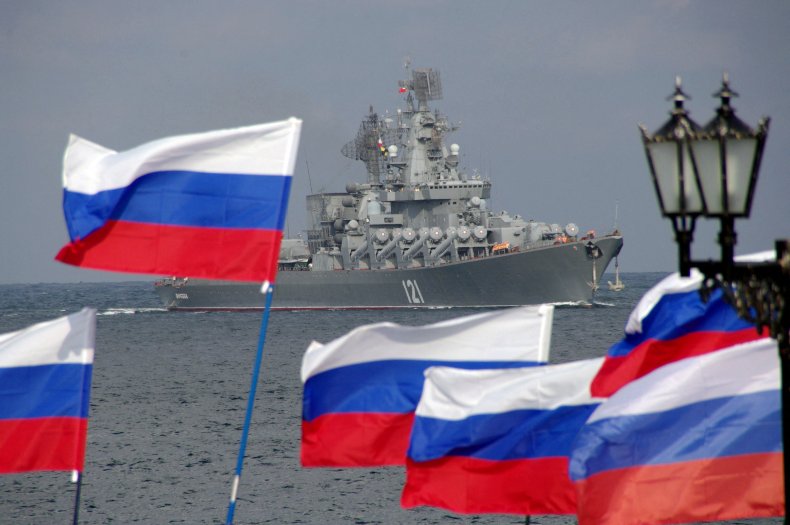 Russian forces had previously announced plans to run large-scale training drills in the Pacific Ocean with 40 warships. Japan's Defense Ministry noted the possibility that the 16 ships spotted near the country's waters might have been taking part in those drills. As of Saturday, however, this had not been confirmed.
The Joint Staff also announced that, around the same time, two Chinese missile destroyers were spotted passing through the seas of Japan, heading from the Tsushima Strait to the Okhotsk Sea.
Newsweek reached out to the Japanese Defense Ministry for comment.
Tension ran high between Japan and Russia as recently as the end of April, when the latter warned of potential retaliation if Japanese and American vessels continued to run naval exercises near Russian waters. The statement, made by Russian Deputy Foreign Minister Igor Morgulov, came in response to reports that the U.S. Marine Corps was planning to run its largest-ever drills with Japan in September and October, known as "Resolute Dragon," with more than 4,000 military members potentially taking place.
"We see such actions by the Japanese side as a threat to the security of our country," Morgulov told the state-owned newswire RIA Novosti. "We directly warn Tokyo about this through diplomatic channels. They should be prepared for the fact that if such practices expand, Russia will take retaliatory measures in the interests of strengthening its defense capabilities."
Japan and the U.S., prior to this statement from Russia, had held around 10 joint naval drills in the wake of the invasion of Ukraine.