Ukrainian presidential advisor Mykhailo Podolyak has linked the end of the war in his country to the immediate supply of western weapons to Kyiv.
In an interview with France 24, Podolyak was asked for his prediction on how long the war would last in Ukraine, following Russia's full-scale invasion on February 24.
"It's impossible to say this in a few words but we have a consensus in Ukraine on this issue," he said. "If we receive heavy weapons fairly quickly, the war shouldn't take more than another three or six months, and if all conditions are met we hope to take back our territories."
"If it turns out this way, Russia will no longer be in a position to threaten Europe and be disruptive."
Podolyak said he welcomed the European unity displayed by the visit this week to the Ukrainian cities of Kyiv and Irpin of the French, German, Italian and Romanian leaders, but this show of support needed to be backed up by the supply of heavy weapons.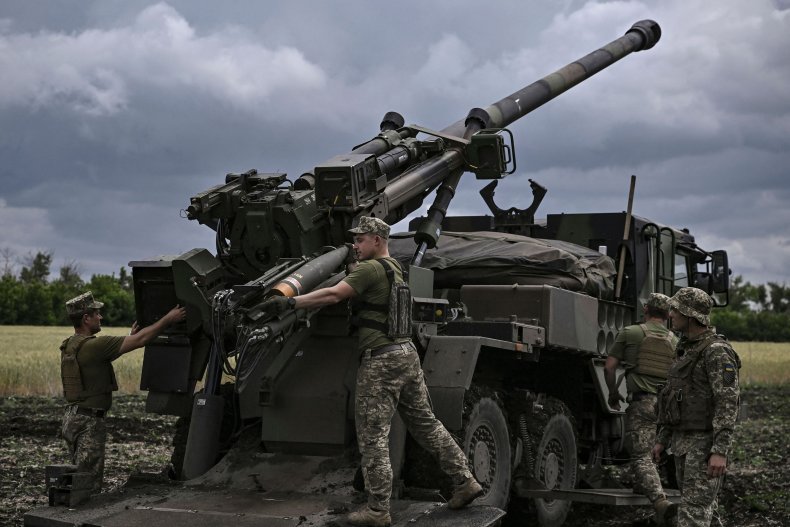 "We hope that Ukraine will receive the necessary support to hold its own against Russia," he said. "In order to properly end this war, we need those heavy armament supplies from our partners, and we need a Russian military defeat in the west and the south."
Although Kyiv's forces have put up fierce resistance against Russia, the calls from Ukraine for more weapons from the west have been growing louder in recent weeks. Ukraine has been promised NATO-standard weapons, including advanced U.S. rockets.
Earlier this month, Podolyak gave specific demands to the west, saying that Kyiv's forces needed 1,000 howitzers, 500 tanks and 1,000 drones, among other heavy weapons.
This week, Ukraine's deputy defense minister Hanna Maliar said her country's forces have only "about 10 percent of what we need" and said that "without the help of Western partners we will not be able to win this war."
This week, the Pentagon announced a $1 billion security assistance package for Ukraine, including two Harpoon coastal defense systems. Denmark has also sent Harpoon missiles to Ukraine.
During a surprise visit to Kyiv on Friday, British Prime Minister Boris Johnson offered training for Ukrainian forces and urged for the need to keep supporting the country and avoid "Ukraine fatigue."
Ukraine's armed forces said on Saturday that the industrial city of Severodonetsk, a focus for Moscow's offensive to seize full control of the eastern Luhansk region, was under heavy Russian artillery and rocket fire.
Meanwhile, in its daily assessment, the U.K. Ministry of Defense said that Russia has probably renewed its efforts to advance south of the eastern city of Izyum over the last 48 hours as it seeks to surround Severodonetsk from the north.
The defense officials have also said Ukrainian civilians trapped in the city were likely to be suspicious of using humanitarian corridors proposed by separatists and Russian officials.