Ukraine has said it has only a fraction of the weapons it needs to take on Russia, and has urged the west to speed up the delivery of more arms as it faces a bitter fight in the eastern Donbas region.
In an urgent televised plea, Ukraine's deputy defense minister Hanna Maliar said on Tuesday "we can't wait too long because the situation is very difficult."
"No matter how hard Ukraine tries, no matter how professional our army is," she said, according to a translation, "without the help of Western partners we will not be able to win this war," Ukrainian news outlet Hromadske reported.
Maliar said there should be a clear time frame for such deliveries "because every day there's a delay, we're talking about the lives of Ukrainian soldiers and civilians."
"We have got about 10 percent of what we need."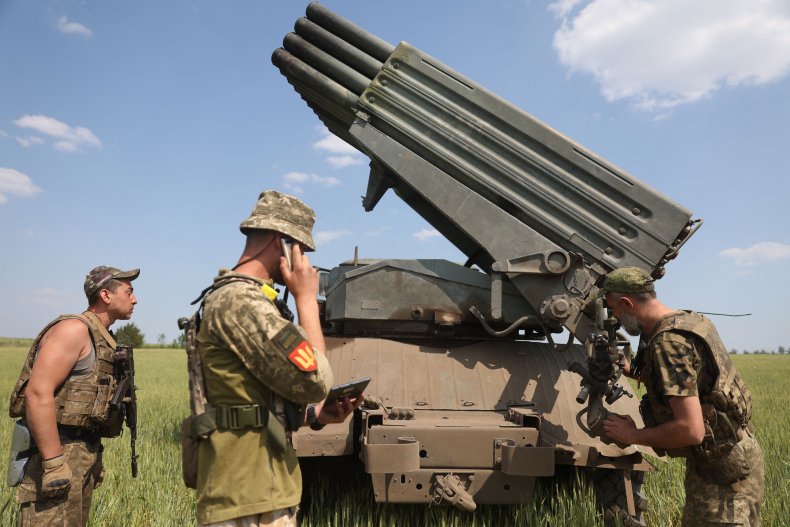 Her comments come as global defense ministers, including from NATO countries meet in Brussels on Wednesday to discuss weapon deliveries to Ukraine.
On Tuesday, the alliance's secretary-general Jens Stoltenberg told a press conference in The Hague that the west needed to deliver Kyiv more weapons, saying, "we have not done enough to defend Ukraine."
Ukraine's presidential adviser Mykhailo Podolyak had said this week his forces needed 1,000 howitzers, 500 tanks and 1,000 drones, among other heavy weapons.
Ukraine has been promised NATO-standard weapons, which include advanced U.S. rockets, but it takes time to deploy them and transitioning from Soviet-era weapons and munitions requires constant western support.
In his nightly video address, Ukrainian president Volodymyr Zelensky said Kyiv had reiterated to its allies the need for more modern anti-missile weapons, and that delays in their supply "cannot be justified."
"Even though Russia has fewer and fewer modern missiles with each passing day, Ukraine's need for such systems remains," he said, adding that Russia's use of less precise Soviet-era missiles posed more of a threat to buildings and civilians.
He also spoke of "painful" losses in the Donbas city of Severodonetsk which British defense officials said is mostly controlled by Russia.
The U.K's Ministry of Defense said on Wednesday that Russia's urban warfare tactics which rely on the heavy use of artillery, "have generated extensive collateral damage throughout the city."
Ukrainian Armed Forces, along with several hundred civilians, are sheltering in underground bunkers in the Azot Chemical Plant, in the city's industrial zone, around which Russian forces will likely be fixed.
"This will likely temporarily prevent Russia from re-tasking these units for missions elsewhere," British defense officials said, "it is highly unlikely that Russia anticipated such robust opposition, or such slow, attritional conflict during its original planning for the invasion."