Ukrainian presidential adviser and peace talks negotiator on Monday revealed the weapons Ukraine needs to end the war against Russia, as fighting intensifies in Ukraine's east.
"Being straightforward—to end the war we need heavy weapons parity," Mykhailo Podolyak said on Twitter Monday morning.
To bring an end to the conflict, Ukraine needs 1,000 howitzers caliber 155 mm, 300 MLRS (M270 Multiple Launch Rocket System), 500 tanks, 2,000 armored vehicles, and 1,000 drones, Podolyak added.
Podolyak also added that the "Contact Group of Defense Ministers meeting is held in #Brussels on June 15. We are waiting for a decision.
He was referring to a meeting set to be hosted by U.S. Secretary of Defense Lloyd Austin at the NATO Headquarters in Brussels, Belgium, on Wednesday.
Austin has invited Ministers of Defense and Chiefs of Defense from around the world to discuss the ongoing war in Ukraine, which began in February.
The official's pleas for weapons from international allies comes as Russia pushes forward with its offensive in the eastern region in Ukraine, and as Russian troops forced Ukraine's units out of central Severodonetsk, a strategically vital city in the region that Moscow is attempting to conquer.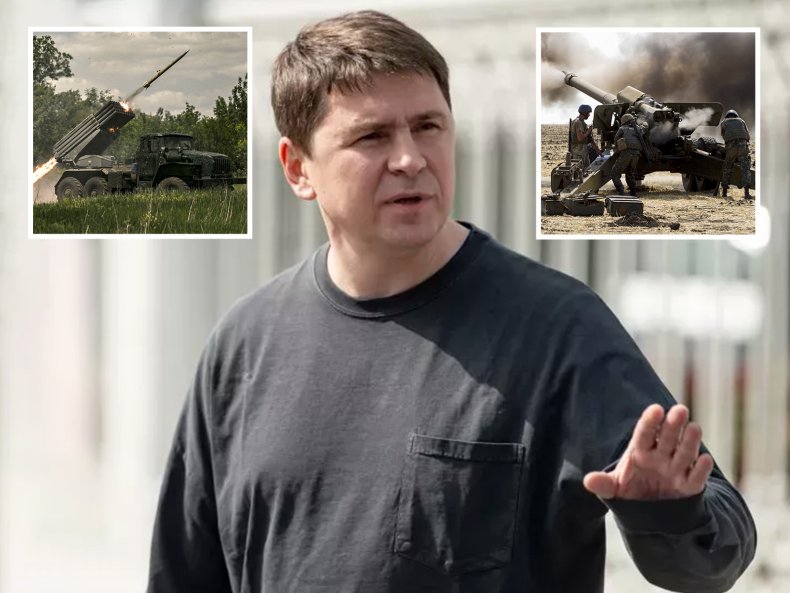 Vadym Skibitsky, deputy head of Ukraine's military intelligence, told Britain's Guardian newspaper Friday that the war now depends on the weapons Ukraine receives from Western allies.
"Everything now depends on what [the West] gives us," Skibitsky said.
On Friday, Mykolaiv Regional Governor Vitaliy Kim also called for more support from U.S. and European allies, VOA News reported.
"Russia's army is more powerful, they have a lot of artillery and ammo. For now, this is a war of artillery... and we are out of ammo," said Kim, speaking from near the frontlines. "The help of Europe and America is very, very important."
Pleas for more weapons from the West have intensified in recent days as Russian forces advance in eastern Ukraine.
On Monday morning, the Ukrainian military said Russian troops forced Ukraine's units out of central Severodonetsk, and fired artillery at its troops in the areas of the settlements of Lysychansk, Severodonetsk and Toshkivka.
Serhiy Gaidai, the governor of Ukraine's Luhansk region, has said the "next two or three days will be significant" for the city of Severodonetsk.
Russian troops are attempting to seize Severodonetsk and its twin city Lysychansk; doing so would place all of Luhansk under Russian control and grant Russian President Vladimir Putin a form of military victory.
The U.S. on June 1 pledged military assistance to Ukraine, including helicopters, Javelin anti-tank weapon systems, radars, and tactical vehicles.
Kremlin spokesman Dmitry Peskov has accused the Biden administration of "deliberately and diligently pouring fuel on the fire."
Newsweek has contacted the U.S. Department of Defense for comment.