How Russia's Invasion of Ukraine Unraveled Over 100 Days
When Russian President Vladimir Putin declared a so-called "special military operation" in Ukraine on February 24, Russia hoped to quickly seize the capital Kyiv.
As the invasion marks the grim milestone of its 100th day on Friday, June 3, however, the tide of the conflict in Ukraine appears to be increasingly in the balance amid stiff resistance and pushback from Ukraine's armed forces, and growing losses of troops and equipment on Moscow's side.
Putin failed to achieve his initial goal which was to quickly overtake of all of Ukraine, the fall of his Ukrainian counterpart Volodymyr Zelensky's administration, and the installation of a puppet administration loyal to Moscow.
Tens of thousands of Ukrainian civilians have been killed, and millions of Ukrainians have fled their homeland, making the conflict the most significant war in Europe in 80 years.
Below, a timeline of how Putin's invasion of Ukraine has unraveled over 100 days.
Putin Launches War
February 24
Russian President Vladimir Putin launched his full-scale invasion against neighboring Ukraine, vowing to "demilitarize" and "denazify" the country and replace its leaders. The leader's forces invaded the country from three fronts, prompting tens of thousands of Ukrainians to flee.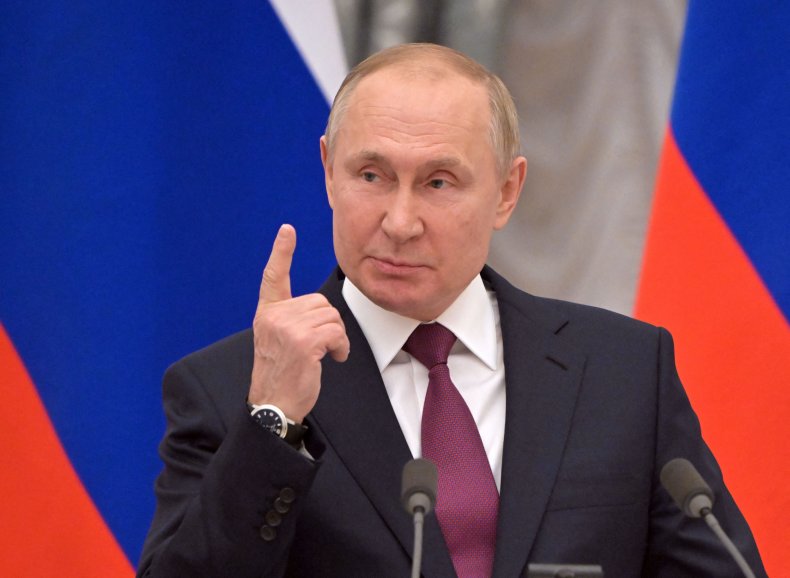 Russia Advances on Kyiv, Shells Kharkiv
March 1
U.S. officials said a miles-long convoy of Russian tanks, armored vehicles, and artillery was approaching the Ukrainian capital, Kyiv, as fears of an assault on the city continued to grow. U.K. intelligence suggested the convoy could be looking to encircle the city, but it remained stalled due to Ukrainian resistance.
Sirens warned Kyiv's residents to take shelter, while fighting intensified between Russian and Ukrainian forces outside the capital. Ukrainian officials instructed civilians to prepare Molotov cocktails to fight off invading Russian troops.
By this point, Russia had already launched indiscriminate attacks on civilian areas, human rights groups said.
A Russian missile struck near a government building in Kharkiv, Ukraine's second-largest city.
Mariupol Assault
March 2
Russia began an assault on the southeastern port of Mariupol, a strategic port city on the Azov Sea that forms part of a land corridor from the eastern Donbas region, which borders Russia, to Crimea, which the Kremlin annexed from Ukraine in 2014.
Putin's forces captured Kherson, the Black Sea port city in southern Ukraine. It became the first major city to be taken by Putin's forces as Russia continued to strike more civilian targets.
Hundreds of Ukrainian protesters took to the streets chanting, waving Ukrainian flags, and holding posters, as Russian forces stood by.
Russian Troops Occupy Nuclear Plant Site
March 4
Russian troops seized the Zaporizhzhia nuclear plant—the largest nuclear power plant in Europe and among the 10 largest in the world.
Ukrainian President Volodymyr Zelensky said that "no country other than Russia has ever fired on nuclear power units. This is the first time in our history," adding, "the terrorist state now resorted to nuclear terror."
Civilians Flee, Hospital Bombed
March 8 and 9
Ukrainians fled the northeastern city of Sumy along a humanitarian corridor.
Ukraine accused Putin's troops of shelling a maternity hospital in Mariupol, causing multiple casualties. Zelensky called the bombing an "atrocity."
"People, children are under the wreckage. Atrocity!" Zelensky tweeted.
Civilian Deaths Rise
March 15
By mid-March, more than two weeks into Putin's assault on Ukraine, the United Nations' Office of the High Commissioner for Human Rights said at least 636 civilians were killed and a further 1,125 were injured.
Kyiv Failure
March 25
A month into the invasion, and after failing to seize Kyiv, Putin changed his military strategy, including establishing sieges and ramping attacks on civilian locations.
Moscow signaled that it would shift its focus to the east of the country—Ukraine's Donbas region. Russia also ramped up its operations in Mariupol, now under siege and constant shelling for weeks.
Western intelligence updates said Russian forces appear to be facing supply and morale issues, while Ukrainian troops continue to put up stiff resistance.
Ukraine Reclaims Territory
April 1
Ukrainian military chiefs said that its forces had liberated 15 settlements in the Kyiv region: Demydiv, Dymer, Lytvynivka, Gavrylivka, Kozarovychi, Zhovtneve, Hlybivka, Yasnohorodka, Talakun, Sukoluchchya, Lypivka, Gavronshchyna, Makovyshche, Mykolaivka, Khmilna.
Bucha Massacre
April 2
As the Russian military retreated from the Kyiv region, reports emerged of civilians being shot to death with their tied behind their back. Bodies of naked women were found on a highway and corpses were spotted in yards, cars and in the streets near the Ukrainian capital.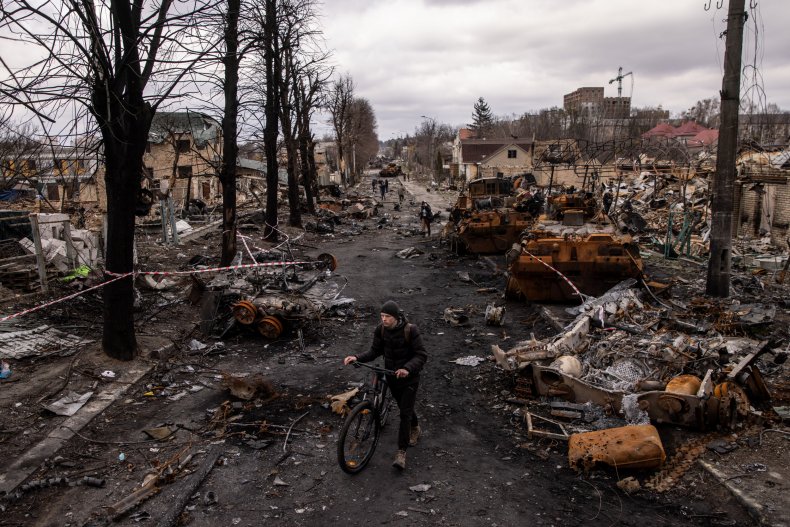 Ukrainian authorities said they were investigating potential war crimes by Russian forces. The Kremlin denied any accusations connected to the killing of civilians in Bucha.
Moskva Sinks
April 14
The Moskva missile cruiser, Russia's flagship of its Black Sea Fleet, sank hours after Ukraine claimed to have dealt significant damage to the vessel with a missile strike. Russia denied the claims, saying that any damage was caused by fire on board that led to some ammunition detonating.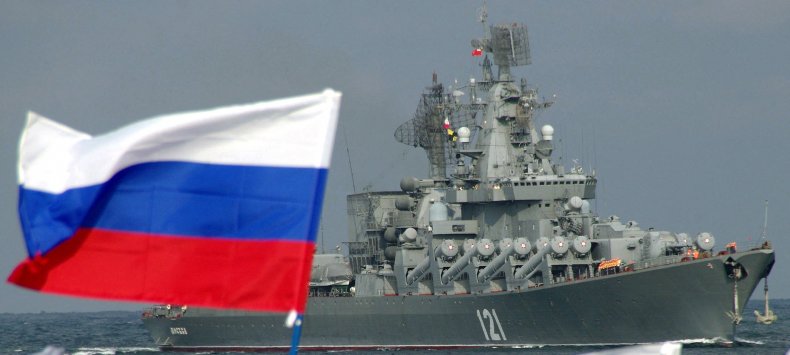 Battle of Donbas Begins
April 19
Russia renewed its offensive in Ukraine's eastern Donbas region—a heavily disputed region that Russia has recognized as independent.
"The Russian troops have begun the battle for the Donbas," Zelensky said in a video address, adding that a "significant part of the entire Russian army is now concentrated on this offensive."
Civilians Evacuated From Azovstal Steel Plant
May 7
All women, children and elderly people were evacuated from Mariupol's Azovstal steel plant, a Ukrainian official said. Hundreds of Ukrainian civilians took shelter in the steel plant, the last Ukrainian stronghold in Mariupol, as Russian forces sought to besiege the city.
Fall of Mariupol
May 18
Russian authorities said nearly 1,000 Ukrainian fighters defending the Azovstal steel plant surrendered after weeks of intense fighting.
Kremlin spokesperson Dmitry Peskov said Putin had guaranteed that the troops who surrendered would be treated "in accordance with international standards".
Battle of Donbas Intensifies
May 30
Putin is looking for military victory by attempting to seize the two big eastern regions, Luhansk and Donetsk, swathes of which have been under the control of Kremlin-backed separatists since 2014.
If Putin's troops capture the twin cities of Severodonetsk and Lysychansk, then all of Luhansk would be under Russian control.
Russia's Foreign Minister Sergey Lavrov told French TF1 television that Putin's "unconditional priority" in the war is "the liberation of the Donetsk and Luhansk regions."
Zelensky has maintained that Ukraine will never give up territory to help reach peace in the ongoing war.