All Women and Children Evacuated From Mariupol Steel Mill Amid Last Stand
Women, children and elderly people were evacuated from the Azovstal steel plant in Mariupol, a Ukrainian official announced Saturday.
Hundreds of Ukrainian civilians took shelter in the steel plant, the last Ukrainian stronghold in Mariupol, as Russian forces have sought to besiege the city. The plant has become the site of a fierce battle between Russian and Ukrainian soldiers as Russia aims to complete its takeover by May 9 for its Victory Day celebration.
Ukrainian Deputy Prime Minister Iryna Vereshchuk announced in a Telegram post that part of a humanitarian operation to evacuate civilians had been "completed."
"The President's order has been carried out: all women, children and the elderly have been evacuated from Azovstal. This part of the Mariupol humanitarian operation has been completed," she wrote.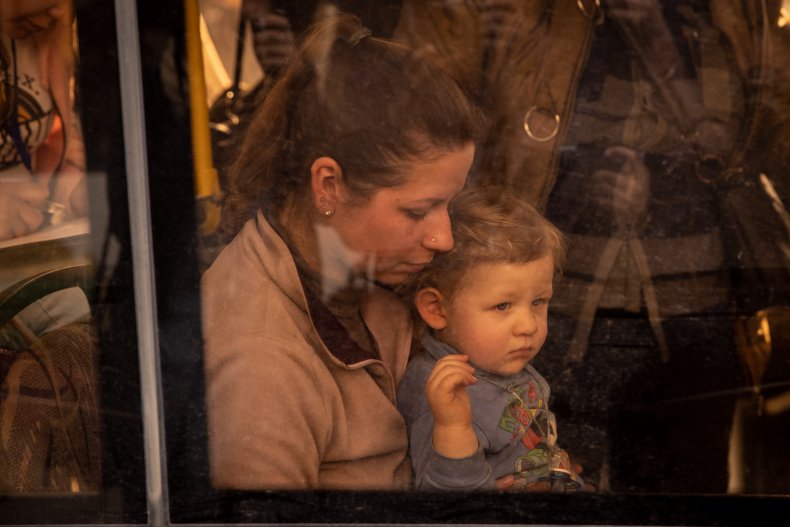 On Friday, Ukraine announced a plan to evacuate civilians from Azovstal and other parts of Mariupol, as the United Nations has also carried out a third operation to evacuate civilians from the area, according to Reuters.
Ukrainian President Volodymyr Zelensky said earlier in the week that at least 200 civilians were still at the plant in underground bunkers, where they had little access to food or water as Russia continued shelling the plant, Reuters reported Thursday.
About 2,000 Ukrainian forces are believed to be defending the plant against Russian attacks.
Meanwhile, Russian President Vladimir Putin is ramping up his military's offensive in the city in an effort to take the plant before Victory Day, in what would be a symbolic victory for the country, which has largely struggled to make the progress it hoped for since the invasion began at the end of February.
Russia has also claimed the city is already completely under its control, despite the continued Ukrainian resistance they face at the plant.
"Azovstal, the stronghold, the last stronghold of Ukrainian resistance in Mariupol still holds," Ukrainian Foreign Minister Dmytro Kuleba said Wednesday. "Russia attacks them every day, either by throwing bombs on them endlessly or by undertaking physical, physical attacks throwing [involving] infantry."
Mariupol is a strategic city on the Azov Sea that would provide Russia with land access to Crimea, a region of Ukraine that the Kremlin annexed in 2014. It is also an important port, and a Russian takeover could threaten to cut off the country from critical trade routes.
Russia previously promised to end its offensive during the day on Thursday, Friday and Saturday to allow civilians to leave, according to Reuters.
One civilian rescued from the plant, 37-year-old Natalia Usmanova, told reporters last Sunday that she had "terrible fear" in the bunker, where civilians "didn't see the sun for so long."
"You just can't imagine what we have been through—the terror," she said. "I lived there, worked there all my life, but what we saw there was just terrible."