Russia Says Mariupol Completely Occupied but Fighting Continues at Azovstal
Russian forces continue to face Ukrainian resistance in Mariupol despite Moscow having claimed that the besieged city was fully under Russian control.
Ukrainian Foreign Minister Dmytro Kuleba said on Wednesday that Mariupol's Azovstal steel plant remains the site of a fierce battle between Ukrainian and Russian forces, according to Al Arabiya. Hundreds of civilians, some of whom were recently evacuated, have sheltered in the plant while members of Ukraine's Azov Regiment engaged with the Russian military.
"Despite all the statements by Russian officials that Mariupol is under their full control, this is not true," Kuleba reportedly said. "Azovstal, the stronghold, the last stronghold of Ukrainian resistance in Mariupol still holds. Russia attacks them every day, either by throwing bombs on them endlessly or by undertaking physical, physical attacks throwing [involving] infantry."
The same day, Kremlin spokesman Dmitry Peskov denied that Russian forces were storming the plant. Peskov said that "no assault" was happening at the plant, with Russian President Vladimir Putin purportedly telling "supreme commanders to cancel the assault" earlier, according to Russian state-run news agency TASS.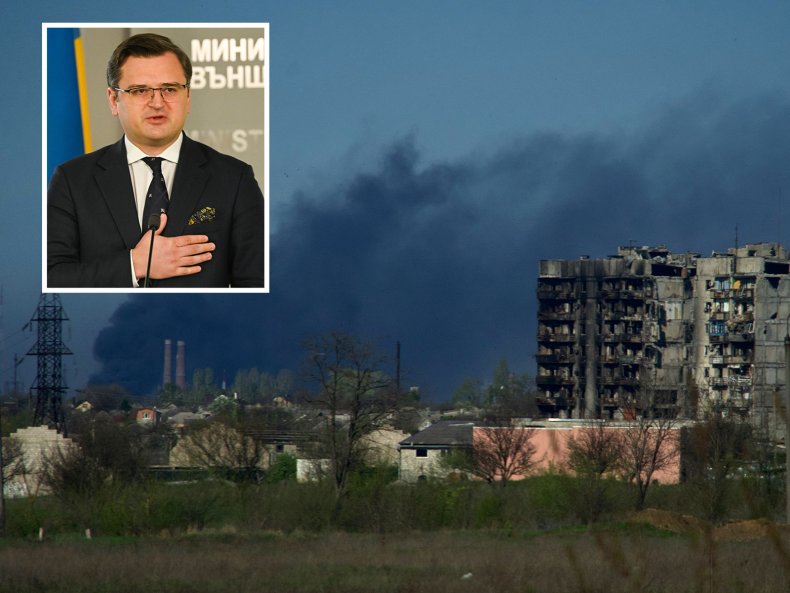 Meanwhile, Azov Regiment commander Denys Prokopenko praised his soldiers for their "inhuman efforts" of fending off a Russian attack at the plant in a message posted to Telegram, according to Ukrainian state-run news agency Ukrinform.
"Since April 25, 2022, we have been keeping the all-round defense within the Azovstal plant," Prokopenko reportedly wrote. "It's been two days since the enemy broke into the territory of the plant. Heavy [bloody] battles are raging. I am proud of our soldiers making inhuman efforts to hold back enemy attacks."
Russia has frequently cited the Azov Regiment as evidence that the invasion of Ukraine is part of a "denazification" effort. The far-right militia rose to prominence in 2014, when it fought pro-Russian separatists in the Donbas region. It has since become part of Ukraine's National Guard, despite its association with Nazi ideology and symbols.
Earlier this week, Russian Foreign Minister Sergey Lavrov compared Ukrainian President Volodymyr Zelensky, who is Jewish, to Nazi leader Adolf Hitler, sparking outrage from Israel. On Wednesday, Russian Foreign Ministry spokesperson Maria Zakharova said that "Israeli mercenaries are actually shoulder to shoulder with the Azov militants" during a radio interview.
While civilian evacuations from Mariupol and the Azovstal plant have taken place this week after stalling for nearly a month, Mariupol authorities said that at least 200 civilians and Ukrainian fighters remained at the plant as of Wednesday, according to Reuters. Russia said that it would allow more civilians to leave by pausing military activity at the plant for two days beginning on Thursday.
"The second stage of our evacuation operation from Mariupol was completed today; 344 people were rescued—from the city and its suburbs... more than 150 people whom we managed to take out of Azovstal," Zelensky said during an address, according to a transcript obtained by Newsweek.
"We are negotiating and hope to continue rescuing people from Azovstal, from Mariupol," the Ukrainian president added. "There are still civilians. Women, children."
Newsweek reached out of the government of Russia for comment.