Russia has accused Israel of supporting "the neo-Nazi regime" in Kyiv amid a deepening dispute between the countries sparked when Russian Foreign Minister Sergei Lavrov suggested Adolf Hitler was part Jewish.
On Tuesday, the Russian Foreign Ministry criticized Israeli Foreign Minister Yair Lapid, who was angered by Lavrov's remark that "Hitler also had Jewish blood." Lapid said Lavrov had made an "unforgivable and outrageous statement as well as a terrible historical error."
Lapid said that "Jews did not murder themselves in the Holocaust," referring to the slaughter of 6 million European Jews and other minority groups by Nazi Germany.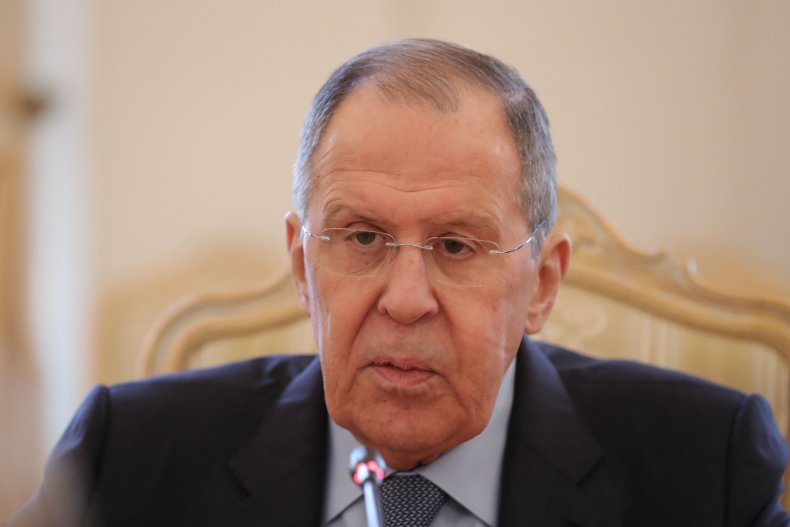 But on its Telegram social media channel, the Russian Foreign Ministry doubled down on its stance.
"We noticed the anti-historical statements of Israeli Foreign Minister Yair Lapid, which largely explain the course of the current Israeli government to support the neo-Nazi regime in Kyiv."
Moscow referred in the post to Lapid's comment that "the lowest level of racism against Jews is to accuse Jews themselves of antisemitism."
The Russian Foreign Ministry said "for some reason" Western media and "liberals [...] are still arguing about whether there are neo-Nazis in Ukraine."
The post rejected what it said was the argument by the West pointing to the Jewish heritage of President Volodymyr Zelensky as precluding the Nazi presence in Ukraine.
It said "everyday and political anti-Semitism and Nazism are not suppressed" in Ukraine and that "on the contrary, they are nurtured."
Russia has repeatedly justified its invasion of Ukraine as a means to free its neighbor from neo-Nazis, a claim that has been rejected by Kyiv and internationally.
In response, Ukrainian presidential adviser Mykhailo Podolyak referred to the only countries that have supported Russia's invasion of Ukraine.
He tweeted: "After the Kremlin claimed that Israel supports Nazism, I have just one question. Is there any non-Nazi country in the whole world in Russia's point of view? Except Syria, Belarus and Eritrea, of course."
Lavrov has been condemned by U.S. State Department spokesman Ned Price who said his comments showed "the lowest form of racism" and are expected to test Israel's relations with Russia.
Israel, which has a large Russian population, has tried at times to act as a mediator between Russia and Ukraine although relations became more strained after Lapid in April accused Russia of committing war crimes.
Israel has expressed support for Kyiv but has been criticized for not taking a tough enough line with Putin and has so far avoided sanctions against Moscow.
Newsweek has contacted the Israeli Foreign Ministry for comment.