Israel Blasts Russian Minister Lavrov's Hitler Remarks—'Unforgivable'
Israel on Monday condemned Russia's Foreign Minister Sergei Lavrov for comparing Ukrainian President Volodymyr Zelensky, who is Jewish, to Adolf Hitler, calling the remarks "unforgivable."
Israeli Foreign Minister Yair Lapid demanded an apology from Lavrov, calling his comments "a terrible historical mistake" in an interview with Israeli news site Ynet. "It is an unforgivable, scandalous statement," he added.
Lavrov, during an interview on Italian television Sunday night, claimed that Zelensky being Jewish "does not negate the Nazi elements in Ukraine," repeating a line pushed by Russian President Vladimir Putin to justify invading Ukraine in February.
"I believe that Hitler also had Jewish blood, some of the worst anti-Semites are Jews," Lavrov added.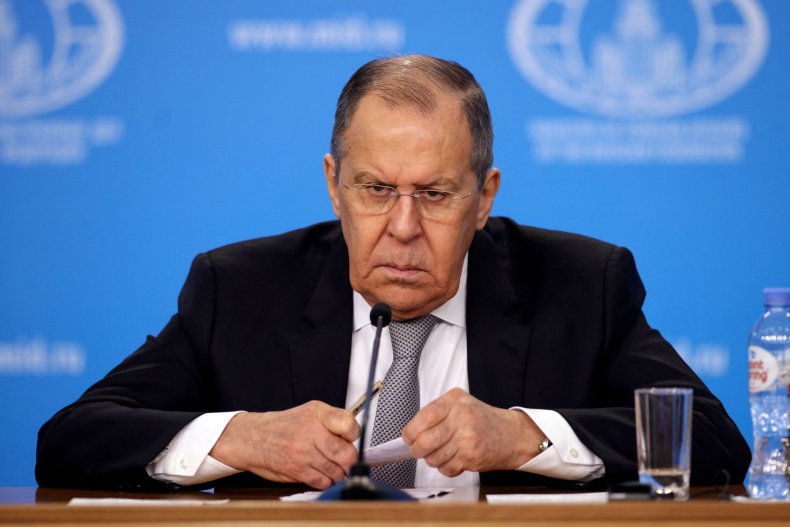 "Foreign Minister Lavrov's remarks are both an unforgivable and outrageous statement as well as a terrible historical error," Lapid said on Twitter. "Jews did not murder themselves in the Holocaust. The lowest level of racism against Jews is to accuse Jews themselves of anti-Semitism."
The Kremlin has repeatedly said that one of its key goals in invading neighboring Ukraine is to "de-nazify" Ukraine. Putin has accused the Ukrainian government of committing genocide against the Russian-speaking population in Ukraine, without offering evidence for his claims.
Responding to Lavrov, Ukraine accused Moscow of looking for justifications for the "mass killings of Ukrainians."
"Frank anti-Semitic statements by Lavrov, accusations of Jews in WWII and the Holocaust are further evidence that Russia is the legal successor of the Nazi ideology. Trying to rewrite history, Moscow is simply looking for arguments to justify the massacres of Ukrainians," Mikhail Podolyak, a Ukrainian adviser to the presidential office said in a statement on Twitter.
Lavrov's comments were also condemned by Israeli Prime Minister Naftali Bennett.
"Such lies are meant to blame the Jews themselves for the most terrible crimes in history and thus free the oppressors of the Jews from their responsibility," the leader said.
Israeli Communications Minister Yoaz Hendel said that Lavrov's remarks were "delusions that are meant to justify the Russians' horrific acts in Ukraine."
The head of Israel's Yad Vashem Holocaust memorial, Dani Dayan, called them "absurd, delusional, dangerous and deserving of any condemnation."
"Lavrov deals with the reversal of the Holocaust: turning the victims into criminals, based on the promotion of a completely unfounded claim that Hitler was of Jewish descent," Dayan tweeted.
Newsweek reached out to Russia's Ministry of Foreign Affairs for comment.
Update 05/02/22, 8:35 a.m. ET: This article was updated with additional quotes and background information.