China's Russia Lean Leaves U.S. Trust in Xi Jinping at Historic Low: Poll
China's doubling down on its strategically important "no limits" friendship with Russia has left the West—and Americans in particular—with little confidence that Chinese President Xi Jinping will act responsibly on global affairs.
According to new polling data by the Pew Research Center, the American public's trust in China's leader remains at a historic low. No more than 15 percent of U.S. adults said they had confidence in Xi "to do the right thing regarding world affairs," the think tank reported on Wednesday, only marginally better than Russian President Vladimir Putin's 6 percent.
Among Americans who retained trust in Xi, 2 percent said they had a lot of confidence in his decision-making and 83 percent expressed little or no confidence in the Chinese president, including 41 percent who chose "none at all." The survey of 3,581 U.S. adults was conducted between March 21 and 27, roughly a month into Russia's war against Ukraine.
Xi's choice to side with Putin and his government's refusal to condemn the invasion—Beijing says that ship has sailed—have sat especially poorly with Republicans, the poll showed. Democratic voters (21 percent) were more likely to have some confidence in Xi than were Republicans (9 percent), a trend that extended to all other world leaders except Putin, who was associated with bipartisan distrust.
The biggest difference in opinion—a divide of 59 percentage points—was seen in opinions of President Joe Biden as 75 percent of Dem-leaning and just 16 percent of GOP-leaning respondents expressed some confidence in the American president, the report said.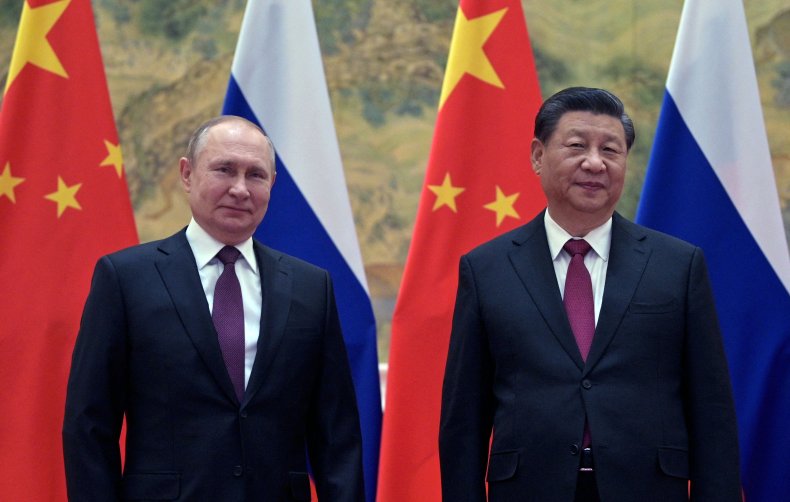 Distrust in China's Xi has been consistently high in the past few years. In the United States, it's best explained by the low ebb in overall relations between Washington and Beijing. In other major economies, especially in the West, it was already a feature long before the Chinese leadership aligned with the Kremlin against the U.S, NATO and, by extension, Ukraine.
Pew's spring 2021 survey found 82 percent of American had no confidence in Xi, compared to 15 percent who did. The latter result was slightly higher than the publics in Japan (10 percent) and Sweden (12 percent), and on par with that of South Korea (15 percent).
It was also consistent with historically high unfavorable views of China recorded in the U.S. (76 percent), Canada (73 percent), Sweden (80 percent), Japan (88 percent), Australia (78 percent) and South Korea (77 percent).
Amid the initial COVID-19 wave, the think tank's summer 2020 poll found the American public's lack of confidence in Xi had risen to 77 percent, up 27 percentage points from 50 percent in 2019. Unfavorable views of China among U.S. adults reached 73 percent in the 2020 survey.
This week's Pew research centered on America's opinion of Ukraine and especially its president, Volodymyr Zelensky, who polled higher than any other international leader. Seventy-two percent of respondents said they had some or a lot of confidence in Zelensky, compared to 26 percent who had not too much or none at all.
The vast majority of Americans—92 percent—said they had little or no confidence in Putin, including 77 percent who had none at all. Disapproval of Russia's president was consistent across political affiliations in the U.S.
After Zelensky, Americans had the most confidence in French President Emmanuel Macron (55 percent) and German Chancellor Olaf Scholz (53 percent). Confidence in Biden was recorded at 48 percent, including 17 percent of respondents who had a lot of confidence in him. Of the 52 percent who said they did not have confidence in Biden, 30 percent said they had none at all.