China and Russia Warn of 'Arms Race' in Response to Donald Trump's U.S. Missile Defense Plan
Chinese and Russian officials have warned of a potential arms race breaking out in response to the new missile defense plan introduced by the United States.
President Donald Trump introduced the 2019 Missile Defense Review on Thursday, vowing to instate a global missile shield that could "detect and destroy any missile launched against the United States anywhere, anytime." His proposals included space-based sensors and advanced interceptors that would block against new cruise and hypersonic missile technology being developed by its top military competitors Russia and China, which have accused the U.S. of attempting to provoke further geopolitical tensions.
"The American report is full of outdated 'Cold War' and 'zero-sum game' concepts. The document exaggerates the geopolitical confrontation and rivalry of powers, and speaks unreasonably of a threat from China," a Chinese Foreign Ministry spokesperson told Russia's state-run Sputnik News, warning that the review could "damage regional peace and security, influence the process of international nuclear disarmament, lead to an arms race, and undermine the strategic balance and stability in the world."
"China is expressing its extreme discontent and strong objection," the spokesperson added.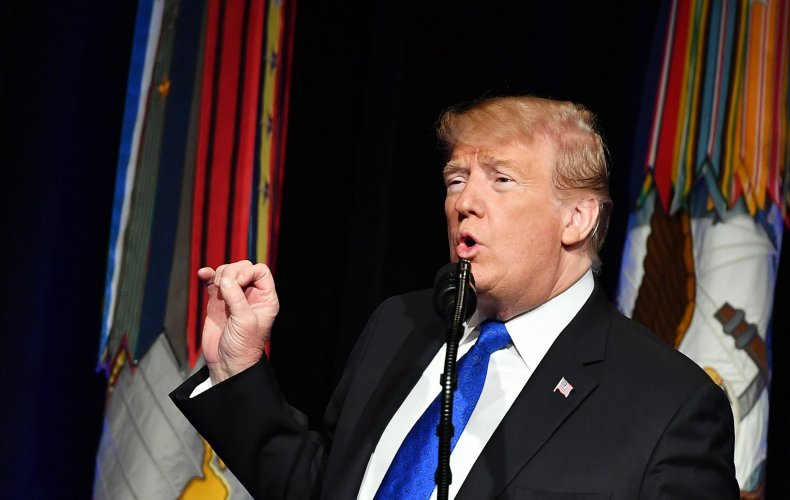 Moscow voiced similar concerns toward the missile defense review. In a statement, the Russian Foreign Ministry warned that the "the strategy actually gives the green light to the prospect of basing missile strike capabilities in space," comparing it to the former President Ronald Reagan's doomed, Cold War-era "Star Wars" Strategic Defense Initiative.
"The implementation of these ideas will inevitably lead to the beginning of an arms race in space, which will have the most negative consequences for international security and stability," the statement read. "We would like to urge the U.S. administration to come to its senses and abandon this irresponsible attempt to re-launch, on a new and more high-tech basis, the unforgettable Reagan-era 'Star Wars' program."
Andrei Krasov, first deputy head of the defense committee in Russia's lower house of parliament, told the Interfax news outlet on Thursday that "they are just trying to draw us into an arms race" following Trump's exhibition at the Pentagon.
"We will not be drawn into any arms race," Krasov added. "We have the most modern weapons and military equipment. We should respond to new military initiatives by the U.S. and its NATO allies with intensive exercises. We have everything else, we should not be drawn into the arms race. The military budgets of Russia and the United States are still incomparable."
China and Russia have often pointed out the fact that the U.S. has a higher defense budget than the next 10 highest-spending countries combined and more bases than all other nations together. The president wants his latest $750 billion budget to make the U.S. military "more powerful than ever before" in response to "bad players" like Beijing and Moscow. While neither Trump nor Vice President Mike Pence mentioned these leading U.S. rivals by name—only Iran and North Korea—in their remarks, China and Russia featured prominently in the report itself.
"Russia and China are developing advanced cruise missiles and hypersonic missile capabilities that can travel at exceptional speeds with unpredictable flight paths that challenge existing defensive systems," the review read. "These are challenging realities of the emerging missile threat environment that U.S. missile defense policy, strategy, and capabilities must address."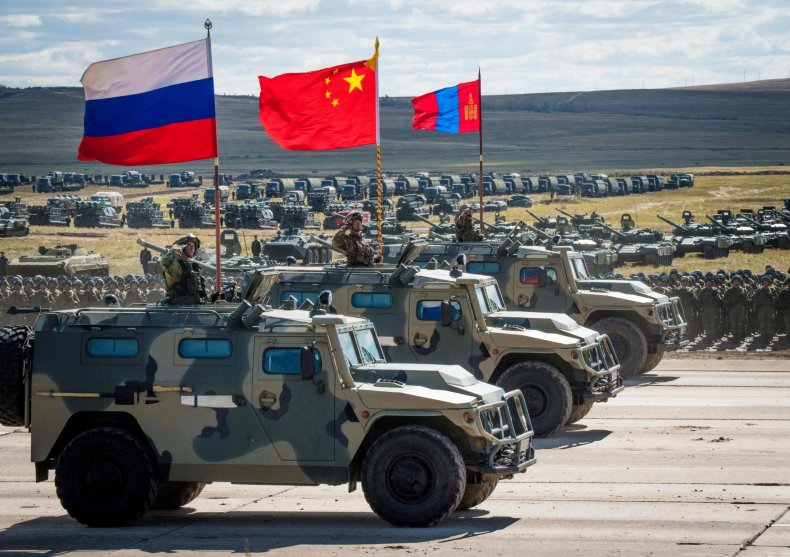 President Vladimir Putin unveiled in March an arsenal of nuclear-capable weapons said to be "invisible" against any existing or even prospective defense systems. These included nuclear-powered, hypersonic and cruise missiles that the Russian leader argued came in response to the U.S.'s disregard for arms control measures. He later said in an interview with NBC that an "arms race" began between Washington and Moscow following former President George W. Bush's decision to abandon the Anti-Ballistic Missile (ABM) treaty in 2001.
John Bolton, then under secretary of state for Arms Control and International Security Affairs, reportedly played a major role in the Bush administration's exit from the treaty. Now serving as Trump's national security adviser, Bolton has joined other officials in calling for the U.S. to leave the 1987 Intermediate-range Nuclear Forces (INF) treaty, which bans land-based launchers with ranges from 310 to 3,400 miles.
Trump has justified a U.S. exit from the INF by accusing Russia of violating the treaty with its Novator 9М729 cruise missile system and by citing a rising missile threat from China, which was not bound by the agreement. Russia and China, which have greatly stepped up military cooperation in recent years, have charged the U.S. with pursuing global dominance with its own expansive military presence.
This article has been updated to include a statement by the Russian Foreign Ministry.