Russia and China Take On U.S. Military's Largest-Ever Budget That They Say Makes World Less Safe
Russia and China have hit out against the largest U.S. military budget ever after it was approved Monday, a move they say has threatened global stability.
President Donald Trump signed the 2019 National Defense Authorization Act, granting the Pentagon an unprecedented $716 billion to increase its defense posture at home and abroad, where the U.S. maintains some 800 military bases—by far more than the rest of the world combined. Russian Foreign Ministry spokesperson Maria Zakharova criticized the bill Wednesday, telling reporters it "fixes the policy of increasing Washington's dominant role in the international arena through force."
"The unprecedented inflation of the U.S. military budget to $716 billion, the increase of which was a 15-year record, has a devastating impact on the existing international security system," she said. "It is characteristic that this document provides funding for specific projects within the framework of anti-Russian and anti-Chinese installations, which are enshrined in national security, national defense strategies, as well as the U.S. Nuclear Policy Review."
She said that Russia "is taking and will take the necessary measures to reliably ensure its own security with all available means—both politico-diplomatically and militarily."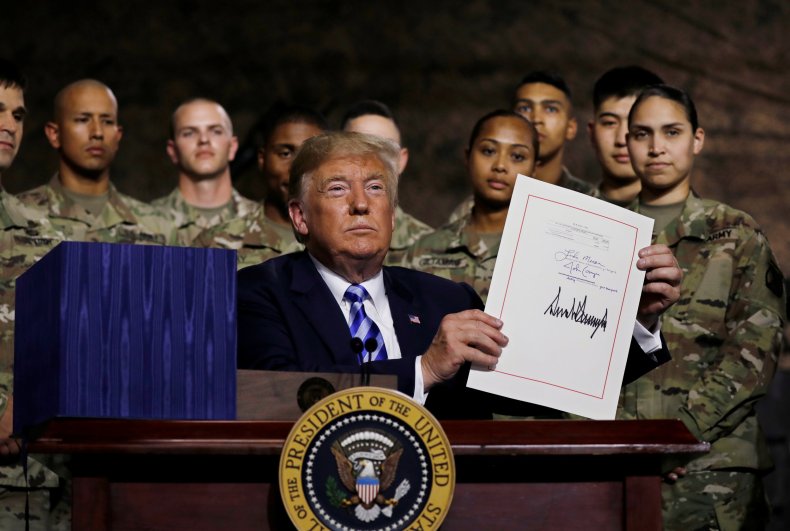 In addition to the NDAA, the White House's National Security Strategy and the Pentagon's National Defense Strategy have branded Russia and China as top U.S. rivals. Washington has long accused Moscow and Beijing of expanding their own militaries at the expense of international security and of suppressing democracy at home. In response, the two powers have sought closer political and military ties to challenge what they see as an expansionist U.S. foreign policy exemplified by Monday's bill, which Zakharova said contained specific "anti-Russian measures" in relation to missile defense, nuclear weapons and reconnaissance flights.
The Chinese Foreign Ministry also denounced what it saw as parts of the act targeting its own country, especially in regards to self-ruling island Taiwan. China views Taiwan as a part of the mainland and has vowed to retake it by force, but the Trump administration has expanded previously banned political ties with the breakaway Taiwanese government. Monday's bill contained provisions that would assess providing more military support for Taiwan.
"China has repeatedly stated its position on this and has made solemn representations to the U.S.," Chinese Foreign Ministry spokesperson Lu Kang told reporters Tuesday, urging "the U.S. to abandon its Cold War mentality and the zero-sum game concept, to correctly treat China and China-U.S. relations, abide by the one-China principle and the three Sino-U.S. joint communiqués and to not implement such China-related negative provisions, so as not to avoid damaging Sino-U.S. relations and the two countries' cooperation in key areas."
The Chinese military echoed this statement Tuesday, further warning that the act "interferes with China's internal affairs" and "stokes Sino-U.S. conflicts," according to Chinese Defense Ministry spokesperson Senior Colonel Wu Qian. China's armed forces have staged intense exercises near Taiwan in the South China Sea, where the U.S. military has sent its own patrols to challenge Beijing's vast maritime claims.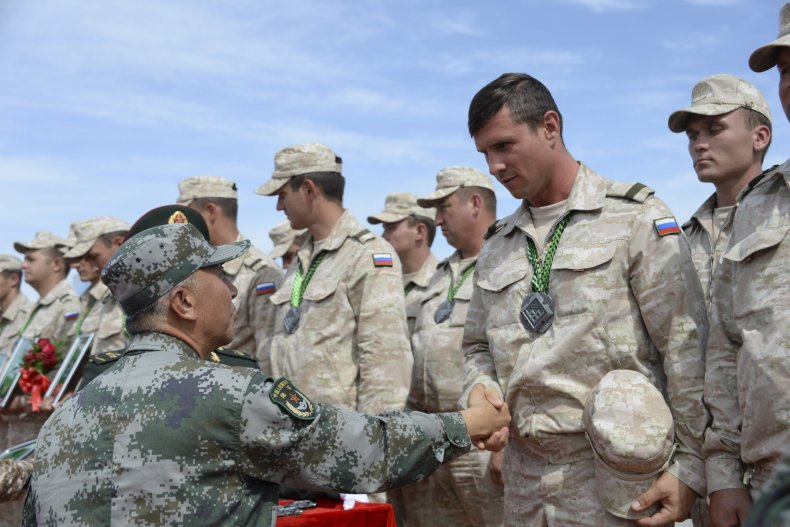 Russia and China have continued to bolster their own bilateral relationship in a bid to establish a more united front against what they perceived to be an aggressive U.S. foreign policy. Chinese Central Foreign Affairs Commission Director Yang Jiechi met Wednesday with Russian Security Council Secretary Nikolai Patrushev in Moscow as part of the 14th round of strategic security consultations between the top two U.S. military rivals.
Both sides agreed to jointly safeguard "a fair and equitable international order," according to the Chinese Foreign Ministry. They also vowed to boost cooperation on major issues, such as inter-Korean peace talks, unrest in the Middle East and the Iran nuclear deal, which Trump has abandoned to widespread international criticism.