China Touts 'Success' With Russia Due to Not Confronting Other Nations
China claimed that its relations with Russia are successful because both countries don't target or confront other nations.
"An important takeaway from the success of China-Russia relations is that the two sides rise above the model of military and political alliance in the Cold War era," Foreign Ministry spokesman Zhao Lijian said on Friday during a briefing.
Lijian added that both countries "commit themselves to developing a new model of international relations" which he said includes avoiding confrontations with other countries. China has not indicated its support to Russia in the ongoing invasion of Ukraine, and didn't help Moscow face sanctions, but it hasn't condemned the war either.
Last month, Chinese Ambassador to the U.S. Qin Gang was confronted about why China refuses to condemn Russia's invasion of Ukraine, to which Gang responded that China has "good, friendly, neighborly relations with Russia."
However, Face the Nation host Margaret Brennan interrupted the ambassador and pushed back saying: "But you would recognize that it's not good, friendly, neighborly relations to put 150,000 troops on the border of a neighboring country and then to send those troops into that country. In those circumstances, why can't you condemn this as an invasion?"
The ambassador's response? "Don't be naïve."
Gang added that "condemnation doesn't solve the problem. I will be surprised if Russia will back down by condemnation."
The ambassador was then asked if Russia would leave Ukraine if China's President Xi Jinping urged Russian President Vladimir Putin to end the invasion.
"We have done so and we will continue to promote and urge immediate [cease] fire," he responded.
"On the second day of Russia's 'military operation' President Xi Jinping did talk to president Putin asking [him] to think about resuming peace talks with Ukraine and president Putin listened to it, and we have seen four rounds of peace talks," Gang added.
China repeatedly mentioned its support to the "no limits" friendship that it has with Russia.
"Friendship between the two States has no limits, there are no 'forbidden' areas of cooperation," Russia and China said in a joint statement in February.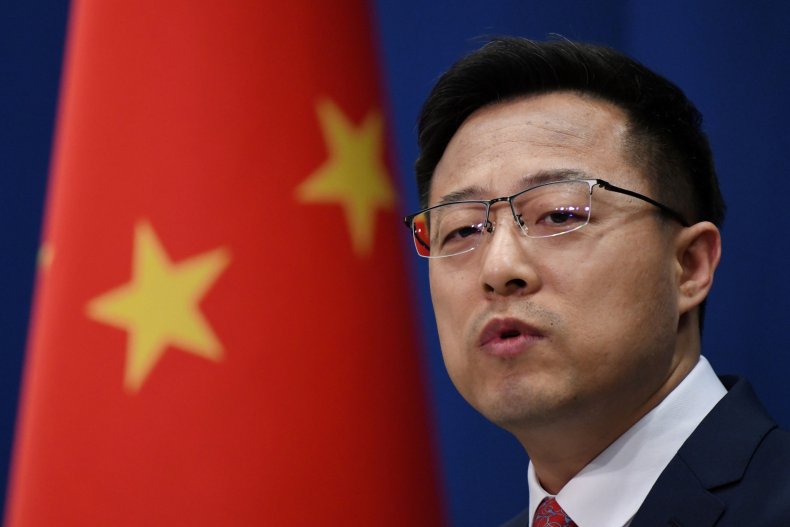 Similar comments were also made on March 30 during a press conference where Chinese Foreign Ministry spokesperson Wang Wenbin said, "there is no limit to China-Russia cooperation in the pursuit of peace."
"No limit to our efforts to safeguard security, and no limit to our opposition to hegemony. China-Russia relations feature non-alliance, non-confrontation, and non-targeting of any third party," he continued.
Meanwhile, President Joe Biden in March warned of "implication and consequences of China providing material support" to Russia.
Newsweek reached out to the Russian Foreign Ministry for comments.