China and Russia have signaled a greater desire to work together on the issues plaguing the neighboring Korean Peninsula amid uncertainties that continue to surround U.S. President Joe Biden's approach to the region.
A readout published Tuesday by the Chinese Foreign Ministry detailed a conversation the previous day between Special Representative on Korean Peninsula Affairs Liu Xiaoming and Russian Deputy Foreign Minister Igor Morgulov "to exchange views on the situation on the Korean Peninsula."
"Recognizing the cooperation on the Peninsula issue as a major component of the China-Russia comprehensive strategic partnership of coordination for a new era," the statement said, "Liu reaffirmed China's willingness to enhance communication and coordination with Russia in a joint effort to maintain peace and stability on the Peninsula, and play constructive roles in promoting the political settlement of the Peninsula issue."
Morgulov "stressed that the two countries' positions are highly consistent, and the cooperation on the Peninsula issue has been fruitful," according to the Chinese side. "He also expressed the readiness of his country to strengthen coordination and cooperation with China through bilateral and multilateral channels to move the Peninsula situation to a more positive direction."
The Russian Foreign Ministry also shared an account of the call, during which the two sides were said to have "reaffirmed their mutual disposition to deepen cooperation between Russia and China in the interests of a comprehensive settlement of the problems of this subregion on the basis of existing joint initiatives."
The exchange comes just over two weeks after Biden hosted South Korean President Moon Jae-in at the White House for their debut summit. While both leaders have eagerly sought to reemphasize their nations' longstanding alliance, Moon has appealed to Biden to further a now-frozen peace process launched by his predecessor, former President Donald Trump, and North Korean Supreme Leader Kim Jong Un.
Nearly three years after the historic meeting between the two men, Biden inherits a U.S.-North Korea dialogue that has unraveled. Facing an array of domestic crises plaguing the economy, public health and civil society, as well as pressing foreign policy issues involving China, Russia and Iran, Biden has signaled no desire to rush into the decades-long dispute.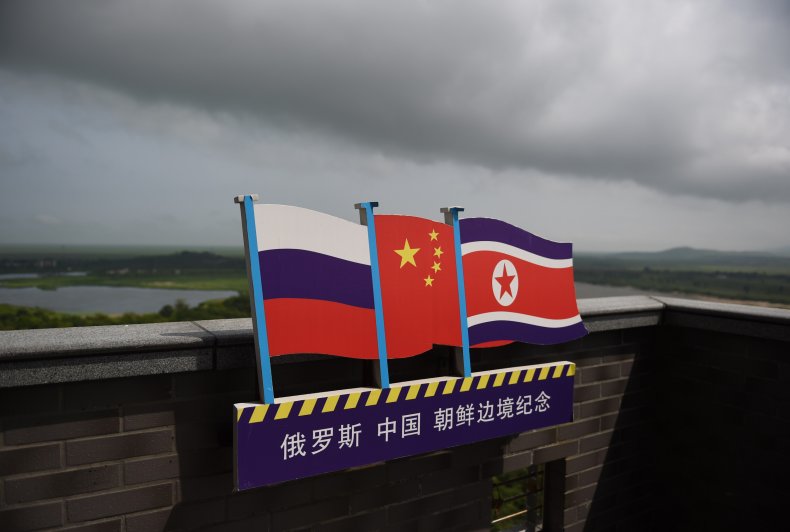 Following their meeting, the two leaders released a joint statement in which they noted that the U.S.-South Korea alliance "was forged on the battlefield, as we stood shoulder-to-shoulder in war" more than 70 years ago.
The Korean War began on June 25, 1950, when North Korean troops invaded South Korea. The U.S. joined forces with the South against North Korea, a Soviet ally that received substantial support from fellow communist power China, including troops, in a conflict that today remains technically unresolved.
Biden and Moon emphasized "their shared commitment to the complete denuclearization of the Korean Peninsula and their intent to address the Democratic People's Republic of Korea's (DPRK's) nuclear and ballistic missile programs."
They also called for "the full implementation of relevant UN Security Council resolutions," which entail strict sanctions and missile-testing restrictions both rejected as illegitimate by North Korea.
Moon hailed the end of the Biden administration's review of North Korea policy, which the South Korean leader deemed a "calibrated and practical approach that is open to and will explore diplomacy with the DPRK to make tangible progress."
Both sides reaffirmed a "common belief that diplomacy and dialogue, based on previous inter-Korean and U.S.-DPRK commitments such as the 2018 Panmunjom Declaration and Singapore Joint Statement, are essential to achieve the complete denuclearization and establishment of permanent peace on the Korean Peninsula."
Biden also expressed "his support for inter-Korean dialogue, engagement, and cooperation" in the statement, and reiterated at a joint press conference his openness to U.S.-North Korea diplomacy, even at the summit level, but only after seeking a "commitment" from Kim Jong Un regarding the country's nuclear arsenal.
Kim Jong Un has expressed little interest in meeting with Biden until the U.S. revised its "hostile policy" toward North Korea, officially the Democratic People's Republic of Korea, or DPRK. Instead, the ruler has placed emphasis on building and reinforcing bridges elsewhere, namely with "the anti-imperialist, independent forces" as referenced during the ruling Korean Workers' Party 8th Congress in January.
While these forces were left undefined, North Korea has stepped up engagement with its traditional ally China in recent months. About a week after the U.S.-South Korea summit, Pyongyang's newly appointed ambassador to Beijing Ri Ryong Nam met with Chinese Foreign Minister Wang Yi, who described the two countries as "friendly neighbors linked by mountains and rivers."
Echoing Biden and Moon's remarks, China's top diplomat too made reference to the Korean War and how it continues to define his country's commitments to the Korean Peninsula.
"The traditional friendship between the two countries was forged and nurtured with blood by the older generations of our leaders in the joint fight against foreign aggression, and it is a valuable asset that should be cherished by the two sides," Wang was quoted as saying. "In recent years, under the strategic guidance and personal commitment of the top leaders of the two parties and two countries, the China-DPRK relationship has entered a new historical period, fully demonstrating the solid foundation and vitality of the traditional friendship."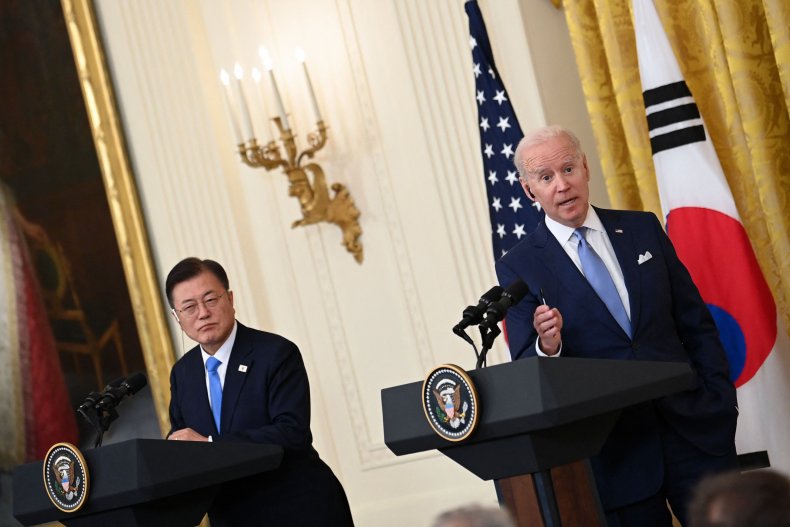 While the Soviet Union that established North Korea eventually collapsed, the Kim dynasty has lingered, albeit in international isolation and amid precarious economic conditions considered especially unpredictable today. China, for its part, has thrived in recent decades, and has offered to share its prosperity as Beijing and Pyongyang prepare to jointly celebrate the 60th anniversary of their Treaty of Friendship, Cooperation and Mutual Assistance.
"China firmly supports the DPRK in developing its economy and improving people's livelihood, and is willing to provide the DPRK with more assistance within its capacity," Wang said. "Both China and the DPRK adhere to leadership of the communist party and are committed to socialism. China stands ready to enhance the sharing of experience in the governance of political parties and state affairs with the DPRK to promote continuous development of the socialist cause."
China has also courted South Korea, which has thrived economically as well in recent decades and eclipsed Russia last year according to international estimates of GDP. As Beijing and Washington's global geopolitical dispute worsens, Seoul has sought to steer clear of taking on the People's Republic, its top trading partner by far.
But this careful balance has run into its share of pitfalls, as it did last month when Biden and Moon's statement made reference to a common U.S.-South Korean desire to "maintain peace and stability" in the South China Sea and the Taiwan Strait, two areas viewed by China as issues of its own sovereignty and thus off-limits to foreign determinations.
And while Chinese Foreign Ministry spokesperson Zhao Lijian later shared "concerns" regarding this language, an even stronger reaction to the summit came from Pyongyang. Days after the summit, the official Korean Central News Agency carried the remarks of Kim Myong Chol, an "international affairs expert" who railed against Biden's decision to terminate U.S. restrictions on South Korea's missile arsenal.
"The termination step is a stark reminder of the U.S. hostile policy toward the DPRK and its shameful double-dealing," Kim Yong Chol said. "Lots of countries now view the U.S. key DPRK policy, namely 'pragmatic approach' and 'maximum flexibility' produced by the Biden administration with much effort, as just trickery."
The expert warned that it was "a serious blunder" for the U.S. "to pressurize the DPRK by creating asymmetric imbalance in and around the Korean peninsula as this may lead to the acute and instable situation on the Korean peninsula now technically at war."
"What should deserve concerns of the international community are the U.S. grave and provocative acts against the DPRK just under its nose," Kim Yong Chol said, "not the DPRK's violation of the UN 'resolutions' touted by the U.S."
The Biden administration's public position so far, however, has been to await a change from the North Korean side.
State Department Deputy Secretary Wendy Sherman told reporters last Monday that Biden and Moon "agreed they wanted to engage with the DPRK, if they so choose, that it would be a calibrated response."
The Biden administration has named U.S. ambassador to Indonesia Sung Kim as his special envoy for North Korea, but Sherman noted that the envoy "will be returning to Indonesia full-time."
As the impasse stands, Russia has eyed its own opportunities to engage.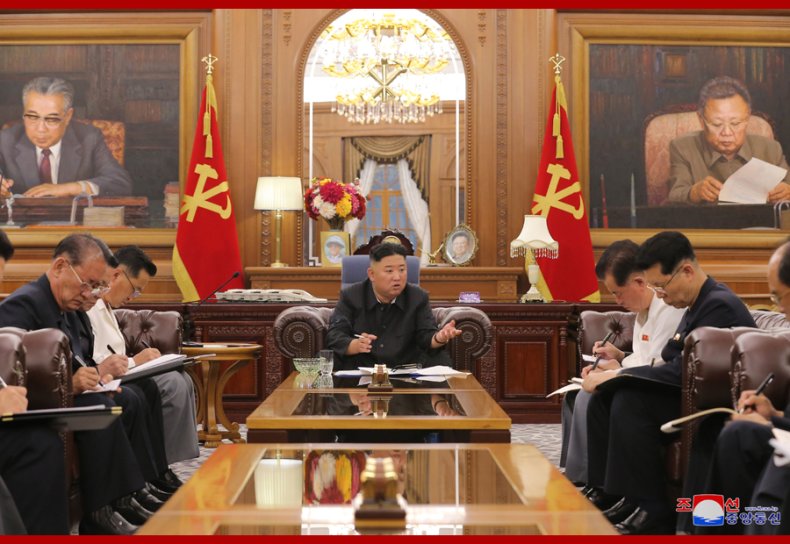 The United Nations Command that patrols the Demilitarized Zone, or DMZ, which has divided the Koreas since their war, reported earlier this week that Russia's ambassador to South Korea Andrey Kulik visited the Joint Security Area between North and South Korea last month.
"As a P-5 member of the UN Security Council, Russia has an important responsibility in managing the security situation in Korea, and this visit offered him insight into our enduring mission," the U.N. Command said in a statement published Friday on Facebook.
That same day, Russian President Vladimir Putin weighed in on the Korean Peninsula during an event with international media outlets.
"First of all, I would like to say that the relationship between Russia and South Korea is developing well in a great number of areas," the Russian leader said, highlighting a resurgence in economic and trade ties that were afflicted by the COVID-19 pandemic.
As for North Korea's nuclear weapons, he regarded the matter as an "extremely important and sensitive" issue, one that affected the entire region and world, and laid out Moscow's stance.
"We are point-blank against the proliferation of weapons of mass destruction all over the world. Everybody, including our friends in North Korea, are well aware of this," Putin said." Still, I would like to emphasize that a solution to this problem should not be based on 'strangling' North Korea or any further sanctions against it, but rather on the creation of conditions, which would guarantee the security of the North Koreans. And in this case, acting from such positions, using tact, patience and desire to solve this matter, I think we could make some progress."
He hailed the progress made early on in the initiatives led by Trump, Moon and Kim Jong Un, but noted that "later on North Korean partners, above all the U.S. partners, drifted away from their earlier obligations, which brought about another spiral of tension."
"I would like to believe that all of us, including Russia, will find an optimal way of solving the North Korean problem," Putin said.
His comments came as China and Russia continue to exhibit their strategic partnership as a force for good in the world in the face of criticism from the U.S. and its NATO alliance, which has increasingly sounded the alarm about Beijing and Moscow's tightening ties.
Following a meeting with Biden on Monday, NATO Secretary-General Jens Stoltenberg warned of "a more assertive Russia, responsible for aggressive actions against neighbors," and "China coercing neighbors and investing heavily in new military capabilities."
In Beijing, Zhao defended the expanding partnership between China and Russia as a positive model for countries striving for peace.
"The in-depth development of Sino-Russian relations is conducive to world peace and stability," Zhao said. "As the world's largest military alliance, NATO should abandon the Cold War mentality and ideological prejudice, view the development of China-Russia relations in an objective, positive, and open manner, and do more to maintain international and regional security and stability."