China Says It Does Not Fear Confrontation With the United States
China will not shy away from confrontation with the United States and would "fight to the end," the country's senior diplomat said in a keynote speech on Monday.
Chinese Foreign Minister Wang Yi said Beijing would welcome cooperation with Washington, as long as it's mutually beneficial, according to a transcript released on the government's website.
His address at the Symposium on the International Situation and China's Foreign Relations in 2021 followed on from themes present in his assessment from 2020. It was a year similarly overshadowed by the COVID-19 pandemic and fractured U.S.-China relations during the final 12 months of the Donald Trump administration.
Last year, Wang said the U.S. was to blame for condemning bilateral relations to their worst state since formal diplomatic ties were established in 1979. There was little change in his most recent evaluation of U.S.-China ties with the Joe Biden administration, while he listed the promotion of steady relations with Washington as one of Beijing's six important goals in 2022.
"A year of negotiations and clashes has once again shown that the serious difficulties and many challenges facing China-U.S. relations are rooted in the U.S.'s strategic misjudgment of China," said Wang
"Some in the U.S. are unwilling to recognize that other countries also have a right to develop, unwilling to accept the fact of China's constant growth and progress," he continued. "They try to gang up to contain and suppress China."
Expanding on China's "new paradigm" for relations with the U.S. based on "respect and parity," Wang said Beijing's position would remain "consistent and clear."
"Dialogue is OK, but it should be on equal terms; cooperation is welcome, but it should be mutually beneficial; competition is no problem, but it should be positive," said Wang. "[China] does not fear confrontation and will fight to the end."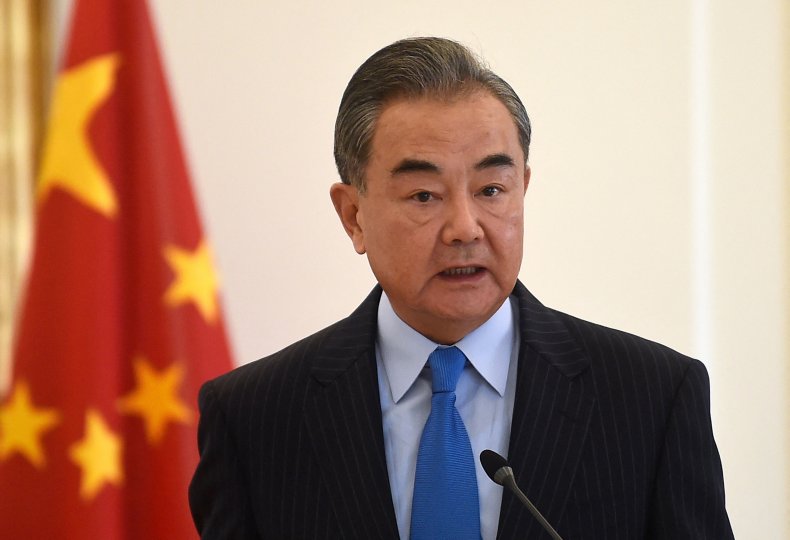 The Chinese leadership faces an American political establishment and voting public that is pursuing a harder line on China than in any time in the last two decades. It coincides with the more assertive foreign policy that has come to define the second term of Chinese leader Xi Jinping.
Wang's year-end address came in the days after Congress passed a law banning goods from China's northwestern region of Xinjiang unless importers can prove they were not acquired through the exploitation of Uyghur forced labor. The U.S. government also is blacklisting Chinese companies seen as a threat to national security while leading a diplomatic boycott of the Beijing 2022 Winter Olympics.
When the bipartisan and bicameral Uyghur Forced Labor Prevention Act passed the House and Senate last week, the Chinese Foreign Ministry warned it would retaliate—but did not elaborate on specific measures.
A major thorn in the U.S.-China relationship is the historically close ties between Washington and Taipei, marked by the passage of a number of pro-Taiwan legislations in Congress and the visits of senior American officials and lawmakers.
China, which considers the island a part of its territory, has not ruled out the use of force to annex Taiwan.
"Taiwan is a wanderer who will eventually return home, and not a chess piece to be used by others," Wang said. "China must be and will be unified."