Joe Biden to Sign Bill Punishing China for Uyghur Forced Labor in Xinjiang
President Joe Biden will sign a new law banning products made with Uyghur forced labor in China, the White House has confirmed, in a blow to corporate interests that have lobbied against stricter import standards.
The bipartisan and bicameral Uyghur Forced Labor Prevention Act passed the House by unanimous voice vote late on Tuesday. Introduced to the lower chamber by Rep. Jim McGovern (D-MA), it is a compromise version of the bill authored by Senators Marco Rubio (R-FL) and Jeff Merkley (D-OR) last year.
The law places the burden of proof on American companies to demonstrate that imported goods were not mined, produced or manufactured wholly or in part with forced labor.
It is set to become the strongest U.S. action against what successive administrations have described as gross human rights violations in Xinjiang, a source of cotton products but also polysilicon, an important raw material in the manufacture of solar panels.
In demanding transparency and a cleaner supply chain, the legislators will complicate the work of importers and likely affect their bottom line. Lawmakers said major American businesses had fought the legislation for months. Among the companies were reportedly Nike and Coca-Cola, according to The New York Times.
House Speaker Nancy Pelosi said the reconciled bill would be sent to the Senate for "swift action" before Biden's signature is required. "If America does not speak out for human rights in China because of commercial interests, we lose all moral authority to speak out for human rights any place in the world," she said.
White House press secretary Jen Psaki said the president welcomed the legislation and would sign it into law.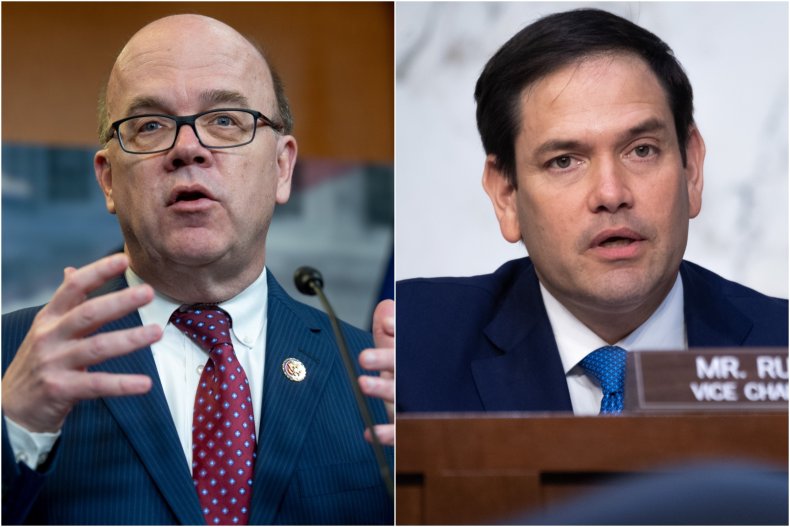 Ahead of the vote on Tuesday, Rubio said: "For two years now, American companies—big companies—have been lobbying against my bill to crack down on the use of slave labor in China. We as a country have become so reliant on China that we've turned a blind eye to the slave labor that makes our shoes, our solar panels and much more."
It was time to end America's "economic addiction" to China, he said.
In a separate joint statement with Rubio, Merkley said: "The United States must send a resounding and unequivocal message against genocide and slave labor wherever these evils appear.
"This deal to get the Uyghur Forced Labor Prevention Act to the president's desk is essential in that effort. It ensures that American consumers and businesses can buy goods without inadvertent complicity in China's horrific human rights abuses. As the Chinese government tries to whitewash their genocide and claim a propaganda victory with the upcoming Olympics, it is more important than ever for us to speak out and take action."
After the House vote, McGovern tweeted: "There were some who said we couldn't get this done. That corporate special interests were just too powerful. They were wrong. This is an important advance for #HumanRights. I urge the Senate to quickly pass my bill and get it to President Biden's desk asap."
Researchers and former residents of Xinjiang say more than a million Uyghurs and other mainly Muslim minorities have been subjected to the Chinese government's forceful policies of mass detention, re-education, sterilization and forced labor transfer.
In January, the outgoing Trump administration declared that China was committing genocide and crimes against humanity against its own people. The Biden administration upheld the assessment. This determination is at the heart of the U.S.-led diplomatic boycott of Beijing 2022, which now involves more than half a dozen major governments.
China, meanwhile, rejects criticisms of its policies in Xinjiang, where it says a years-long counterterrorism campaign has effectively deradicalized the region. Uyghurs and other minority ethnic groups are now wealthier and happier than ever, according to Beijing.