China Sends First 'Homemade' Aircraft Carrier to Contested South China Sea
China's first domestically produced aircraft carrier has held combat exercises in the South China Sea off the back of Beijing's public complaint about U.S. Navy reconnaissance operations in the region.
The Shandong carrier group departed its naval base in Sanya, in the southern province of Hainan, for its first deployment of the year just a few days after the country's first aircraft carrier, Liaoning, returned to home port in the East China Sea.
Shandong and its escorts held scheduled exercises at sea which were "completely legitimate and legal," said People's Liberation Army Navy spokesperson Gao Xiucheng. Gao said the drills were beneficial to China's ability to safeguard national sovereignty, security and development interests.
In the statement issued on Sunday, the spokesperson said external parties should "take an objective and rational view" of the carrier group's exercise, in an unusual reference likely aimed at pre-empting accusations of Chinese military muscle flexing.
Shandong was modeled on Soviet-era Liaoning and entered service in December 2019. China's first homemade carrier is the country's second operational warship of the type and was deployed three times last year.
In a Shenzhen Television report, the channel said the PLA was close to realizing its milestone of a dual carrier deployment, praising Shandong's rotation into routine naval operations less than two years after it was commissioned.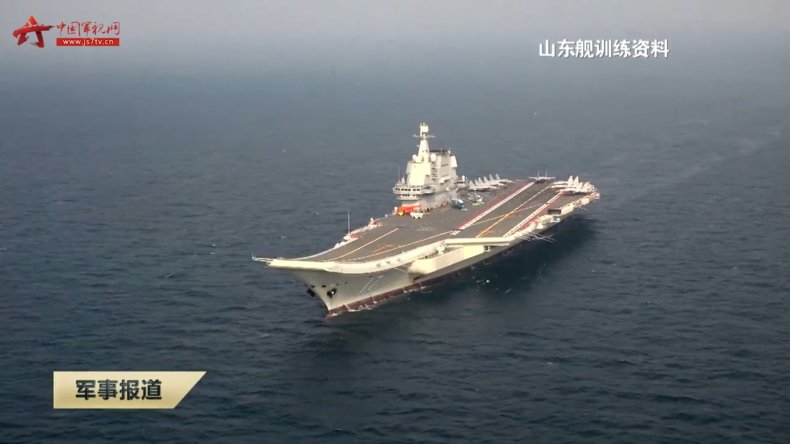 However, Shanghai news portal Eastday said Shandong and Liaoning were unlikely to be seen together outside of China's shipyards, as the former is still in its testing phase and the latter requires regular maintenance.
Following the Liaoning carrier group's departure from the South China Sea last week, China's defense ministry spokesperson Wu Qian announced further routine exercises—including "far sea" operations—for the country's aircraft carriers.
In the same press briefing last Thursday, Wu made public the Chinese military's complaints about U.S. Navy destroyer USS Mustin, which he accused of disruptive close-range reconnaissance of Liaoning during its training exercises in the South China Sea and Western Pacific.
The U.S. Navy denied the allegations, telling Newsweek that all interactions with foreign vessels were lawful and did not impact ongoing operations.
Wu said U.S. vessel and aircraft activity near Chinese waters had increased by 20 and 40 percent respectively compared to the same time last year.
The U.S. military flew at least 65 reconnaissance missions in the South China Sea in April, with the U.S. Navy operating more than 80 percent of those flights, the South China Sea Strategic Situation Probing Initiative, a Peking University think tank, said in its monthly report on Friday.