China Takes 'No Position' on U.S. Election, Threatens 'Head-on Blow' for Selling Weapons to Taiwan
China has emphasized its ongoing neutrality in the U.S. election as both candidates moved to declare victory in a cutthroat race, but Beijing warned Washington would be punished if it went through with yet another sale of weapons to Taiwan, a self-ruling island claimed by the Chinese mainland.
Asked Wednesday to offer a reaction to a tightening contest between President Donald Trump and Democratic opponent Joe Biden set to extend through a second day, Chinese Foreign Ministry spokesperson Wang Wenbin told reporters, "We notice that the U.S. presidential election is still ongoing, and the result hasn't come out yet."
He reiterated that Beijing had no preferred winner.
"The U.S. presidential election is the country's internal affair," Wang said. "China doesn't take a position on it."
China does have strong feelings toward U.S. foreign policy, however, especially in relation to tough measures taken by the Trump administration that have contributed to a sharp downturn in ties between the world's top two economies. Some of these measures have dealt with trade and human rights allegations, but among the most sensitive have been geopolitical—likely none more incendiary than expanding military assistance to Taiwan.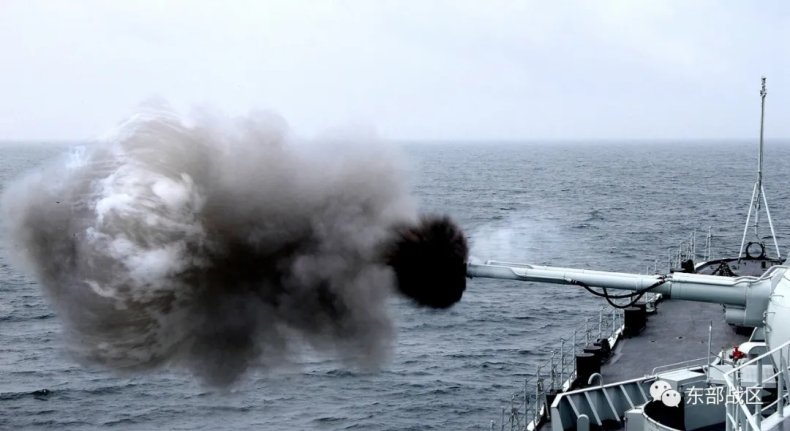 The island is autonomously led by successors to Chinese nationalists that lost a civil war in 1949 to the Chinese Communist Party, which to this day seeks reunification. Washington switched recognition from Taipei to Beijing three decades later as the overwhelming majority of the international community eventually did.
The U.S., however, retains informal relations that infuriate China, which considers diplomatic and defense ties to contravene the one-China principle that asserts the existence of only true representative of China, as well as the three China-U.S. joint communiqués that set the stage for their bilateral ties.
Just as the U.S. prepared to enter its divisive vote, the State Department announced on Tuesday it had approved a $600 million sale of MQ-9 Reaper drones.
Wang said Wednesday that "the U.S. arms sales to the Taiwan region severely violate" U.S.-China agreements and ultimately "constitute blatant interference in China's internal affairs, seriously undermine China's sovereignty and security interests, send out wrong signals to 'Taiwan independence' separatist forces, and gravely undercut China-U.S. relations as well as peace and stability across the Taiwan Strait."
Echoing previous positions, he said, "China firmly opposes such acts."
Wang then repeated prior warnings, which have had led to consequences for ties between Washington and Beijing.
"China urges the United States to stay committed to the one-China principle and the three China-U.S. joint communiqués, stop arms sales to and military ties with the Taiwan region, and immediately cancel its arms sale plan to avoid further damaging China-U.S. relations and cross-strait peace and stability," Wang said. "China will take legitimate and necessary reactions to firmly safeguard national sovereignty and security interests."
Last week, the Chinese Foreign Ministry announced sanctions on U.S. companies such as Boeing and Lockheed Martin after a $1 billion-plus deal for equipment including the M142 High Mobility Artillery Rocket System, SLAM-ER surface-to-air cruise missiles and external sensor pods for F-16 fighter jets.
The State Department then approved the $2.4 billion sales of 100 Harpoon coastal defense systems to Taiwan, exacerbating tensions.
The Chinese People's Liberation Army has also spoken out. In response to the news regarding the MQ-9 Reaper drones, Chinese Defense Ministry spokesperson Senior Colonel Wu Qian urged the U.S. to rethink its approach as the Taiwan issue is one that "involves China's sovereignty and territorial integrity, as well as China's core interests."
"No foreign interference is allowed," Wu said. "Any attempt to contain China with the Taiwan question or refuse reunification with the use of force is a dead-end road."
This would require the U.S. to recalibrate its strategy.
"China urges the U.S. side to fully understand the greatly hazardous nature of selling weapons to Taiwan, immediately cancel all its plans of arms sales to Taiwan, stop selling weapons to the island and cease U.S.-Taiwan military contact and handle Taiwan-related issues prudently and properly," Wu said, "so as not to cause any immeasurable serious consequences to Sino-American bilateral and mil-to-mil relations, as well as to the peace and stability across the Taiwan Strait."
Otherwise, the approach would backfire, he argued, with the potential for confrontation in the high-stakes region.
"Those who play with fire will get burned," Wu cautioned. "The Chinese People's Liberation Army will never allow anyone or any force to split the sacred territory of the motherland. If someone insists on going their own way, we are bound to give them a head-on blow."
Chinese warplanes have repeatedly defied the air defense identification zone claimed by Taiwan, where officials all calling for a greater U.S. military commitment. While here, too, officials have publicly said they did not favor either U.S. presidential candidate, two lawmakers of the ruling Democratic Progressive Party attended a briefing Wednesday wearing face masks supportive of Trump.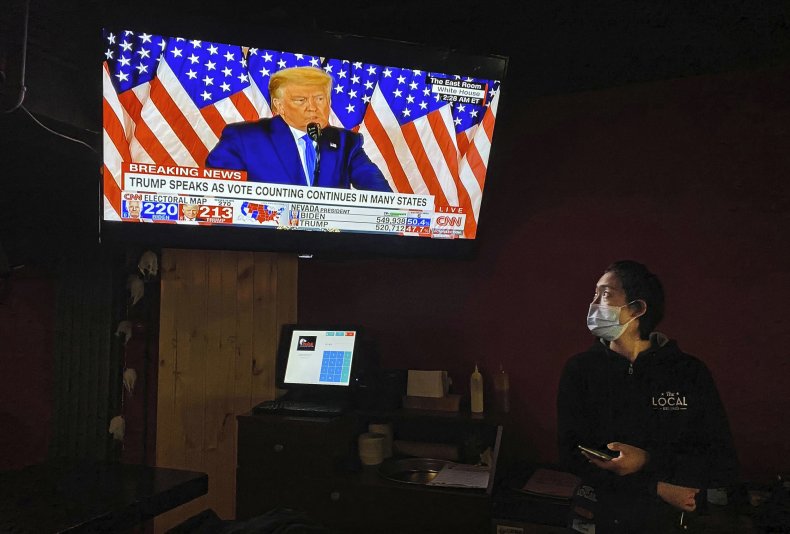 With regional tensions rising, however, Wu recently emphasized the need for an improvement in U.S.-China ties in the aftermath of a rare virtual event bringing the two militaries together. Representatives of both armed forces participated last week in Crisis Communications Working Group and Wu said more joint efforts were in the works.
He dismissed unspecified media reports about a potential planned U.S. attack involving MQ-9 Reaper drones on disputed islands controlled by the People's Liberation Army in the South China Sea, but warned of harsh retaliation should such a plot turn out to be true.
"Should anyone dare to stir up a conflict on the sea, the Chinese side will fight back resolutely to safeguard its national sovereignty and security interests," Wu said at the time.
David R. Stilwell, the U.S. assistant secretary of the Bureau of East Asian and Pacific Affairs, railed against China and its ruling Chinese Communist Party during a virtual event hosted Tuesday by Stanford University's Hoover Institute and the Asia Society.
He accused the party, one of the world's largest, of being "covert, coercive, and corrupting" and characterized it as a threat to U.S. society.
"The Chinese Communist Party poses a real risk to our basic way of life—prosperity, security, and liberty all," Stilwell said. "Our task is to recognize it, alert others, and together take the steps needed to defend our freedoms."
As the Trump administration laid blame on Beijing for letting the COVID-19 pandemic spread across the world, Chinese President Xi Jinping took a far softer tone during a keynote speech Wednesday at the opening ceremony of the Third China International Import Expo, an event attended by heads of state, government and delegations from across the globe.
"At a time of formidable challenges facing the world economy, it is imperative that we bolster confidence and courage to tide over this difficult period together," Xi said. "China will join hands with all other countries to create opportunities in opening up, tackle difficult problems through cooperation, and foster a brighter future for humanity."