Taiwan Pro-Independence Lawmakers Back Trump With 2020 Election Mask
A pro-independence Taiwanese lawmaker wore a face mask supporting President Donald Trump on Wednesday despite the democratic island's official position of neutrality and its leader's reluctance to pick a favorite in the race.
The ongoing presidential election in the United States was among the main topics of discussion as Taiwan President Tsai Ing-wen convened her Democratic Progressive Party's Central Standing Committee.
While she remained silent when asked by reporters who she thought was most likely to win the closely contested race, her committee members were less eager to hide their preference, according to reports by Liberty Times and others.
DPP legislators Tsai Yi-yu and Huang Cheng-kuo both showed up wearing face masks bearing Trump re-election campaign slogans. The former also posted a picture of himself wearing the "Trump 2020 Keep America Great" PPE on his Facebook account.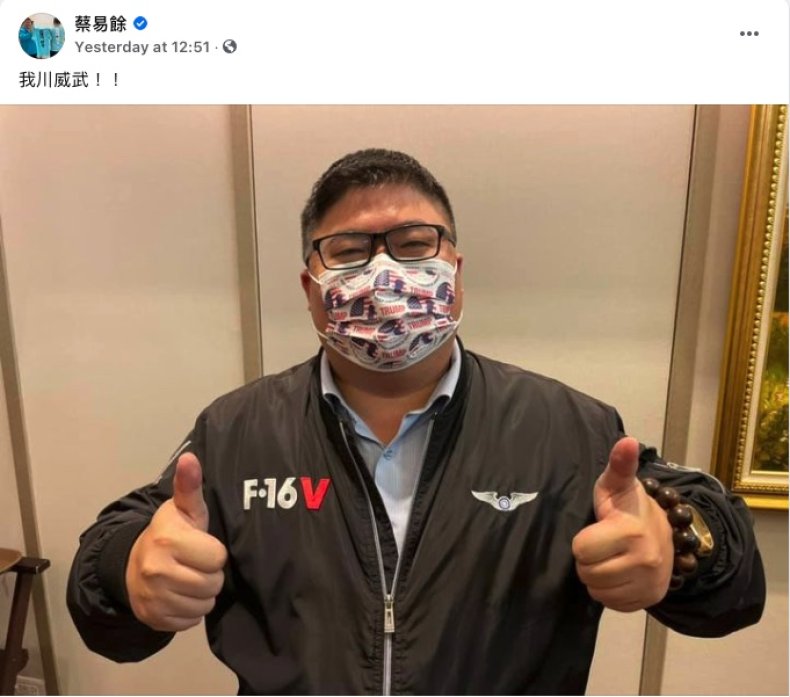 The 39-year-old independence-leaning lawmaker has never been shy about his preference for President Trump. He posted multiple messages in support of the president leading up to Tuesday's election.
"Biden won't get more than 241 electoral votes," he was quoted as telling President Tsai and the other committee members.
Taipei's official position on the U.S. presidential election is one of neutrality, the country's foreign ministry said Tuesday. High-ranking officials have insisted the Tsai administration would happily work with either a Republican and Democrat in the Oval Office.
"The DPP has experience working with both ruling and opposition parties in the United States," President Tsai said, "We maintain close relationships with the administrative departments, Congress and think tanks."
Chuang Jui-hsiung, the DPP's legislative caucus whip, told news site ETtoday that a Biden victory would add another variable to U.S.-Taiwan relations, as the former vice president's team would have its own policies.
"Although the U.S.-led, international anti-China sentiment is unlikely to change, it awaits to be seen whether Washington will continue to support Taiwan," Chuang added. "Of course, a Trump re-election would carry more predictability."
In spite of President Tsai's reluctance to pick a favourite between Trump and his Democratic challenger Joe Biden, opinion polls from the island show a majority preference for the incumbent president.
Tsai's government, which Beijing sees as rogue and illegitimate, has been buoyed by strong support from the Trump administration since his election in 2016.
On Tuesday, the State Department announced it had approved the sale of four armed drones to Taiwan worth $600 million. The latest transaction marked the 10th weapons deal with Taipei under President Trump.