Chinese Theme Park Faces Backlash After Forcing Pig to Bungee Jump Off 223-Foot Tower
A Chinese theme park has sparked outrage after a pig attached to a bungee cord was shown being plunged from the top of a tower standing 223-feet high (68 meters) at the park.
The live stunt was reported to have taken place on Saturday to mark a new bungee jumping attraction at the Meixin Red Wine Town theme park in the Chongqing province of southwest China, Australia's ABC News reports.
A video of the event shared on Chinese social media shows the pig, reported to weigh around 165 pounds, wearing a cape with its legs bound and body tied to the bungee cord, according to local media.
The pig is heard squealing as it is hurled up and down several times by the bouncing cord, while laughs and cheers were reported to be heard from the crowd below.
The pig appeared to be still and unconscious just after being placed on the ground and freed from the cord, China's Global Times reported.
Speaking to Newsweek, PETA (People for the Ethical Treatment of Animals) Asia's vice president of international campaigns, Jason Baker, said: "This is cruelty to animals at its worst. A bungee jump is a scary experience even for consenting humans—just imagine the outright terror of being forcibly strung up by your legs and thrown from a high platform. That's the treatment that this pig received, all for a cheap laugh. Well, guess what? No one's laughing."
"Pigs experience pain and fear, just as we do, and this kind of disgusting PR stunt should be illegal. The theme park deserves every shred of the backlash it's receiving online, and the Chinese public's angry response should be a wake-up call to China's policymakers that they must implement animal protection laws immediately," Baker added.
The act received criticism after it was shared on social media platform Weibo, a Chinese website similar to Twitter, with several users condemning the inhumane stunt as "disgusting."
"It [the stunt] was miserable for the animal! It's a disgusting marketing idea to attract attention by abusing a pig," wrote one user, Global Times reports.
The owner of the park was reported to have defended the stunt, saying it was orchestrated to mark the end of the Year of the Pig on the lunar calendar.
"It's our opening day today. We let the pig make the first jump because pork prices have been very high this year and recently they dropped a bit," the owner reportedly told a local Chinese news outlet, according to the The South China Morning Post.
It has yet to be confirmed what became of the pig after it was dragged away from the bungee jump stunt. But a public relations representative for the park was reported to have said the act was "a bit of entertainment," and revealed the animal was meant to be slaughtered for a banquet celebrating Chinese New Year later this month, the South China Morning Post added.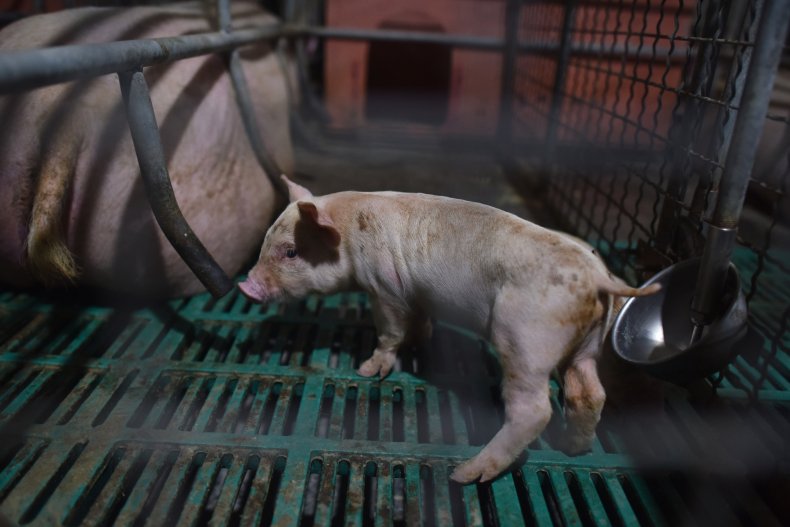 The representative said it was "normal" for the pig to experience some shock on its way to be slaughtered.
Animal protection laws are not in place in China but hundreds of grassroots organisations have sprung up in the country in recent years to campaign for animal welfare, such as Freedom for Animal Actors (FAA), according to Animals Asia, a Hong Kong-based international animal charity, which has been supporting FAA for several years.
"When I first came to China, there was not one animal welfare organization in the country. Today there are hundreds. But they need help. We are proud to have supported FAA whose work is doing so much to raise awareness of the cruelty behind animal performance," Jill Robinson MBE, notes on the company's website.
"China has already banned animal performance in zoos, we hope that one day that compassion will be extended to those suffering in circuses too," she added.
Back in 2016, a group of young members from FAA were reported to have managed to deter people at the Beijing Workers Stadium from watching an animal circus show being performed there, even after they had already bought their tickets, following their demonstration and dialogue with locals.
"This kind of grassroots work is exactly what will change hearts and minds in China. Once people start to question the morality of the entertainment they have taken for granted, there is only one conclusion they can reach," Animals Asia's animal welfare director Dave Neale said.
"At this event, many of the parents reached that conclusion in a matter of minutes and took their children somewhere else for a day out — somewhere cruelty-free," he added.
Last October, PETA spoke out against the reported use of live animals, including pigs and dogs, as crash test dummies for cars by researchers in China. Fifteen pigs were reported to have been strapped into car seats for high-speed simulations, resulting in seven pigs dying.
Newsweek has contacted Animals Asia and Freedom for Animal Actors for further comment on the latest incident in China.