Could South China Sea Conflict Heat Up Before Joe Biden Presidency?
A Chinese think tank specializing in the security situation around the disputed waters of the South China Sea has warned of a growing risk of conflict with the United States just as the country is weeks away from inaugurating a new president.
"We still believe that the risk of conflict is rising," the South China Sea Probing Initiative (SCSPI) said in a statement sent to Newsweek. "Though less mentioned in media reports recently, there have always been several encounters of various kinds from two sides every single day."
At the end of a tumultuous year for U.S.-China relations — along with many other aspects of life across the globe — a cautious calm appears to have consumed the tense South China Sea, an expansive and strategic body of water rich with resources over which travels much of the world's maritime traffic.
But beneath the surface, heated tensions continue to boil.
Even with the international community's focus on efforts to develop and distribute vaccines to halt the rapid spread of the COVID-19 pandemic, and a painstaking political transition taking place in Washington, SCSPI says the likelihood of aggression or miscalculation between the U.S. and China erupting into hostilities over their differing definitions of sovereignty in the South China Sea continues to grow.
"If the U.S. and China couldn't find substantive crisis management measures, the risk of an accident or unexpected conflict would still be high," the think tank said.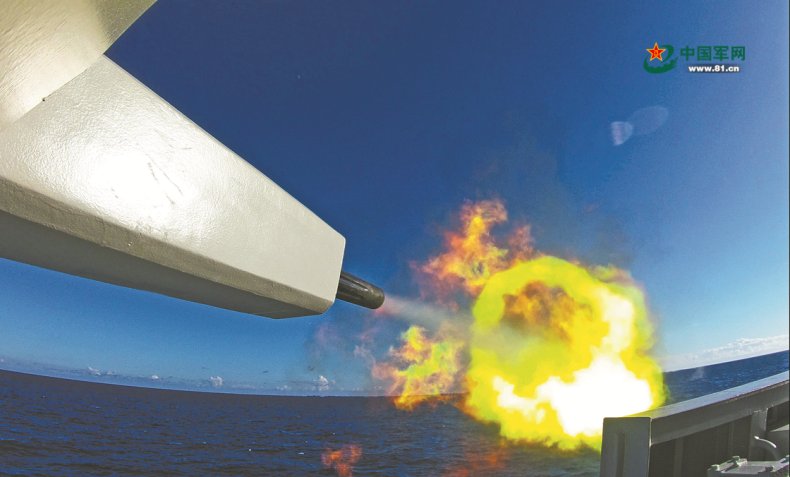 At its core, the South China Sea dispute revolves around territory subject to overlapping claims by China and neighboring nations such as Brunei, Indonesia, Malaysia, the Philippines, and Vietnam. Taiwan, a self-ruling island whose independence from mainland China is little-recognized abroad but tacitly supported by the United States, also lays claims, mirroring those of its rival government in Beijing.
China has by far the largest presence in the region among these players. In addition to its commercial and scientific activities, China's armed forces — the People's Liberation Army — have built up bases on disputed islands and reefs that dot the massive South China Sea.
This practice is justified by Beijing as a measure to safeguard its sovereignty, but it's stirred discontent throughout the Pacific, the venue of the last major naval war among nations. In Washington, officials feel U.S. military dominance is increasingly threatened by China's rise, making the South China Sea a geopolitical issue at the forefront of the 21st-century struggle for dominance among great powers.
To challenge China's sweeping maritime claims, the U.S. has conducted what it defines as "freedom of navigation" operations. These naval and air operations seek to enforce the right of international traffic to travel through sea lanes claimed by various countries, and they've increased significantly in size and scope over the past decade.
China sees such moves as a challenge to its national security, and routinely sends air and sea assets to intercept U.S. forces. The SCSPI called on the U.S. to cease intervening in the regional dispute and prevent potential provocations during encounters with Chinese forces.
With tensions between the two nations still soaring, the team felt a turnaround was unlikely.
"The U.S. needs: 1) to refrain from 'taking sides' on disputed issues and maintain necessary policy balance; 2) to avoid extreme moves on the front line," the initiative's team said. "However, under the backdrop of the great power competition, both mentioned above are hard to be seen."
Indeed, the U.S. showed little sign of changing course, as the State Department announced new sanctions Friday to "impose costs on Beijing's unlawful campaign of coercion in the South China Sea." The Navy, for its part, showed no signs of halting its activities in the region.
"The U.S. will continue to fly, sail and operate wherever international law allows in accordance with international norms and our agreements," a U.S. Navy spokesperson told Newsweek. "We expect the PLA to operate in accordance with the same."
While China views U.S. military activities in surrounding seas as a foreign intrusion, the Pentagon sees continuity in its presence there.
"The U.S. has a persistent military presence and routinely operates throughout the Indo-Pacific, including the waters and airspace surrounding the East China Sea and South China Sea, just as we have for more than a century," the Navy spokesperson said.
And as for chance encounters between the two forces, both countries are parties to the Code for Unplanned Encounters at Sea and the Rules of Behavior for Safety of Air and Maritime Encounters Memorandum of Understanding. Beijing has also signed and ratified the United Nations Convention on the Law of the Sea that forms the basis for U.S. freedom of navigation operations, while Washington has not.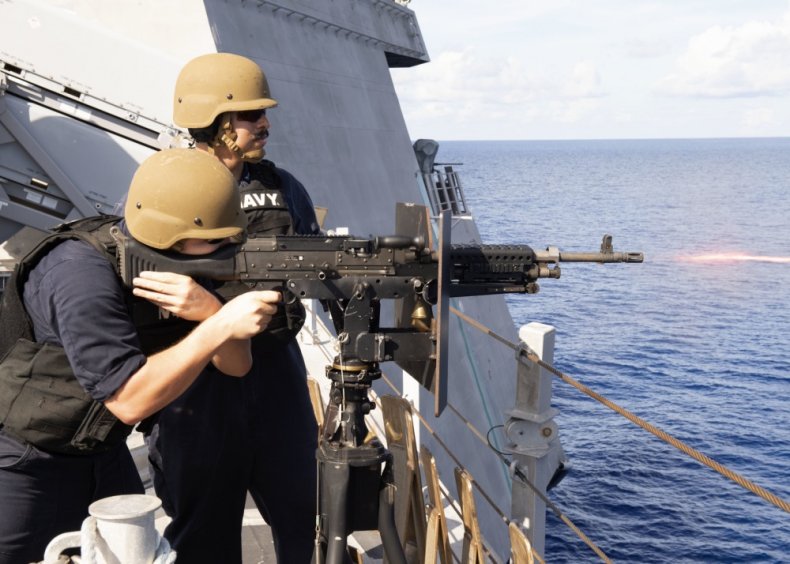 Still, the Navy spokesperson said that "the vast majority of U.S. military interactions with the PLA, not just in the South China Sea but throughout the region, are safe and in accordance with international norms. Attempts to misconstrue or sensationalize our operations are irresponsible and counterproductive."
But mutual suspicions have dominated their relationship throughout 2020. This holds true at sea as well. Yet even as their ties frayed this year, Beijing and Washington have shown signs of cooperation, including a joint crisis communications training in late October.
The two nations were due to hold a joint maritime safety training this week, but China never showed up, and both sides blame each other for not living up to commitments.
Navy Admiral Philip Davidson, commander of U.S. Indo-Pacific Command, called the refusal "another example that China does not honor its agreements" in a statement Wednesday, while People's Liberation Army Navy Senior Colonel Liu Wensheng said Davidson's remarks were "filled with distortion of facts" as "the U.S. side didn't abide by a consensus reached between the two sides and the responsibility entirely lies on the U.S. side."
The U.S., Liu said Thursday, "insisted on pushing its unilateral agenda" after China provided it last month with suggestions for talking points and topics. That same day, the U.S. Naval Institute released a new maritime strategy report stating that the "People's Republic of China represents the most pressing, long-term strategic threat" to U.S. maritime security.
"China's behavior and accelerated military growth place it on a trajectory
that will challenge our ability to continue to do so. We are at an inflection point," the report said. "Our integrated Navy, Marine Corps, and Coast Guard must maintain clear-eyed resolve to compete with, deter, and, if necessary, defeat our adversaries while we accelerate development of a modernized, integrated all domain naval force for the future."
The Pentagon has already seen China, a country vowing to assemble a world-class military by 2050, surpass the U.S. in certain military capabilities. The latest U.S. Naval Institute report described a fateful time for U.S. military power.
"Our actions in this decade will shape the maritime balance of power for the rest of this century," the report found.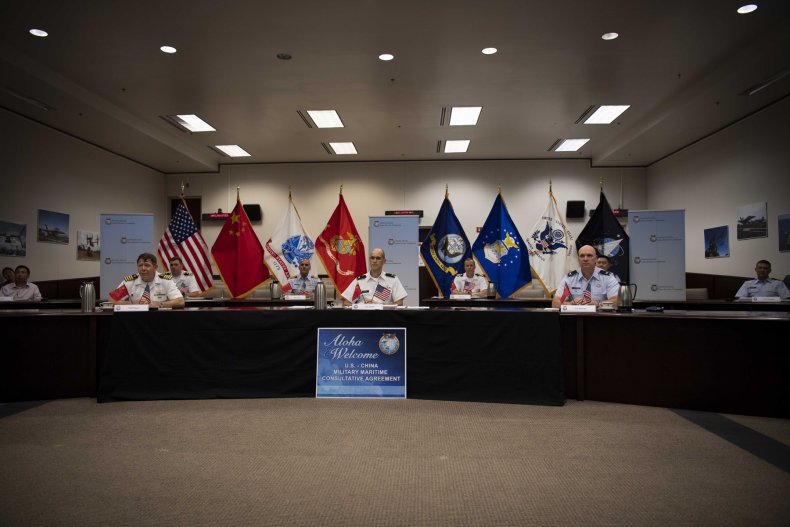 But in Beijing, Chinese Foreign Ministry spokesperson Wang Wenbin dismissed the document and its assertions that China violated international law in its naval activities.
"China is committed to peaceful development and a defense policy that is defensive in nature," Wang told reporters "We are a builder of world peace, a contributor to global development, and an upholder of international order. China's national defense development is entirely aimed to safeguard national sovereignty, security and development interests, as well as regional and international peace."
He emphasized China was not a threat to the U.S. or any other nation, and that Beijing sought to mend broken relations with Washington.
"We hope that the U.S. side will take a rational and objective view of China's national defense and military development, work with China to meet each other half way, focus on cooperation to manage differences, and bring China-U.S. relations back to the right track so as to bring more benefits to the people of both countries and the world," Wang said.
President Donald Trump took a hard line against China, but it remains to be seen how his successor, President-elect Joe Biden, will handle the only other country set on superpower status in the short term.
For China, engagement appears to be priority over confrontation and a conciliatory message was echoed Friday by China's top diplomat during a virtual talk with the Asia Society.
Chinese Foreign Minister Wang Yi emphasized a need for the two countries to work together, including on maritime issues, and veer off the path of escalation—or else risk global catastrophe.
"While China-U.S. cooperation can make great things happen for the two countries and the entire world," he said, "China-U.S. confrontation would definitely spell disaster for not only the two countries but also humanity as a whole."