China Unveils New Stealth Drone With Eye on Middle East Dictators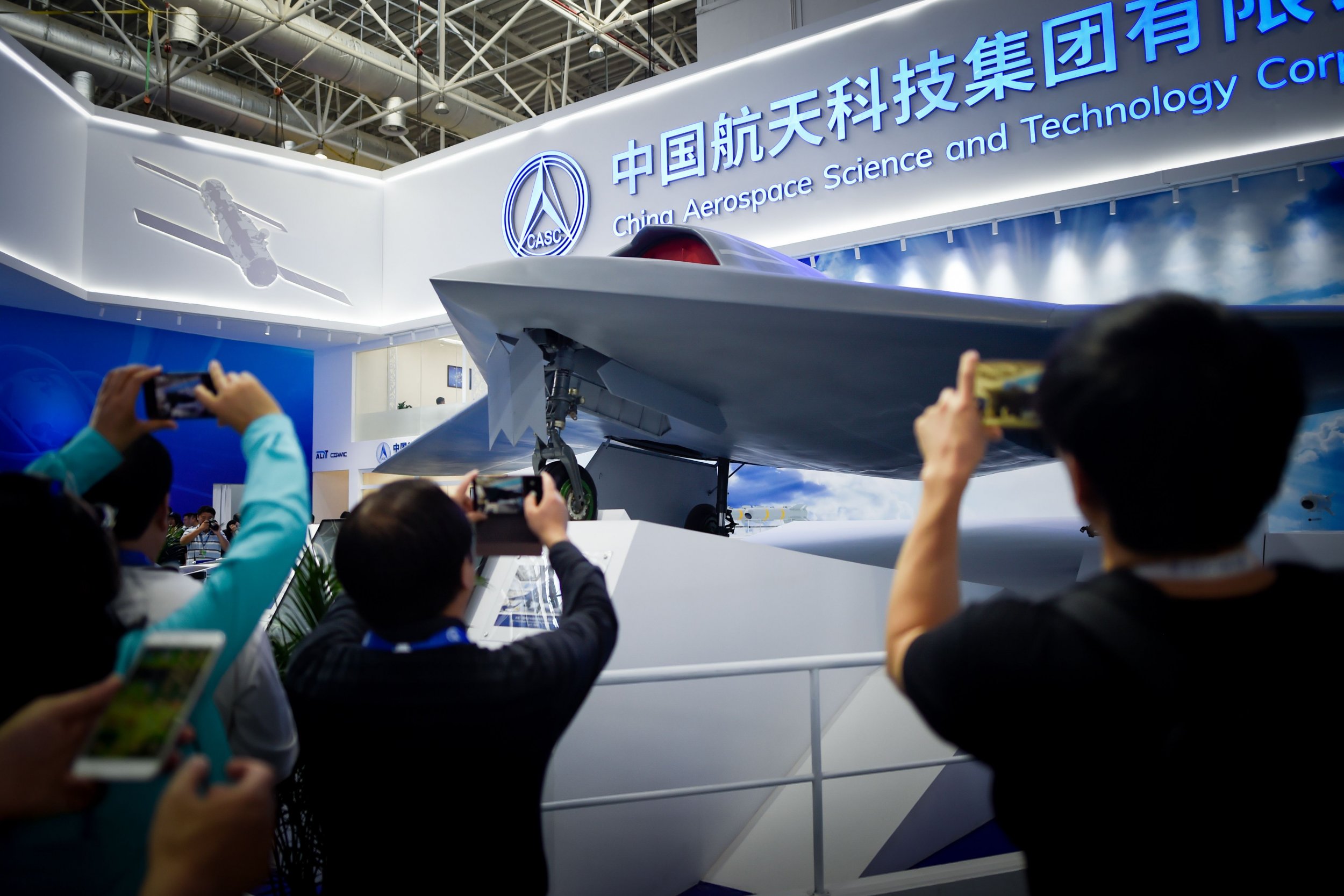 China has unveiled its latest stealth drone technology as Beijing attempts to undercut U.S. sales and gain a lucrative foothold in the world's most unstable regions.
A model of the CH-7 unmanned aerial vehicle (UAV) is being displayed this week at the Zhuhai air show in southern China, an event where each year Beijing showcases its most-cutting edge technology.
The UAV is being built by the state-owned Chinese Aerospace Science and Technology Corporation, which hopes to begin test flights next year and mass production in 2022. With a wingspan of 72 feet and a length of 33 feet, the CH-7 is the size of a combat aircraft and can fly around the speed of a commercial jet plane.
Chief designer Shi Wen told the Associated Press the aircraft can "fly long hours, scout and strike the target when necessary." Shi suggested that "in the next one to two years" the CH-7 could be flying missions as a "practical and usable product." He added that the aircraft will likely be sold abroad, but did not specify where.
China has been investing heavily in drone research as part of a plan to transform its large but low-tech military into one of the world's most modern and well-equipped forces. And with better domestic technology comes more foreign sales.
The U.S. remains the global leader in drone technology. Its UAVs fly missions for a host of nations all over the world, whether in combat strike, reconnaissance or law enforcement roles. But American products are expensive, and often come with strict conditions on their use.
The U.S. limits sales of its best gear in case it falls into enemy hands, is used in crushing civil unrest or even because it might undermine the regional military dominance of Israel—which itself has one of the world's most advanced and lucrative drone industries.
China's aircraft may not be as good as America's but they can be bought for cheaper and with fewer strings attached. According to The Wall Street Journal, Chinese drones—many of which closely mimic American designs—have been spotted flying missions for Saudi Arabia above Yemen, patrolling the skies over the Syrian border for Jordan and striking ISIS targets in Iraq.
Egypt, Iraq, Myanmar, Pakistan, Nigeria and the United Arab Emirates are among China's customers. All have histories of large-scale human rights violations and even war crimes, but all are keen to bolster their UAV armories as such systems become must-haves on the modern battlefield.
And as China's systems improve, more nations in the unstable region and further afield will be looking toward Beijing. That China is not signed up to the Missile Technology Control Regime—restricting exports of missiles and other unmanned weapons systems—gives the country another edge in the international drone market.
Ron Huisken, a regional security expert at Australian National University, told AP, "One wonders what nasty surprises are in store as countries more casual about how they use drones and less strict about training standards get their hands on them."