Why Are Militants Using Drones? UAV Weapons Have Spread Far Beyond Nation States
The first airstrike ever launched from an unmanned drone was a failure. On October 7, 2001—the first night of the war in Afghanistan—a CIA Predator drone buzzed above a compound where Taliban leader Mullah Omar and his senior commanders were gathered.
But rather than decapitating the Taliban leadership, the strike only blew up a truck parked outside. Alerted to the danger, Omar and his commanders fled into the night.
Despite the outcome, the mission was a watershed moment. Some 16 years later, drone technology has revolutionized the way the U.S. fights wars. Drone technology is used on battlefields on land, at sea, and will soon even be in space.
Warfare by Remote Control
But drones—or unmanned aerial vehicles (UAVs)—are no longer used only by top-tier military powers. The advent of relatively cheap recreational UAVs has made them available to those without the resources to invest in military research and development. According to a report from the Center for a New American Security (CNAS), more than 90 countries and nonstate groups field drones, and 30 have weaponized them.
The spread of UAV technology to militants represents the next evolution of warfare by remote control, whereby terrorist groups can build de facto air forces. Weaponized drones are often low-tech but potentially deadly.
The Islamic State military group (ISIS), for example, was able to import and construct hundreds—if not thousands—of inexpensive and portable drones, using them to terrorize their enemies on the battlefields of Iraq and Syria. When ISIS's Mosul bastion finally fell in the summer of 2017, Iraqi forces found dozens of drone factories.
The ISIS fleet of bomber quadcopters received extensive coverage. Used to drop relatively small explosives onto Iraqi, Kurdish and Turkish forces, they allowed ISIS to score the first-ever kill for a militant group using an offensive drone. ISIS also fielded single-use explosive drones, flown to the target and detonated. The group also released footage of fixed-wing drones.
Other Sunni militant groups in Syria and Iraq also adopted the use of drones—including Ahrar al-Sham and Jund al-Aqsa—though on a more limited scale than ISIS.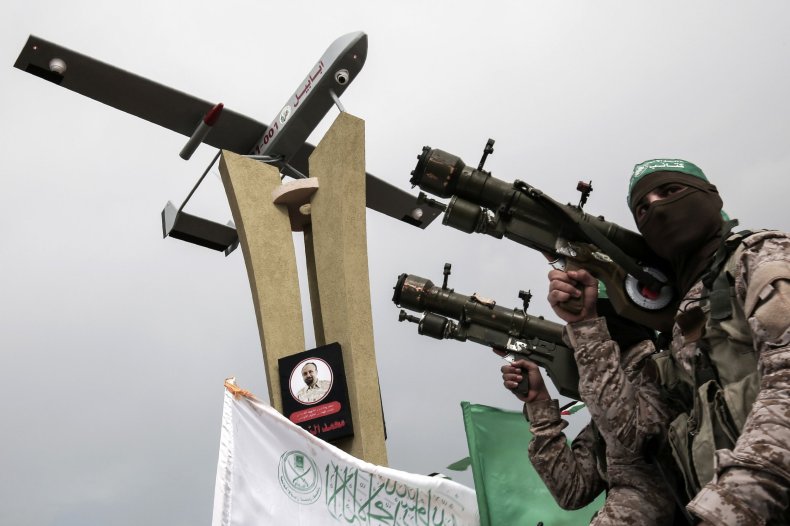 Sarah Kreps, a drone expert and an associate professor at Cornell University's Department of Government, explained that militant groups are adapting their tactics just like major powers—using drones, evaluating their success, improving their processes and trying again.
Drones were also useful for ISIS propaganda, utilized to film vehicle-borne IED bomb attacks with the footage featuring heavily in the group's famously high-quality multimedia output. Simply owning drones can be a powerful statement, as shown by Hamas and Hezbollah.
In Yemen, Houthi forces used sophisticated drones to attack the Saudi-led coalition. The group likely acquired the drones through their close relationship with Iran. Indeed, the similarities between the Houthi Qasef-1 UAV and Iran's Ababil are striking. The fixed-wing Qasef-1 can carry a 65-pound warhead and has allowed the group to attack Saudi airports and oil refineries.
Houthi drones have been used against Saudi radar installations, which are vital for intercepting Houthi ballistic missiles. Drones can be programmed with the GPS coordinates of the target and crashed into the radar system as an improvised missile.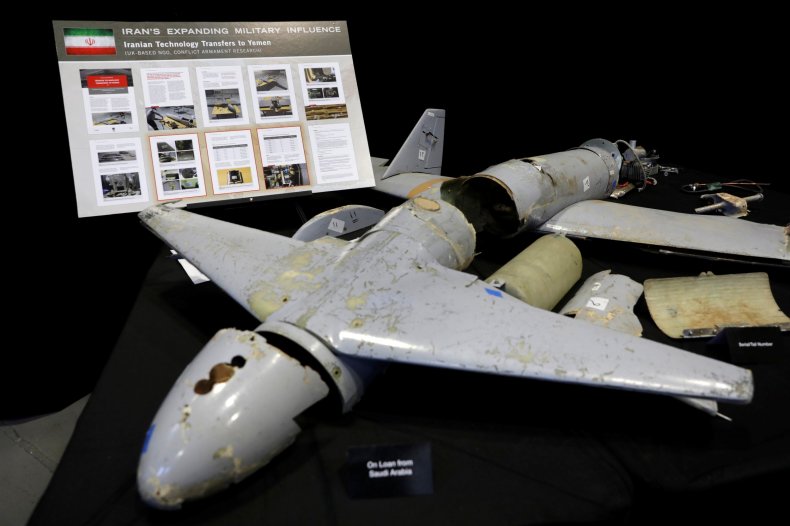 Sabotage operations have also been demonstrated by militants in Ukraine. Last year, pro-Russian fighters in the Donbass area used a drone to drop a thermite grenade on a Ukrainian ammunition depot. The resulting explosion and fire required 20,000 people to be evacuated from a 6-mile radius around the site.
More Than Just Weapons​
While offensive drones grab headlines, the real value of UAVs lays in surveillance, according to Paul Scharre, a senior fellow and director of the technology and national security program at Center for a New American Security (CNAS).
Even small, cheap drones can stay in the air for a long time. Infantry squads can use drones to get a better view of the battlefield and gain a tactical edge on opponents. That is true whether the troops are fighting for a guerilla group or the U.S. Army.
While high-tech American command and control centers offer unrivaled reach, they are far from a requirement. "We're seeing different groups use them in very different ways that serve their interests," Scharre said.
West African extremist group Boko Haram's reach and strength has been significantly eroded since it came to international prominence in 2014. Still, there have been reports that its fighters are using drones to keep an eye on Nigerian and Cameroonian forces attempting to track them down.
The ISIS-affiliated group that attacked and occupied the Philippine city of Marawi in 2017 also used drones to observe government forces, helping its fighters plan attacks and inform their five-month defense of the city.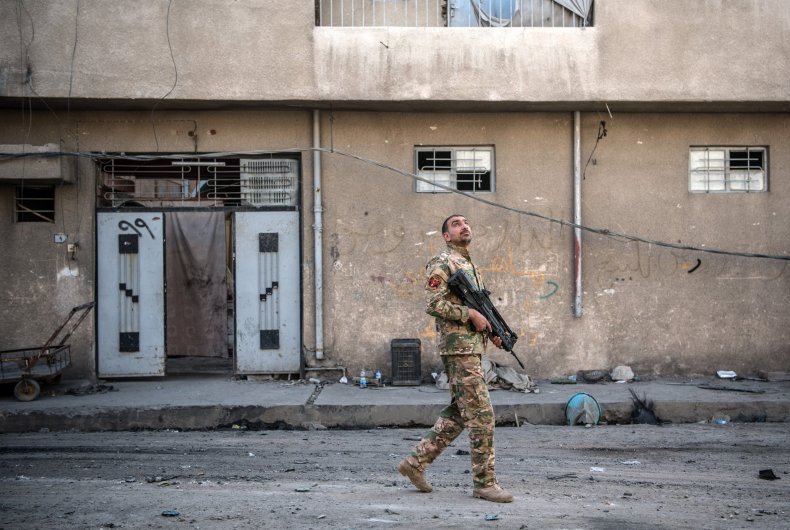 As soon as it became clear militants could use UAVs to deadly effect, commentators began speculating on how long it would be before a major city was attacked. Fears of a mass casualty attack have thus far proved unfounded.
For all their media coverage, drones are not the most effective means of attack. In recent years terrorists have been using cars and trucks for attacks on crowds. "A truck is far more dangerous than a small drone," Scharre said. And in the U.S., it is far easier and more effective to attack with a semiautomatic rifle than with a hobby drone.
Combating the Threat
The low cost and widening availability of drones demands new ways to fight them. Insurgent groups can spend just a few hundred dollars on a quadcopter and create huge amounts of disruption, while governments will need to spend billions on defensive technology.
Lieutenant General Michael Shields, director of the Pentagon's Joint Improvised-Threat Defeat Organization (JIDO), said militant groups will continue to improve drone technology to ensure greater disruption and "catastrophic effects on the battlefield." The U.S. military is looking into both hardware and software defenses to combat the threat. "There is no one silver bullet," Shield explained.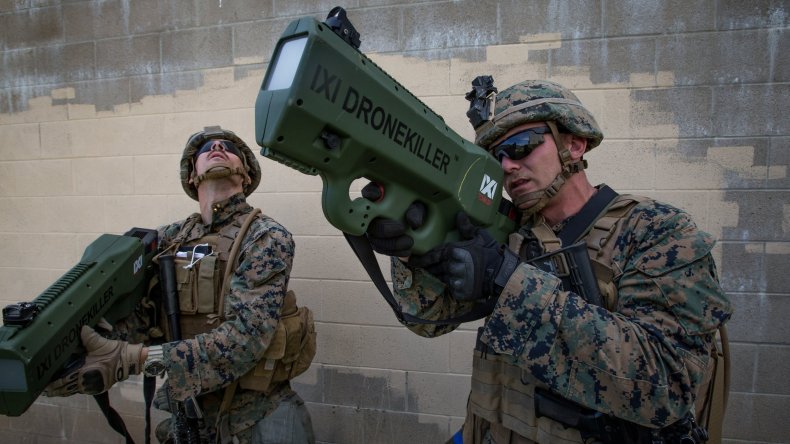 An innovative drone attack on a Russian air base in Syria in January may be a sign of things to come. Troops at the Khmeimim air base faced a swarm attack carried out by 13 homemade drones armed with small bombs attacking simultaneously. All were shot down before they could do any damage. The method was novel, but luckily for the Russians the drones were rudimentary.
Drones generally rely on a GPS or radio link to a human controller, which can be blocked or hijacked. As UAVs become more autonomous, this will be more difficult. An autonomous drone navigating visually could find and attack a target like a prominent building, politician, or just a crowd of people. And a swarm would be even deadlier.
"We haven't seen large swarm attacks yet, but it's coming, it's definitely going to happen," Scharre said. The challenge then won't be how to stop one drone, but rather how to counter 100.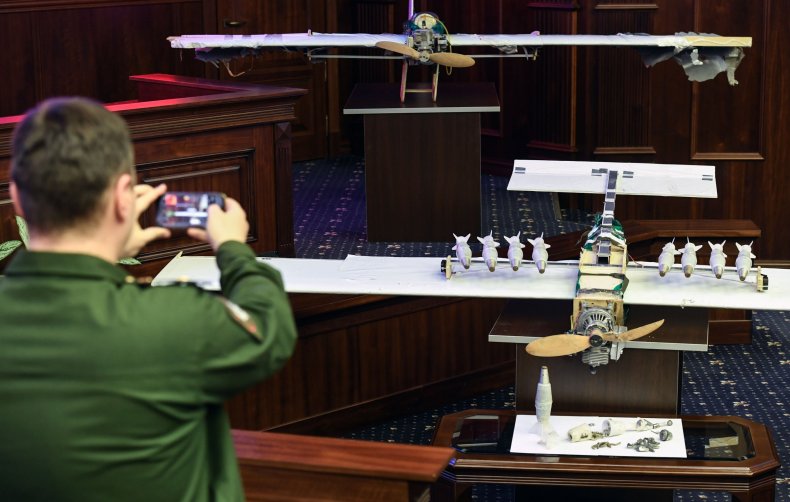 Drones remain a nascent technology. Defenses exist, but their suitability will vary in different situations. "Trucks full of lasers and machine guns might make more sense in a military context and less for defending a sporting event," Scharre explained.
Anti-drone technology will have to improve to ensure security. However, insurgents will quickly respond to new defenses with updated tactics of their own. Even for experts like Scharre, "it's too early to say exactly how it's going to pan out," he said.