China's U.S. Ambassador Splits With Foreign Ministry Spokesperson Over 'Crazy' COVID-19 Theory
The Chinese ambassador to the United States has split with a spokesman for his country's foreign ministry, confirming that he still believed it was "crazy" to say COVID-19 was created in an American lab.
Ambassador Cui Tiankai told Axios on HBO that his position had not changed since he told CBS News' Face the Nation on February 9 that it was "crazy" to claim the new coronavirus was manufactured by the U.S. military.
He also said it was not for diplomats or journalists to "speculate" about the origin of the disease, adding that it was "a job for the scientists to do."
Ambassador Tiankai's remarks, broadcast Sunday, represented a break with China's foreign ministry spokesperson Zhao Lijian, who asserted the unfounded theory that the U.S. Army brought COVID-19 to the Chinese city of Wuhan.
"When did patient zero begin in US? How many people are infected? What are the names of the hospitals?" Zhao tweeted on March 12. "It might be US army who brought the epidemic to Wuhan. Be transparent! Make public your data! US owe us an explanation!"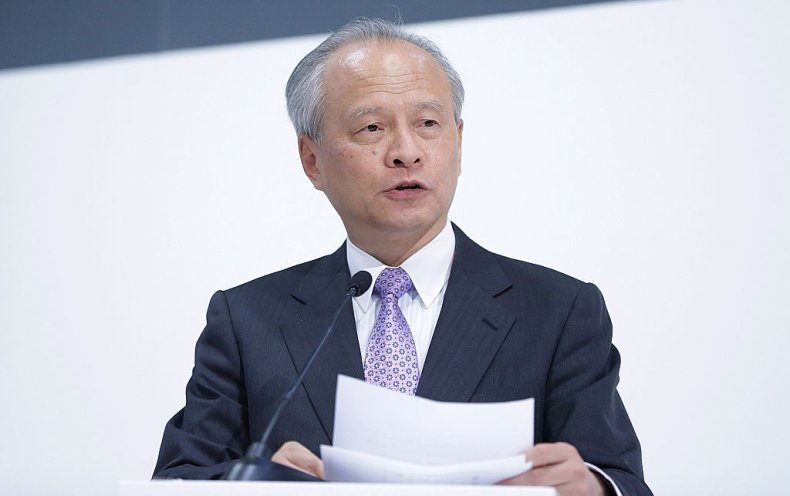 Speaking to Face the Nation a month earlier, the Chinese ambassador to the U.S. said: "There are people who are saying that these virus are coming from some- some military lab, not of China, maybe in the United States. How- how can we believe all these crazy things?"
Asked if he stood by his suggestion that it was "crazy" to say that the novel coronavirus was manufactured in a U.S. military laboratory, Tiankai told Axios on HBO: "I think such an attempt was first initiated here, you saw my interview on Face the Nation, we were talking about some people here saying crazy things."
Confronted with his earlier statement, which dubbed claims that the virus was created in a American military lab "crazy," Cui said: "That's my position all along. That's my position then, and that's my position now.
"Eventually we must have an answer to where the virus originally came, but this a job for the scientists to do. Not for diplomats, not for journalists, to speculate, because that speculation will help nobody. It's very harmful.
"So why not let our scientists do their own professional job and give us some answer, eventually?"
Pressed on whether the foreign ministry spokesperson Lijian had any evidence to back up his claim that the U.S. army brought COVID-19 to Wuhan, Cui replied: "Maybe you could go and ask him."
"I'm here representing my head of state and my government, not any particular individual," the ambassador added.
"OK, so we shouldn't take his words literally ... we shouldn't take them as a representation of the Chinese government, even though he's the spokesman?" Axios' Jonathan Swan asked.
The Chinese diplomat replied: "Well you could try to interpret somebody else's statement. I'm not in the position... to explain everybody's view to you."
Newsweek has contacted the Chinese Embassy for further comment and will update this article with any response.
The World Health Organization recommends that the coronavirus should not be linked with geographic locations, but that has not stopped Chinese officials and President Donald Trump from engaging in a war of words over the virus' origin.
President Trump has repeatedly referred to COVID-19 as the "Chinese virus," and told reporters last week that he was using the phrase in response to Chinese officials "saying that our military gave it to them."
Republican congressmen have also given credence to a unfounded theory that the COVID-19 coronavirus could be a biological weapon created by China, with Representative Peter King of New York stating the theory was "worthy of investigation."