Fact Check: Does China Spend More Than U.S. on Defense?
China's military might has come into sharp focus over the past year as antagonisms between it and the U.S. continue over a potential conflict in Taiwan.
Newsweek reported earlier this week that China had begun doubling military flights around Taiwan while former national security advisor H.R. McMaster told CBS News that he believes Chinese President Xi Jinping is "preparing the Chinese people for war"
Now, a graphic has appeared on social media that appeared at first glance to suggest that China has surpassed the U.S. on defense spending.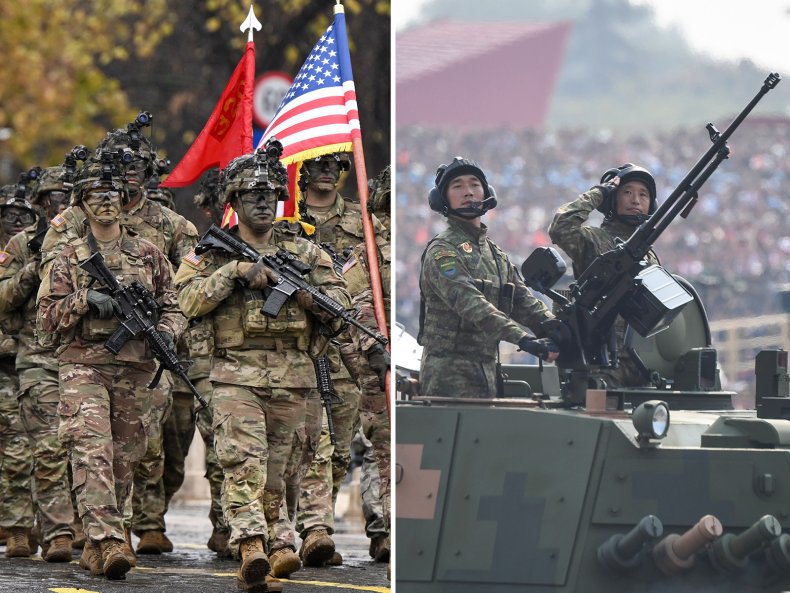 The Claim
A Reddit post, published on January 24, 2022, with the subtitle "China spends more on defense than the US?" showed a graph of the "Top Six Countries by Military Expenditure".
A red line meant to represent Chinese spending crosses over the graph toward the top right, measuring "Billions of Constant 2020 U.S. Dollars". The end of the line is next to a mark on the right Y axis, measuring spending between $900 million and $1 trillion.
The post on the r/socialism subreddit generated 1,300 points and 72 comments. It echoed a post on the r/dataisugly subreddit, which had 853 points and 97 comments.
The Facts
American-Chinese relations have continued cool in the past month with Beijing supplying technology to Russia despite sanctions, while top foreign and defense policy officials from the States recently met with Japanese counterparts to strengthen ties and plan to forestall conflict with Jinping.

These actions might lead one to think, as some social media users have interpreted the graph to mean, that China is now pumping significantly more into its military in anticipation of conflict.
However, as the post on Reddit seems to acknowledge, the chart doesn't show China outpacing the U.S., although it doesn't make that abundantly clear either.
It's confusingly formatted, but there are two Y-axes; along the left spending is tracked up to $300 billion, and on the right up to $1 trillion, with the X-axis measuring spending each year from 1992-2021.
Looking at the graph's legend, each nation it measures is given a line design and instructions to the Y-axis it corresponds. As can be seen, China is charted along the left Y axis, America on the right, showing that the U.S. spent around $500 billion more in 2021.
The report the graph was based on, by the Federal Reserve Bank of St. Louis, published January 3, 2023, provides further detail, stating: "The U.S. had by far the largest military budget at $767.8 billion in 2021, but China's outlay was also quite large at $270 billion."
The Federal Reserve Bank of St. Louis cites its sources as the "Stockholm International Peace Research Institute (SIPRI) and authors' calculations."
SIPRI, an independent military and conflict think tank, is widely used across media for its resources and research into military spending.
The SIPRI Military Expenditure Database, which allows users to compare defense spending between nations from 1949 to 2021, shows that last year the U.S. outspent China on every metric SIPRI measures, which includes share of GDP, share of government spending, and per capita spending.
The graph used by the Federal Reserve Bank of St. Louis was criticized on Twitter for its lack of clarity.
Dr. Annelle Sheline, a Research Fellow for the Middle East at the Quincy Institute for Responsible Statecraft think tank, tweeted on January 23, 2022: "Wow. @stlouisfed published the graph on the left with two different Y axes to make it look as if China's defense spending outpaced the U.S.
"The graph on the right shows how the spending actually compares, with U.S. defense spending dwarfing all others."
A context note has been added under the Reserve Bank's tweet of the graph, stating: "While this information is correct, the graph is poorly formatted, with a separate Y-axis on the right-hand side which only applies to the US budget.
"This may make it seem like China has a higher military budget than the US, when the reverse is true."
U.S. Department of Defense spending for FY 2023 of $816.7 billion has already been approved by Congress.
While figures for China's 2023 budget were not available, the country's government announced last year that its 2022 defense budget would increase by 7.1 percent to around $229.5 billion, reported defense analysts Janes.
Though that figure is lower than SIPRI's record of China's spending in 2021, SIPRI notes that its figures are "based on revised estimates for Chinese military expenditure."
In any case, China would need to more than triple its budget before it began to compete with U.S. annual expenditure.
Newsweek has contacted the Federal Reserve Bank of St. Louis for comment.
The Ruling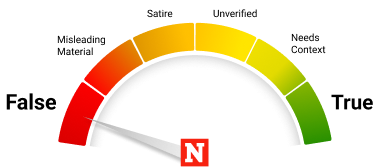 False.
China does not spend more on defense than the U.S.
The St. Louis Fed graph is confusingly formatted which may make it look like China spends more on its defense than the U.S.
However, it's designed with two axes, the left measuring spending up to $300 billion, the right up to $1 trillion, with a legend for each country corresponding to which spending range they sit within.
As the graph and the underlying reporting show, U.S. defense spending in 2021 outstripped Chinese by almost $500 billion. Other analyses show it outpaces China by multiple other metrics too.
FACT CHECK BY Newsweek's Fact Check team