China Says US Report to Congress Filled with 'Conspiracies, Pitfalls, Threats'
China has objected to an annual report released by a congressionally mandated commission examining challenges to the relationship between Washington and Beijing, which the authors found to be rising to the top of the global order at the expense of the United States.
The U.S.-China Economic and Security Review Commission released on Tuesday its annual congressional report, which for the first time focused on China "surpassing" the U.S. in terms of economics as well as diplomacy, technology and diplomacy, rather than simply "catching up."
While both President Robin Cleveland and Vice Chair Carolyn Bartholomew discussed with Newsweek areas of potential cooperation between the two powers on issues such as the economy, health care and climate change at a virtual press conference held a day before the report's release, both issued criticisms of China mirroring the 575-page document's findings that alleged the country was taking advantage of the U.S., other countries and international institutions in an effort to advance the interests of the People's Republic and its ruling Chinese Communist Party.
Reached for a response to accusations found in the report and recommendations that U.S. lawmakers take a tougher line on China, Beijing's embassy in Washington referred Newsweek to comments Wednesday by Chinese Foreign Ministry spokesperson Hua Chunying, who railed against the report, others like it and their authors.
"The so-called commission you mentioned has always been ideologically biased against China," Hua said. "There is no factual basis for the vilification and smear of China in various reports it has fabricated."
She tied it to a larger trend of anti-China rhetoric being espoused not only by U.S. officials, but others she charged with trying to sabotage bilateral relations based on an outdated concept of international relations.
"Some people in the United States cannot extricate themselves from the Cold War and zero-sum game thinking," Hua said. "All that meet their eyes are conspiracies, pitfalls and threats. This will do no good for the United States itself, the China-U.S. relations and the world."
Rather than adhere to the report's calls for China to change its attitude, Hua said it was the U.S. that should update its worldview.
"We hope that the relevant people in the United States will abandon the Cold War and the zero-sum game thinking and ideological prejudice, stop making unprovoked accusations against China, and stop doing or saying anything that harms China's interests and China-U.S. relations," Hua said.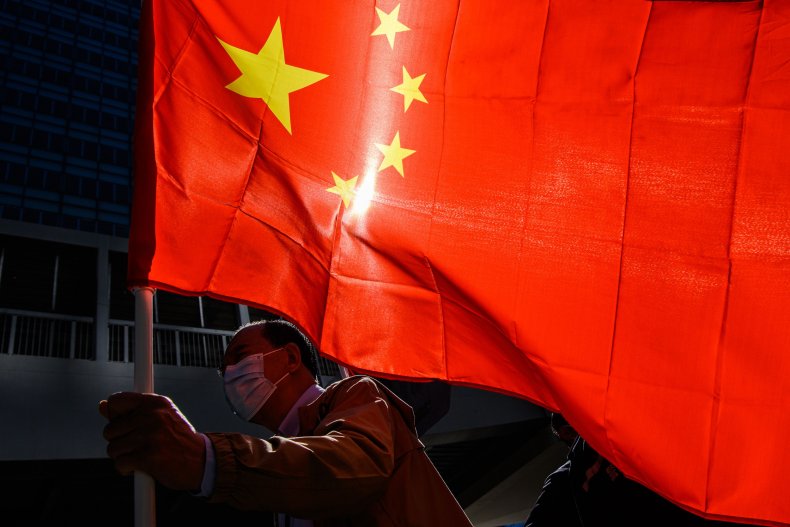 U.S.-China ties have deteriorated considerably in recent years, especially suffering as President Donald Trump adopted a tough stance against what his administration has branded as Washington's number one strategic competitor.
Just short of openly declaring a new Cold War, the Trump administration has urged the international community to rethink relations with China, accusing the world's largest nation by population and the second biggest economy—first by purchasing power parity—of trade abuses, human rights violations and territorial aggression.
Many similar criticisms appeared in the U.S.-China Commission report, which linked them to a wider plan for global domination.
Beijing seeks to use its growing power to transform the international order, ultimately legitimizing its repressive governance system; expanding its economic, security, and political interests; and restoring China to what it views as its rightful place at the center of the world," the report found.
It called for Washington lawmakers to take action to prevent this, offering 10 key recommendations that included strict vetting of China-origin businesses, compulsory reciprocity from Beijing in terms of public and private sector interactions as well as greater U.S. support for self-ruling Taiwan and semi-autonomous Hong Kong.
Without such measures, the report predicted a reorganization of the international order.
"Underestimating Beijing's intent to revise the international order based on its current capabilities risks delaying a response until it is already too late to preserve the liberal international order that has allowed the unprecedented flourishing of human life and freedoms for the last three quarters of a century," the report added.
U.S. legislators have increasingly sounded the alarm and what they believed to be unfair and exploitative Chinese behavior in international politics and trade.
As the House of Representatives prepared to bass a bill Wednesday taking aim at Chinese companies' ability to raise money on U.S. stock exchanges, Hua decried what she saw as yet another practice that "demonstrates the United States applies discriminatory policies to Chinese companies and launches political oppression against them."
She urged the U.S. to reconsider this approach in favor of dialogue.
"In today's world where the capital market is highly globalized, the right way to solve problems is to enhance dialogue and cooperation among relevant parties in a candid manner on issues such as strengthening cross-border regulatory cooperation and protecting the legitimate rights and interests of investors," Hua said. "We firmly oppose politicizing securities regulation. We hope the U.S. side can provide a fair, just and non-discriminatory environment for foreign companies to invest and operate in the US, instead of trying to set up various barriers."
While tensions remain high between the U.S. and China, tensions that spiked this year as the COVID-19 outbreak wrought sickness and disrupted life across the globe have relatively cooled in the wake of the U.S. presidential election, in which Trump's rival, former Vice President Joe Biden has been declared the victor.
China has recognized Biden's win, and last week President Xi Jinping offered a message to the president-elect.
"Promoting healthy and stable development of China-U.S. relations not only serves the fundamental interests of the people in both countries, but also meets the common expectation of the international community," Xi said, according to the state-run Xinhua News Agency.
The Chinese leader called for a reset in relations, one he argued would be to the mutual benefit of both countries.
Xi was quoted as saying that he "hopes that the two sides will uphold the spirit of non-conflict, non-confrontation, mutual respect and win-win cooperation, focus on cooperation, manage differences, advance the healthy and stable development of China-U.S. ties, and join hands with other countries and the international community to promote the noble cause of world peace and development."
Biden has remained largely silent on China, to which he's previously traveled as both vice president and senator. He revealed during a New York Times interview published Wednesday, that he planned no sudden decisions involving China, including no reversal of the Trump-era tariffs that sparked a trade war between the two nations two and a half years ago.
"I'm not going to make any immediate moves, and the same applies to the tariffs," Biden told the newspaper. "I'm not going to prejudice my options."
Rather, he would first conduct a comprehensive review of the current U.S.-China strategy and consult with foreign allies, especially in Asia and Europe, "so we can develop a coherent strategy."
"The best China strategy, I think, is one which gets every one of our—or at least what used to be our—allies on the same page," Biden told The Times. "It's going to be a major priority for me in the opening weeks of my presidency to try to get us back on the same page with our allies."