China Moves to Surpass US in Economics, Technology, Diplomacy and Military, Report Says
China is poised to overtake the United States in key economic and security areas, a development that could forever change the dynamic between the world's two premier powers, according to a report released Tuesday by a congressionally mandated commission.
The United States-China Economic and Security Review Commission, founded two decades ago to mark the beginning of "The American Century," produces an annual report to Congress, detailing challenges to the bilateral ties between the two countries.
The 2020 report, obtained early by Newsweek, took a definitive turn, even for an already historic year, calling on Congress to take action as the international playing field was redefined based on steps taken by Beijing and Washington.
"This year, a lot of our focus was on China moving beyond catching up and moving to surpass [the United States] in the economic field, [as well as in] technology, diplomacy and military," Carolyn Bartholomew, vice chair to the U.S.-China Commission, said during a press call Monday.
Bartholomew laid out directly what she felt China was after.
"China is using its growing power to revise the international order, and place itself at the top of a new global hierarchy," she said in remarks delivered Tuesday to mark the report's public release.
The concept of "catch up and surpass" plays heavily into Beijing's calculus, according to the report. The authors found this to have especially become a priority since the 2008 market crash and the rise of President Xi Jinping, who took the helm of the ruling Chinese Communist Party eight years ago.
"Beijing has long held the ambition to match the United States as the world's most powerful and influential nation," a key finding of the report reads. "Over the past 15 years, as its economic and technological prowess, diplomatic influence, and military capabilities have grown, China has turned its focus toward surpassing the United States."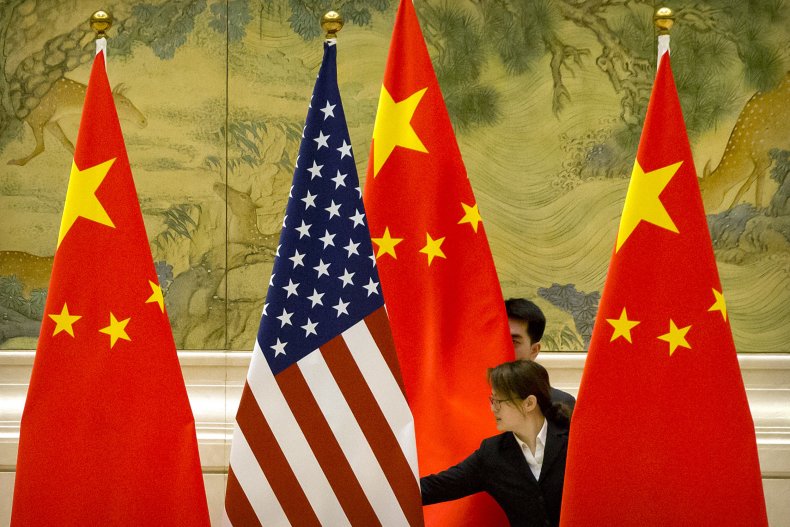 This shift comes as tensions between the two nations hit an all-time high in the modern era. The report focused heavily on an intensification of Chinese official criticism of U.S. leadership and more blatant praise of Beijing's own desired direction for international affairs.
A section of the report quotes from one of President Xi's speeches, which was delivered in 2018 and reprinted one year ago by the Chinese Communist Party's bimonthly ideological journal Qiushi. In the speech, he touted the successes of his country's signature "socialism with Chinese characteristics," and called upon supporters to fulfill their duty to "liberate all of humanity" and serve as the "gravediggers of capitalism."
Bartholomew said the U.S. must take note.
"I think that they're pretty clear on what it is they're trying to accomplish," Bartholomew said in the press call. "And the onus is going to be on us to speak out about and demonstrate the benefits of Western liberal democracy and free market capitalism."
The "gravedigger" remark is a reference to Karl Marx and Friedrich Engels' deeply influential Communist Manifesto, in which the pair argue that, in exploiting the lower strata of society, the ruling class of a capitalist system – the bourgeoisie – ultimately produces "its own gravediggers," the workers who are destined to unite, rise up and overthrow their oppressors.
While leftist uprisings across the globe historically have included the underclasses to some degree, systems readily recognized today as staunchly socialist have struggled to survive and in many cases collapsed as the U.S., often seen as the beacon of the liberal, capitalist world, thrived as an international power.
For at least a generation, this alone appeared to vindicate the champions of the free market. Today, China presents a threat to this ideological hegemony, due at least in part to their successful adoption of capitalism without the free market and liberal democracy that the U.S. has long championed.
And though China's own rhetorical escalation is clear, so is that of the United States, where President Donald Trump ushered in a new era of confrontation with Beijing, alleging a wide range of Chinese abuses in trade, security and human rights, while at the same time pushing U.S. lawmakers to take action.
"I can say that where the issues have really changed is not only is there a growing awareness of the China challenge, and now China's threat to the United States in a number of different areas, militarily or economically, but there's a growing interest on the part of Congress to actually try to do something about it," Bartholomew said, "We've certainly seen that this administration has a growing interest to take action on it."
Among a deluge of hard-line policies espoused by the Trump administration against Beijing has been the concept of reciprocity, attempting to pressure China into granting the outside world the same privilege of transparency it enjoys elsewhere.
The term came up repeatedly in U.S.-China Commission President Robin Cleveland's remarks on the report and its findings.
"I think in the past, we've tried to think about the trend to the relationship with China in the context of, 'well, if we open up this door, then we'll see improvements in political freedoms, if we if we bring them into the into international institutions, we'll see compliance with rules and norms that everybody has accepted over over generations,'" Cleveland said. "We haven't seen that."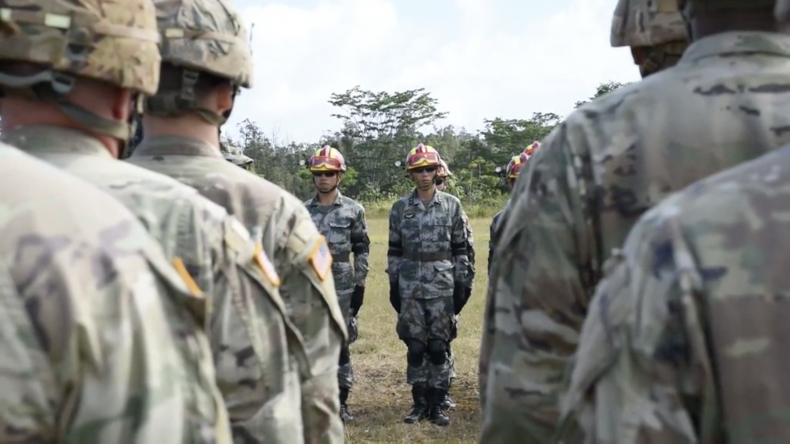 And while China's economic and public health outperformed much of the rest of the world throughout the COVID-19 pandemic, a disease first observed in the central Chinese city of Wuhan, Cleveland called on U.S. legislators to push China to become more open to ensure a balanced spread of information, whether on the country's epidemiological situation or its economy, which saw its most difficult period since the nation first began to embrace the global market in 1979.
"China's urgent need for capital now has driven a calculated strategy to open the financial services sector," Cleveland said in her remarks Tuesday. "The risks to U.S. households, investors and institutions are significant. China continues to hide its balance sheets behind an opaque wall."
To address the concerns identified by its authors, the report came attached with recommendations for legislators. Ten such points were emphasized as taking precedence.
Enforcing the principle of reciprocity in U.S.-China interactions topped off these 10 suggestions, with the report calling for more equal treatment not only in business, but in civil society, access to information and the treatment of journalists and diplomats as well.
Other measures called for the establishment of mechanisms to more closely monitor China-origin ventures seeking to work in the U.S., vetting for potential threats to U.S. interests and national security, and also shoring up support for self-ruling Taiwan and semi-autonomous Hong Kong.
The report also for the first time specified Africa as an area of concern, as it occupies "a central position in [Beijing's] efforts to increase China's global influence and revise the international order."
As both Bartholomew and Cleveland noted, the U.S.-China Commission is now joined by a chorus of voices calling for greater action on China. Another such entity is the House of Representatives' new China Task Force, which released a report in late September calling for more stringent measures regarding China.
Also on Tuesday, the U.S.-led NATO Western military alliance was set to release a report to focus on new challenges emanating from China's rise, which reportedly focuses on a divergence of values and the threat of Chinese "intimidation."
In response, Chinese Foreign Ministry spokesperson Hua Chunying defended her country's resurgence during a regular press conference in Beijing. She argued that China has upheld international values as laid out by the United Nations, but has been the victim of bullying rather than its source.
"China has always been a builder of world peace and defender of the international order," Hua said. "We will, as always, follow the path of peaceful development and continue to make greater contributions to world peace and development."
She told reporters that Beijing would stay the course of aiming to work together with the international community rather than through domination, either political or military.
"China pursues a national defense policy that is defensive in nature, and our per capita defense spending is far lower than that of other major countries," Hua noted. "It is agreed by many that China's development is an opportunity for the world, not a threat to anyone. We will stay committed to the right path of peace and cooperation."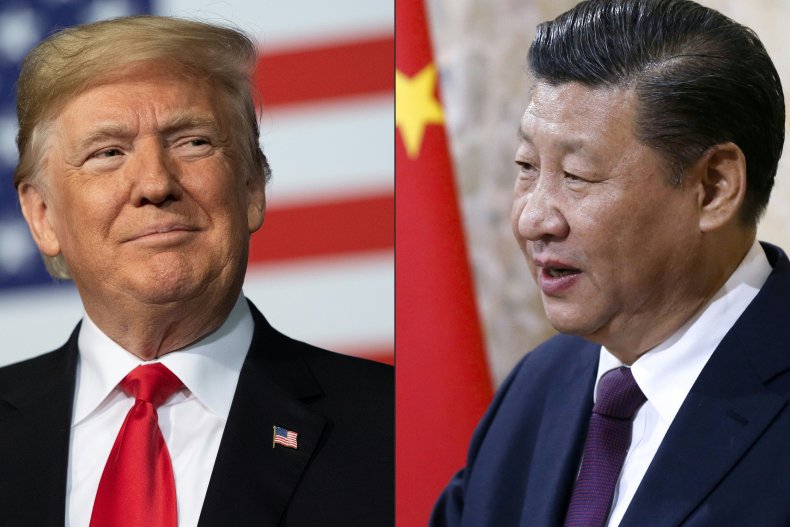 Asked by Newsweek as to the future of potential U.S.-China cooperation, Cleveland and Bartholomew offered their individual perspectives.
Cleveland said mutual economic ventures were likely to be further sought "if the principle of fairness and reciprocity is applied, and China, or I should say, the CCP makes a deliberate decision to begin to operate in a way that's consistent with market principles."
She said recommendations in the U.S.-China Commission report were made "with the ever hopeful notion that, with a little bit of pressure, China will begin to operate more efficiently and allocate capital more efficiently."
Cleveland held out hope for progress.
"They present opportunities for both economies," she said. "Am I confident that will happen? Not as much as I used to be, but yeah, I think there are opportunities for cooperation on the economic front."
Bartholomew also elaborated on areas of possible cooperation, not only in economics, but in climate change and health care.
"There are not just opportunities for cooperation," she said," but there's a necessity for cooperation."
Acknowledging that their team, by mandate, had "been given the task of looking at the downsides of the relationship" between the two countries, Bartholomew noted that the need for the U.S. and China to work together did not silence outstanding issues between them that continue to develop, and that ensuring greater equity in their ties would be crucial in getting Washington-Beijing relations back on track in the coming years.
"The onus or the benefits of the cooperation, both, need to be coming from both parties," Bartholomew said. "It is not a circumstance where the U.S. cooperates and China does what it pleases. So I think that's going to be the challenge going forward."