China has criticized a new Pentagon report detailing the growing capabilities of the Chinese People's Liberation Army (PLA), and defended the recent actions of the world's largest military at disputed borders on land and sea.
The Chinese Ministry of National Defense dismissed the United States' annual China Military Power Report on Wednesday as being "full of the zero-sum Cold War mentality." The document, published a day earlier, portrayed a rapidly-modernizing, more assertive force that has already outpaced the U.S. military in certain areas in a quest to "rejuvenate China" to a position of global leadership.
The Chinese military took offense to its contents.
The ministry's statement found the report "exaggerates the so-called 'Chinese military threat,' distorts China's defense policy and military strategy, smears China's military modernization development, defense expenditure and nuclear policy, and provokes cross-strait confrontation and intensifies tensions across the Taiwan Strait, which are extremely wrong."
Chinese Foreign Ministry spokesperson Hua Chunying also criticized the report, faulting its "improper comments on China's national defense" and calling it a "deliberate distortion of China's strategic intentions."
She told reporters in Beijing that Chinese ambitions were transparent and peaceful, and that, in reality, the PLA's military power "is far behind that of the U.S.," which spends as much as the next 10 countries combined on its defense budget.
"The U.S. is just looking for excuses to seek absolute superiority and hegemony in the military field," Hua said.
"We urge the U.S. side to abandon the outdated Cold War mentality and zero-sum game mindset, stop issuing irresponsible reports year after year, take an objective and rational view of China's strategic intentions and national defense building, and do more things that are conducive to China-U.S. and military-to-military relations, rather than the other way around," she added.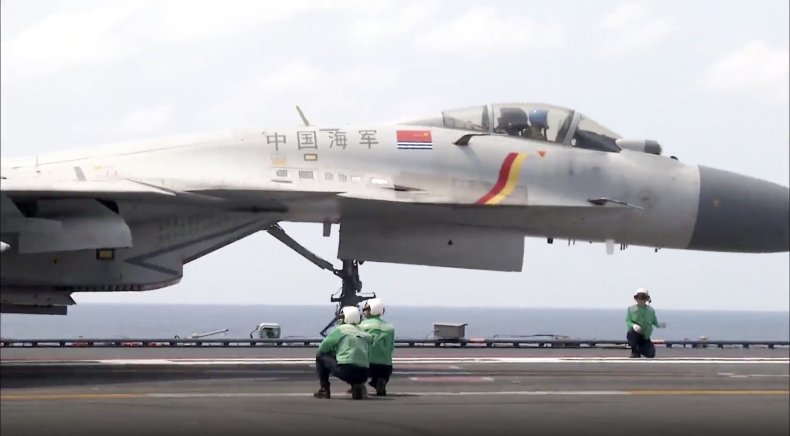 But Hua was steadfast in her defense of the PLA's moves amid another flare-up in an ongoing deadly standoff with India at their contested border in the Himalayas. After officials from Beijing and New Delhi accused the other's armed forces for two days of crossing the disputed Line of Actual Control, she claimed there were inconsistencies in India's statements on the situation at the border.
In a report provided to Newsweek on Monday, Indian Colonel Aman Anand said there had been "no physical clashes" between the two armed forces but that Chinese forces had "carried out provocative military movements to change the status quo."
"Indian troops pre-empted this PLA activity on the southern bank of Pangong Tso Lake, undertook measures to strengthen our positions and thwart Chinese intentions to unilaterally change facts on ground," he said at the time.
Hua said that Anand's use of the phrase "pre-empted" reveals "the fact that the Indian troops were the first to have illegally crossed the LAC, made provocations, changed the status quo in the border areas, and violated bilateral agreements and important consensus."
She claimed that India has repeatedly violated the existing border agreements with China.
"Since the beginning of the year, India has breached bilateral agreements and important consensus many times in the western sector of the China-India boundary, attempted to unilaterally change the status quo by force, undermined peace and stability in the border region and caused tensions," Hua said. "The responsibility lies entirely with the Indian side. China has kept maximum restraint to prevent potential escalation."
Hua emphasized that both sides remained in diplomatic and military talks over how to resolve their border troubles.
The Indian Foreign Ministry has accused China of additional provocations "thwarted" as a result of the "timely defensive action" on the part of Indian forces, spokesperson Shri Anurag Srivastava said Tuesday. He too appealed for peace and said both sides remained in close contact.
The issue was complicated Tuesday, however, as reports emerged in international outlets including Reuters and Agence France-Press that a soldier of Tibetan original had been killed by a mine blast amid the latest India-China border encounters. Attention was drawn to a covert Indian military unit comprised of Tibetan separatists once backed by the CIA against Communist-ruled China, which has controlled the western region for seven decades.
Hua could not confirm these reports at Wednesday's press conference, but cast suspicion on potential ties between ethnic Tibetan forces and the governments of the U.S. and India.
"China's position is very clear," she said. "We firmly oppose any country providing convenience in any form for the 'Tibet independence' forces' separatist activities."
That same day, Secretary of State Mike Pompeo expressed concerns about China's actions in Tibet, calling on Beijing "to enter into dialogue with the Dalai Lama or his representatives without preconditions" in reference to the Buddhist spiritual leader exiled to India.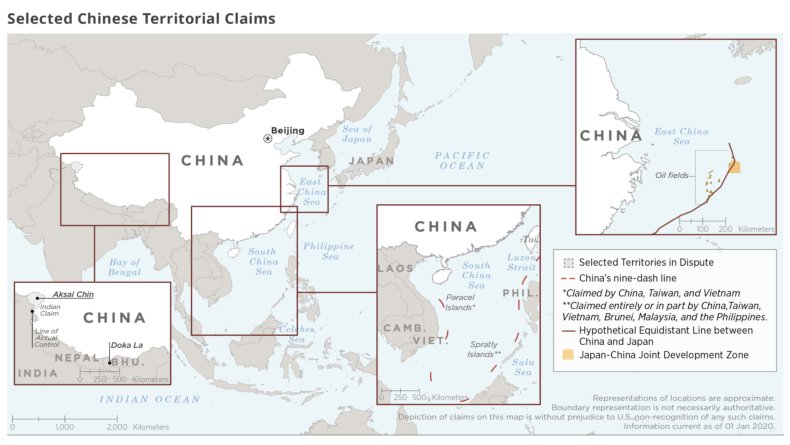 China also found itself under fire elsewhere in Asia, out in the waters of the South China Sea, much of which Beijing claims to be its sovereign territory. Pompeo accused Beijing of "bullying" and "maritime lawlessness" in a region in which the U.S. has increasingly challenged China's claims to waters and islands also claimed by other regional countries such as Brunei, Indonesia, Malaysia, the Philippines and Vietnam.
Ignoring a U.S. ruling to lay sanctions on Chinese companies promoting Beijing's unilateral moves in the South China Sea, the Philippines has said it would continue cooperating with such firms, in a move welcomed Wednesday by Hua.
She championed cooperation in line with the Belt and Road Initiative of global Chinese infrastructure projects, and said China "has made clear our position on the U.S. announcement of sanctions on Chinese companies participating in the construction activities in the South China Sea."
Diplomatic and military officials in Beijing recently railed against the Pentagon's attempts to disrupt claims of Chinese sovereignty in the region, resulting in tense confrontations between the two forces.
In defending the U.S. Navy's actions, Pacific Fleet spokesperson Lieutenant James Adams recently told Newsweek that "the United States will never bow in intimidation or be coerced into accepting illegitimate maritime claims, such as those made by the People's Republic of China."
A State Department spokesperson last month expressed to Newsweek concern about China's Belt and Road Initiative in the Asia-Pacific region for what the official said was "predatory lending practices in many countries, which threaten to cripple developing nations that are already suffering heavy debt loads and the pandemic's impact on their economies."