A New U.S. Strategy for China Could Allow Both Nations to Win, Experts Say
The Trump administration's militant, scattershot approach toward China could threaten the United States' prosperity, according to experts, unless the policy shifts toward diplomacy and investing in technologies that strengthen the U.S.'s ability to compete on the global stage.
Such a shift would mean rethinking the broadside confrontational approach gaining traction in both the White House and Congress, while discerning how to get the best outcomes for what was considered the world's most important bilateral relationship by President Donald Trump's predecessor.
Whereas President Barack Obama first turned the United States' strategic sights toward China, Trump has sought to outright challenge Beijing and its rise. But the administration's strategy so far has been a "mixed bag" at best, Douglas Barry, senior director of communications and publications at the U.S.-China Business Council, told Newsweek.
On one hand, he said, it's produced a phase one trade agreement aimed at ensuring China's purchase of U.S. goods and could allow for a more comprehensive follow-up deal. On the other, it's resulted in retaliatory Chinese tariffs that have dealt a heavy blow to industries at home and a significant decline in overall trade between the two countries, said Barry, whose organization comprises around 200 U.S. companies that trade and do business with China.
Overall, the U.S.-China relationship has taken a volatile turn during Trump's tenure.
Not only have tit-for-tat tariffs cost both billions, but the president has threatened a "decoupling" if U.S. businesses cannot compete fairly with China. In addition, the two nations have dueled over high-profile issues, such as the handling of the coronavirus pandemic and geopolitical flashpoints in Asia.
Trump entered office talking tough on China but has alternatively praised and criticized his counterpart, Xi Jinping. Even as the pandemic stoked tensions between the U.S. and China, Trump maintained that the nations should cooperate. But some Washington hard-liners have doubled down against Beijing as the U.S. continues to struggle with containing the virus's outbreak.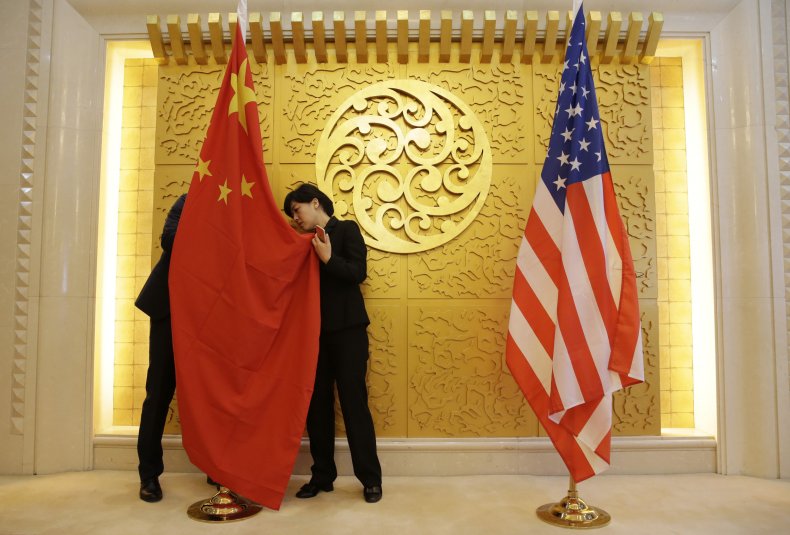 On Monday, Trump trade adviser Peter Navarro went so far as to accuse Beijing of deliberately allowing the disease to spread in the U.S. and said the trade agreement was "over" as a result. Trump took to Twitter soon after to confirm that the phase one deal was "fully intact" and say that he hoped China "will continue to live up to the terms" laid out in the agreement.
At the same time, the president continues to impose sanctions on Chinese companies and tease even harsher economic measures in response to what he sees as dishonest trade practices, such as currency manipulation and intellectual property theft. "I stood up to China like no other administration in history," Trump said Tuesday at an address in Phoenix.
But without a clear strategic vision, including bilateral and multilateral diplomatic engagement involving China, the current U.S. strategy might not yield the desired results, Barry and other experts tell Newsweek.
"A more effective approach would be to work with our allies to persuade China to follow international norms, while pursuing additional regional trade agreements," Barry said. "Find ways to collaborate with China while strengthening U.S. national security. Things go much better when China and the U.S. are economically successful."
He added that, moving forward, the U.S. should "abandon the notion that China is going to become a democracy," touching upon the ideological divide that the Trump administration tends to focus on in its messaging. In comments later shared online Thursday by Secretary of State Mike Pompeo, White House national security adviser Robert O'Brien described the Chinese Communist Party as a Marxist-Leninist organization in which "individuals do not have inherent value" but only "exist to serve the state."
In Beijing, officials have had their own debates on capitalism versus communism but the state ideology of socialism with Chinese characteristics is firmly encoded in the country's governance, though it too has evolved over time.
Rather than actively try to change each other, Chinese Foreign Minister Wang Yi emphasized during his Two Sessions address last month that the U.S. and China could work together despite their "different social systems," according to remarks sent to Newsweek by the Chinese Embassy in Washington.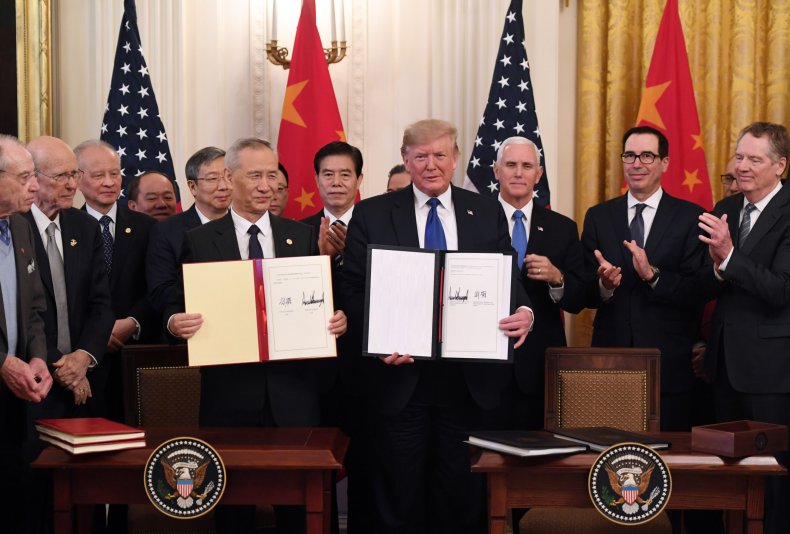 To do this, Barry added, means finding the "right balance" between cooperation and competition, specifically when it comes to emerging fields of increasing global importance that China has already begun to excel in. "The U.S. needs to up its game by improving infrastructure, supporting emerging technologies, building a 21st-century workforce, building coalitions, calling on our better creative and innovative angels," he said.
Benjamin Jensen, a professor at the Marine Corps University's School of Advanced Warfighting and a scholar in residence at American University's School of International Service, identifies cyberconnections, 5G and artificial intelligence as key fields in this respect. He calls them "the new railroads" that will define U.S. economic growth and national security in this era.
"States should work with the private sector to build security into the system. That will mean working with U.S. partners and allies as well as states who do not share American values, like China and Russia. It means negotiations and new security regimes," Jensen told Newsweek.
"The purpose should be to deny state and non-state actors to hold global citizens hostage via modern networks. It means working to curtail espionage, cyber-repression, and offensive uses of systems that should be used to promote 21st-century economic growth," he said.
While technology and commerce often cross borders even among foes, more serious risks are involved when it comes to armed forces.
China's rise has been accompanied by military expansion, mostly at home and near to its shores, but also with an emerging presence elsewhere in Africa and South Asia. The U.S. and China have long been divided over strategic areas such as the Korean Peninsula and the Taiwan Strait. But deadly clashes between Chinese troops on the contested Himalayan border with India and confrontations with the U.S. and other regional powers in the South China Sea endanger relations between Washington and Beijing.
Still, the People's Liberation Army—the world's largest standing armed force—has yet to establish anything resembling the sprawling network of alliances and military bases across the globe that the Pentagon commands.
"From a realist perspective, China's military expansion is alarming," Zhiqun Zhu, chair of Bucknell University's International Relations Department, said. "From a liberal perspective, it creates new opportunities for cooperation, such as the international combat against piracy in the Gulf of Aden area that involves both U.S. and Chinese forces."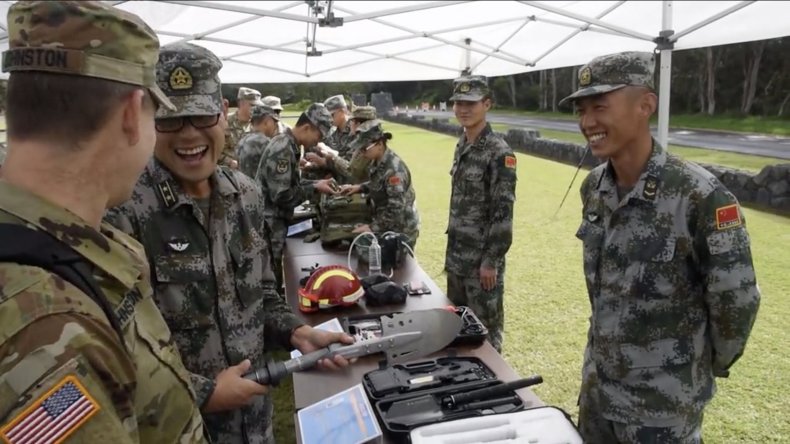 He also called on hawkish U.S. officials and lawmakers to tone down their anti-China rhetoric, as it has fueled a backlash among the Chinese people and forced Beijing to adopt a more aggressive approach. "This is partly due to Chinese culture, in which face is highly valued. You cannot humiliate your opponent and want to get something from them at the same time," Zhu explained.
In Washington, legislators are already working on reshaping U.S. strategy with China. Massachusetts Representative James McGovern, co-chair of the Congressional Executive Commission on China, sees points of contention with China on human rights and other issues but said he seeks a better relationship to tackle issues of international concern.
"It has always been my hope that the U.S. and China could have a mutually beneficial relationship that promotes stability and prosperity for the world," he said. "Global challenges require a constructive Chinese role that respects and elevates the voices of the 1.4 billion people in China."
He continued, "The debate between a policy of confrontation or cooperation is a false choice. Progress can be made if we pursue a progressive foreign policy that includes working with the international community and prioritizing human rights and the environment with respect to our relationship with China."
Whether Beijing succeeds or fails in its superpower ambitions, Jensen said, the manner in which Washington approaches it could help define a relationship likely to define this century.
"There's really interesting international relations research on the primary causal role of status recognition driving great power competition and status disputes," he explained. "China wants to be recognized as a world power, why not recognize them? Proper diplomatic respect can still be done with 'Speak softly, carry a big stick.'"