Russia Call May Set Stage for China, India Negotiations on Border Dispute
Russia has brought together China and India for talks and was set to soon simultaneously host their senior military officials despite deadly clashes between the two countries, the latest sign of Moscow's growing diplomatic clout in Asia.
The top diplomats of Russia, India and China participated in a teleconference Tuesday, followed by a press conference at which Russian Foreign Minister Sergey Lavrov described the talks as "constructive, very eventful and useful." He denied having any mediating role in diffusing China-India tensions at their disputed Himalayan border but said the trio could work together toward "ensuring the peaceful, stable development of mankind."
"I see no reason why Russia or anyone else would offer its services to India and China in promoting negotiations to resolve their own problems," Lavrov said.
He also thanked both countries for agreeing to send military contingents to celebrate the 75th anniversary of the Allied victory in World War II at a parade on the Red Square in Moscow. It would be at least the second time in less than a year that Russia was able to oversee joint actions by two clashing forces in the region.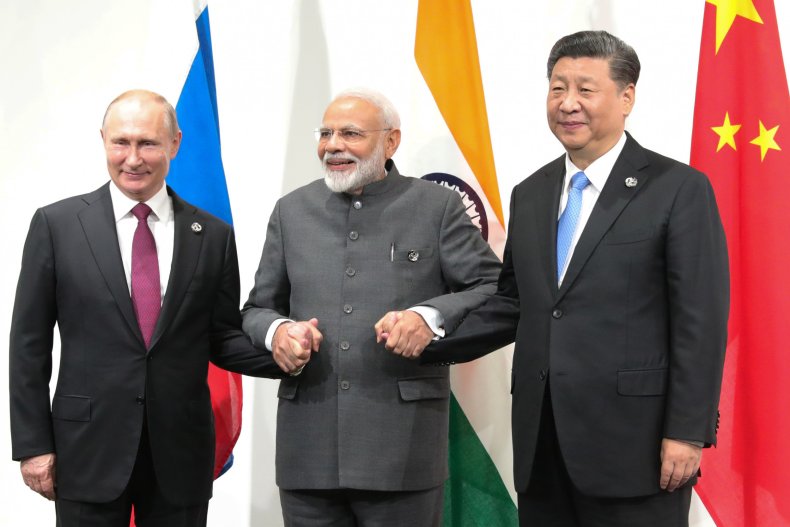 Across India's other contested Kashmir border, Pakistan has warned of a deteriorating security situation resulting from Indian Prime Minister Narendra Modi's decision to consolidate control over his country's only majority-Muslim state in August, a move followed by a crackdown on dissent. New Delhi's decision came months after the country exchanged their first cross-border strikes in decades.
By last September, however, both countries participated in the Shanghai Cooperation Organization (SCO)'s Center-2019 counterterrorism drills in Russia. It was only the second time that the two South Asian rivals had trained together, the first being the previous SCO joint exercise, called Peace Mission 2018.
India and Pakistan have fought several, high-profile wars since the 1947 partition but India has also warred with China at the borders between India-administered Ladakh and China-administered Aksai China, as well as India-administered Sikkim and China-administered Tibet. Violence has occasionally resurged at these spots, including a 2017 flare-up but the latest series of clashes has proven especially dangerous.
The Indian military has reported the deaths of 20 of its personnel last week, while China has not revealed its casualty count. Chinese Foreign Ministry spokesperson Zhao Lijian told reporters in Beijing Tuesday that Indian media reports stating that China had suffered 40 fatalities were "false information."
Zhao said the two sides were "resolving the issue on the ground through military and diplomatic channels," confirming a commander-level meeting Monday between Chinese and Indian military officials that he said "shows that both sides hope to properly handle differences and manage and ease the situation through dialogue and consultation."
In remarks shared by his ministry, Chinese Foreign Minister Wang Yi told his Indian and Russian counterparts that together they "should make good use of the overall momentum of cooperation in which the three countries are partners and opportunities for each other proceed from the common interests of promoting the development and revitalization of the three countries and safeguarding the world peace and development."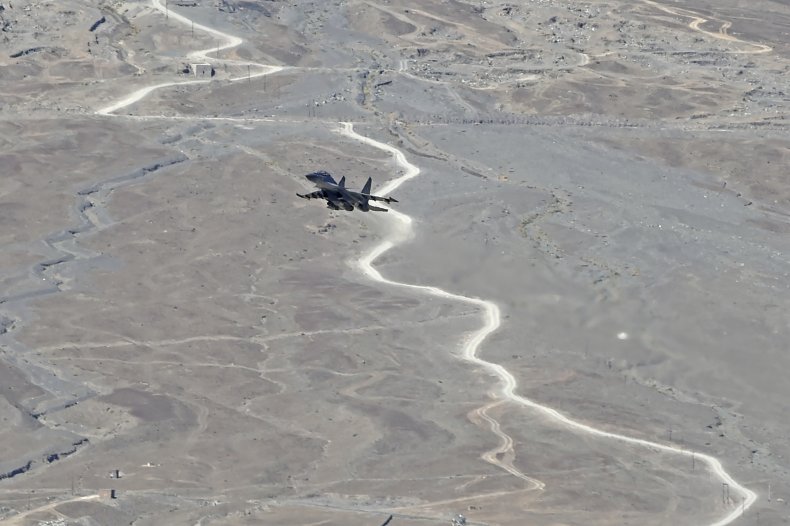 Indian Foreign Minister Subrahmanyam Jaishankar said their meeting "reiterates our belief in the time-tested principles of international relations," but emphasized that "respecting international law, recognizing the legitimate interests of partners, supporting multilateralism and promoting common good are the only way of building a durable world order," according to his own ministry.
While no further clashes between Indian and Chinese troops have been reported, tensions continue to run high over the fallout of the bloodshed across the world's two largest populations. Chinese companies are facing threats of boycotts by Indians, and a post by the ruling Chinese Communist Party's official People's Daily newspaper on a Russian-language forum urged experts to reconsider selling weapons to India until the situation calms down.
Russia considers both India and China to be strategic partners and, while New Delhi and Moscow have been close since the Cold War, ties with Beijing have been boosted in recent years. Russia has sold both countries the S-400 surface-to-air missile system, though India has yet to receive the full equipment.
Both the Indian and Chinese defense ministers visited Moscow for the Victory Day parade, and India's media has reported that the former planned to urge Russia to expedite its weapon shipments and outlets from both India and China have speculated on a potential meeting between the pair in order to defuse their border dispute.