As Tensions Escalate With China and Pakistan, India Faces Tests on Two Fronts At Once
Tensions have escalated across India's disputed borders with China and Pakistan, testing the rising South Asian power's ability to handle two potential crises at once.
After a spat of unarmed clashes along his country's roughly 2,100-mile with China last month, Indian Prime Minister Narendra Modi spoke Tuesday with President Donald Trump on "the situation on the India-China border," according to a readout. The U.S. leader had offered to mediate the feud, but both New Delhi and Beijing have rejected the offer and maintained the situation was under control.
"At present, the overall situation in the China-India border areas is stable and controllable," Chinese Foreign Ministry spokesperson Zhao Lijian told reporters in Beijing on Wednesday.
"On border-related issues, there have been sound mechanisms and channels of communication between China and India, and the two sides are capable of properly resolving relevant issues through dialogue and consultation," he added. "There is no need for any third party to intervene."
But there was no indication that the situation had yet been resolved. After the Communist Party's official publication Global Times reported last week that border forces had been armed with new tanks, drones and helicopters, state television reported that the Chinese military had recently held high-altitude infiltration exercises at the Tanggula Mountains in Tibet, the far western province that borders India.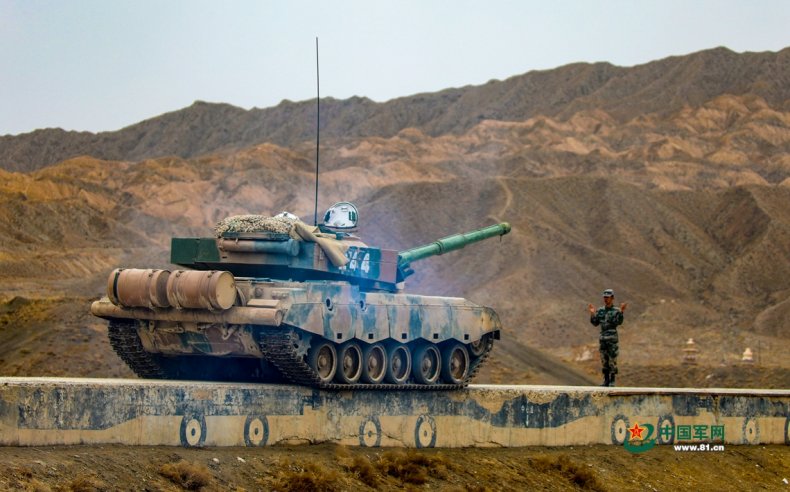 It was along this contested boundary between China-controlled Aksai Chin and India-administered Ladakh that patrols from both sides clashed several times at the sites of Pangong Lake, Galwan Valley, Demchok and Daulat Beg Oldie. The skirmishes were prompted by India's recent development near the sensitive Line of Actual Control dividing the two countries.
Indian media, which first reported on the conflict and the buildup of 5,000 Chinese troops at the border, reported Tuesday that New Delhi had moved in more personnel to the area. The next day, however, violence was reported elsewhere in the Himalayan region of Kashmir.
The Indian military reported Wednesday that Pakistan had violated their Line of Control ceasefire with small arms fire and heavy mortar shelling against the town of Nowshera in India-administered Kashmir. Days earlier, the Pakistani armed forces claimed the shootdown of two Indian drones.
While India and China fought a brief 1960s war and clashed occasionally along their borders, New Delhi and Islamabad have fought multiple deadly conflicts over Kashmir since the partition in 1947. India and Pakistan engaged in a dogfight and cross-border strikes last year in the first escalation of its kind in decades after India accused Pakistan of harboring insurgents responsible for a suicide attack on security personnel, a charge the country denies.
The situation intensified after Modi reshaped the Indian constitution in August to assert federal rule over India-administered Kashmir and Ladakh. Both Pakistan and China condemned the move as "unacceptable," with Pakistani Prime Minister Imran Khan warning the security and human rights implications could bring the two nuclear-armed rivals to war.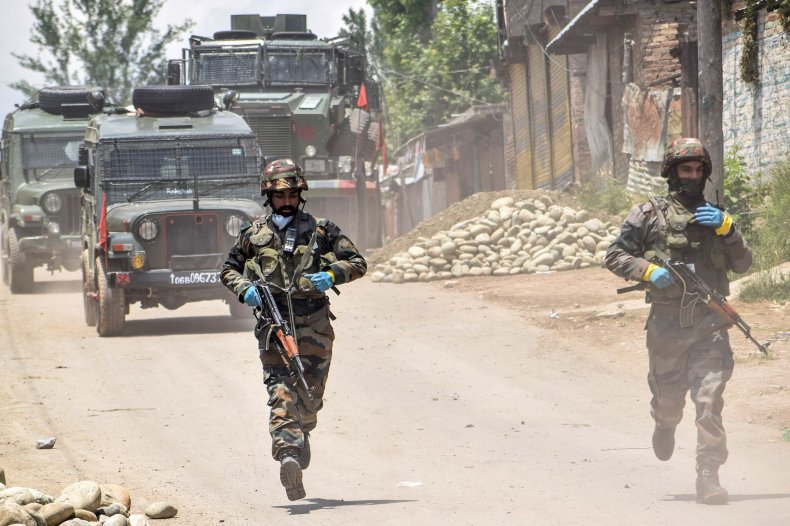 Beijing and Islamabad strengthened their relationship in recent years as Pakistan signed up to be part of Chinese President Xi Jinping's One Belt, One Road policy establishing a series of infrastructure and other economic projects across the world. In South Asia, India's neighbors Bangladesh, Nepal and Sri Lanka are among those who have also joined the initiative to varying degrees.
China and Pakistan's military cooperation has also increased, with the two countries holding joint naval drills in January. Beijing and New Delhi held combined counterterror maneuvers a month earlier and China has participated in exercises that include both Indian and Pakistani forces. These traditionally took place on a much smaller scale than cooperation between China and Pakistan.
On Tuesday, Civil Engineering from Space satellite imagery featured in Forbes showed what appeared to be new high-security compounds at locations used by Chinese state-affiliated companies at Pakistan's commercial port of Gwadar, suspected to be the site of China's next overseas military base.
But Beijing's expanding presence has also drawn criticism from Washington. During an interview Monday with an American Enterprise Institute podcast, Secretary of State Mike Pompeo cited Chinese troop movements near the Indian border as part of the "aggressive action" China had been taking. On Friday, Secretary of State Mark Esper "expressed his firm commitment to India's leadership across the Indo-Pacific" during a call with his Indian counterpart Rajnath Singh.