Pakistan's Kashmir President Says There's Now 'A State of War' with India, Warns Nuclear Fight Would Change the World
The head of Pakistan-administered Kashmir has warned that a deteriorating security situation along and across the disputed border with India had the potential to escalate into a nuclear conflict that could reshape the world as we know it.
The contested territory of Kashmir, split with a de facto border between India's Jammu and Kashmir and Pakistan's Azad Jammu and Kashmir, has been the subject of countless deadly skirmishes and several all-out wars between the two neighboring rivals and Islamabad has reacted with outrage to New Delhi's decision nearly months ago to unilaterally remove the special status afforded to India's only majority-Muslim region there. Speaking to Newsweek, Azad Kashmir President Masood Khan described the situation on the frontier as "volatile."
"We have beefed up security, we remain vigilant," Khan said, arguing that "India with its aggressive and aggravating steps has pushed the region to the brink of war."
"We are in a state of war right now, but the situation could escalate even further," he added. "Any military exchange will not remain limited, it can and we fear it would escalate to the nuclear level, that is tantamount to nuclear armageddon."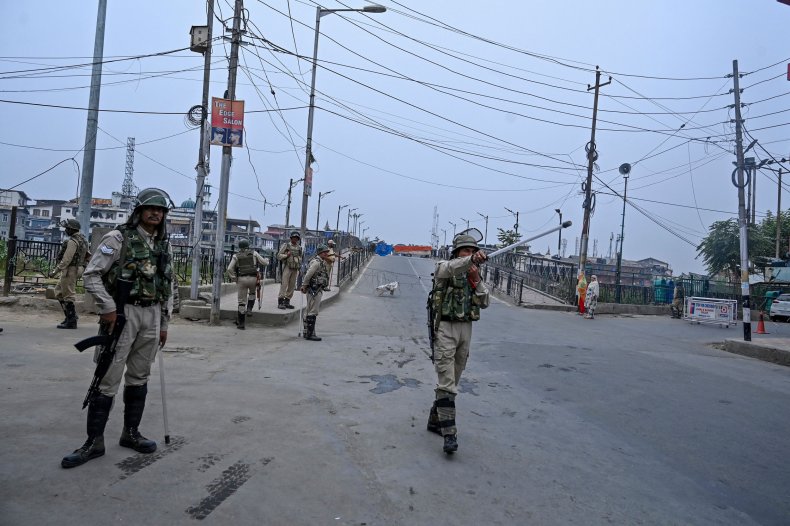 Khan's words came days after Pakistani Prime Minister Imran Khan devoted much of his speech Friday at the United Nations General Assembly to issue an appeal for international support in condemning India's controversial move. His Indian counterpart, Narendra Modi, did not mention Kashmir in his own speech and instead discussed other major issues, such as sustainable development.
Modi has justified repealing Articles 370 and 35a regarding India-administered Kashmir's semi-autonomy by arguing it was necessary to rein in a violent insurgency that has rocked the region for three decades. New Delhi has long accused Islamabad of backing militant groups and Indian Foreign Minister Subrahmanyam Jaishankar accused Pakistan on Tuesday of "creating an entire industry of terrorism to deal with the Kashmir issue" and undermine Indian national security.
"There's no industry of terrorism coming out of Pakistan or Azad Kashmir, that's an absolutely false accusation and they know it," Masood Khan said. "We've been fighting terrorism and we've had successes."
He said such claims may have rung true "in the 1990s, when mujahideen would go across the Line of Control and young men from the occupied territory were coming to Pakistan for help, but that came to a stop in 2004." Today, he argued, "this has no credibility, they use this terminology which has some traction with the Western audience."
India has also utilized this narrative in its dealings with President Donald Trump and his administration, which initially expressed interest in playing a mediating role on the Kashmir issue, something welcomed by Pakistan but rejected by India. The U.S. has since shown little desire to get involved, however, as it more heavily invested in India as a strategic partner in South Asia.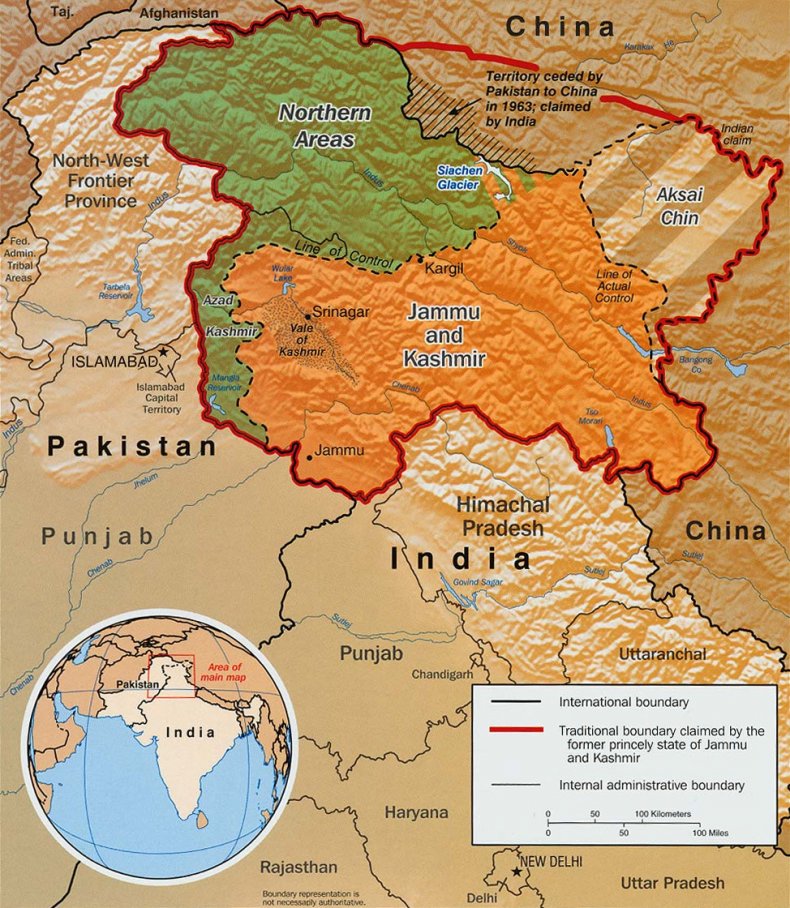 "The United States is concerned by widespread detentions, including those of politicians and business leaders, and the restrictions on the residents of Jammu and Kashmir," State Department spokesperson Morgan Ortagus told journalists Thursday, noting Imran Khan's "concerns" about the region. "We look forward to the Indian Government's resumption of political engagement with local leaders and the scheduling of the promised elections at the earliest opportunity."
"As President Trump emphasized, Prime Minister Modi made a commitment that the recent changes to the status of Kashmir will improve the lives of the Kashmiri people, and we look to him to uphold this promise," she added
The situation on the ground, however, was reportedly getting worse, with stories of arbitrary detentions, a media blackout and instances of violence among a population that Masood Khan told Newsweek was "seething with anger, trapped in their homes." He explained: "The entire territory is under siege, security lockdowns, long curfews, thousands of Kashmiris have been arrested."
Echoing previous comments given to Newsweek by senior Pakistani officials such as his chief executive, Azad Kashmir Prime Minister Raja Farooq Haider, as well as ambassador to the U.S. Asad Majeed Khan, Imran Khan's special assistant for Overseas Pakistanis and Human Resource Development Sayed Zulfiqar Abbas Bukhari and Foreign Minister Shah Mahmood Qureshi, Masood Khan expressed concern that the blowback of India's actions could trigger another cross-border conflict as it nearly did in February.
After Pakistan-based Jaish-e-Mohammed killed 40 security personnel in a suicide attack in India-administered Kashmir's Pulwama, Indian fighter jets bombed what they claimed were militant camps across the Line of Control, triggering Pakistani retaliatory strikes that led to a dogfight and the loss of at least one Indian fighter jet. Its pilot survived and was detained in Pakistan.
He was returned in what Imran Khan called a peace gesture, but Modi's government regarded simply as international protocol. Relations between the pair only worsened as nuclear rhetoric rose on both sides.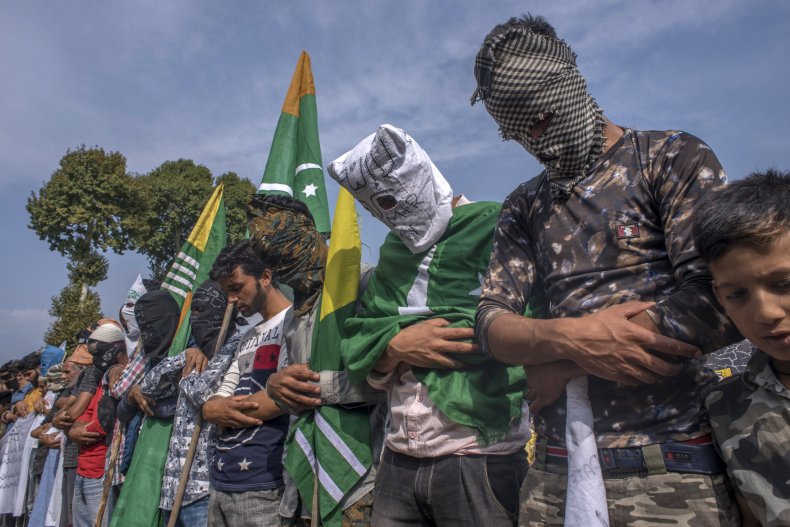 "We are not blackmailing the world, the first threats over the use of nuclear weapons came from India," Masood Khan said, highlighting Modi's threat in April to launch "the mother of nuclear weapons" if Pakistan ever attacked.
Asked what Pakistan's red line was, the Kashmir leader told Newsweek "the red line has already been crossed, we are just showing restraint and responsibility, we don't want to push the region to war."
He discussed, however, the point at which "Pakistan takes actual steps to safeguard the rights of Kashmir and its people." He said "the stakeholders are discussing" such a decision, but ultimately "the Kashmiris are going to say enough is enough."
"We would take the right decision, the people of Pakistan and Azad Kashmir are ready," he said, explaining why, with nuclear weapons at the ready, such a move would not be taken lightly.
He cited scientific estimates that a large-scale nuclear conflict involving the exchange of 15 to 20 weapons comparable to those used by the U.S. against the Japanese cities of Hiroshima and Nagasaki in 1945, would kill hundreds of millions of people and affect billions more through "global recession, mass migration" and other worldwide catastrophes. "You would be entering the globe into nuclear winter, and it would not just be India and Pakistan affected," he stated.
"None of this will happen if the international community, if the United Nations Security Council acts," Masood Khan said. "We do not want to be a nuclear flashpoint between India and Pakistan, we are a peace-loving people. We want to be a symbol of peace and connectivity. I make an appeal to you—help us."