Which Countries Have Most Nuclear Weapons? U.S., North Korea Look for Peace, While India and Pakistan Threaten War
Nuclear weapons have been at the forefront of headlines this year. As the United States seeks nonproliferation with North Korea and abandons a missile treaty with Russia, tensions have flared into violence between South Asian rivals India and Pakistan.
President Donald Trump and North Korean supreme leader Kim Jong Un met in Hanoi, Vietnam, marking only the second such encounter between leaders of their two countries in history. The two men are seeking progress on a historic agreement, by which North Korea would abandon its nuclear weapons in exchange for security and sanctions relief from the U.S. The summit was designed to be an international display of peace between two nations that have failed to end their decades-long war.
Elsewhere on the continent, however, two other nuclear-armed longtime foes have suddenly descended into a new spiral of violence that could threaten to escalate further into a conflict overshadowing the diplomatic milestone in Vietnam.
After a suicide bombing earlier this month claimed by Pakistan-based Sunni Muslim militant group Jaish-e-Mohammad killed 40 Indian troops, Indian jets flew across the disputed border Tuesday to conduct air strikes on suspected jihadi camps. The following day, Pakistan reportedly downed at least one Indian jet over the contested Kashmir region—with the aircraft crash landing into Pakistan-controlled territory and its pilot being arrested.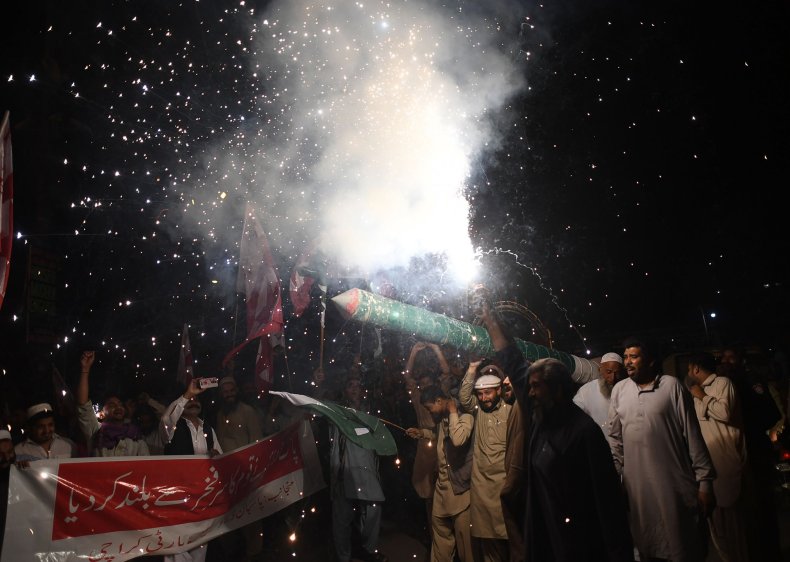 Cold War
While the U.S. was the first country to develop a nuclear weapon and has remained the only nation in the world to use one in combat, the massive proliferation of weapons of mass destruction that followed World War II was largely prompted by an arms race between Washington and Moscow. Even after the collapse of the Soviet Union in the 1990s, Russia continues to maintain the largest nuclear arsenal on the planet, with 6,800 nuclear weapons, up to 2,500 of which have been retired, but remain intact, according to estimated as of December 2017 by the Federation of American Scientists.
The U.S., on the other hand, possesses an arsenal of about 6,600, around 2,600 of which have been retired and remain intact. Washington and Moscow have greatly reduced their arsenals as part of the Strategic Arms Reduction Treaty (START) of 1991 and the subsequent New START in 2010. Russia has warned that the Trump administration seemed uninterested in renewing the measure, especially after the White House recently suspended the 1987 Intermediate-range Nuclear Forces (INF) treaty, which banned the deployment of missiles with ranges between 310 and 3,420 miles.
Warnings of a new "arms race" had already come last month after Trump introduced his 2019 Missile Defense Review, which included a proposal for space-based missile interceptors among other plans to secure the country. Amid threats exchanged by these two leading military powers, nuclear-capable missiles were test-launched less than two weeks ago by the U.S, Russia and the world's third nuclear power—France, which has about 300 nuclear weapons at its disposal.
France was followed by China, with around 270 nuclear weapons. China has adopted a "no-first-use" policy, meaning Beijing has pledged to never be the first to resort to the use of strategic force in the event of a conflict. China has grown closer to Russia in recent years in the face of what they jointly view as U.S. hegemony and though they have no formal alliance, they have worked to accelerate bilateral political, economic and military ties.
The United Kingdom is the third member of the U.S.-led NATO Western military alliance with nuclear weapons, possessing about 215. Like the four aforementioned powers, the U.K. was a signatory to the 1968 Treaty on the Non-Proliferation of Nuclear Weapons. The next four nations were not.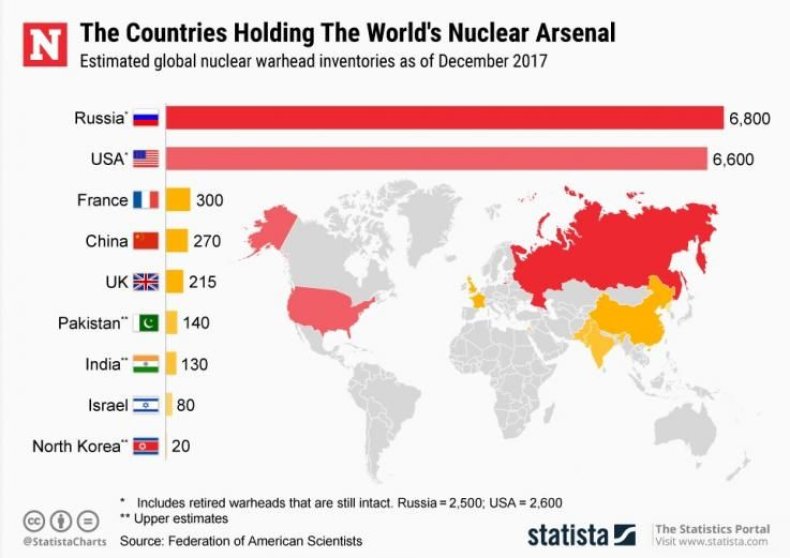 India and Pakistan Threat
Pakistan, which divided from India in the bloody 1947 Partition, which accompanied the end of British rule over the region, may possess up to 140 nuclear weapons. India was believed to possess up to 130. The two neighbors have fought at least three major wars and, prior to North Korea's 2003 test, conducted the most recent nuclear detonations in defiance of a 1996 Comprehensive Nuclear-Test-Ban Treaty that they, along with Pyongyang, did not sign. Islamabad and New Delhi's nuclear arsenals have again received global attention as their leaders exchange ominous messages in the wake of the most recent violence.
Asia and North Korea
On the westernmost stretches of Asia, Israel was widely suspected of keeping up to 80 nuclear weapons, though it has neither confirmed nor denied its stockpile. This arsenal, too, has been the source of international anxieties as Israel ramps up airstrikes against suspected Iranian targets in Syria, potentially risking a greater regional conflict. In Asia's Far East, North Korea has an estimated 20 nuclear weapons that the U.S. has sought to dispose of as part of an unprecedented peace process now advanced in Hanoi.
In a report published in December by the Council on Foreign Relations' Center for Preventative Action, "Renewed tensions on the Korean Peninsula following a collapse of the denuclearization negotiations" was classified as among the "high" impact and "moderate" likelihood scenarios for conflict in 2019, while a "deliberate or unintended military confrontation between Russia and NATO members, stemming from assertive Russian behavior in Eastern Europe" were among the events considered "high" impact and "low" likelihood.
A "severe India-Pakistan military confrontation triggered by a major terrorist attack or heightened unrest in Indian administered Kashmir" was described as "moderate impact" and "low" likelihood in the report.