U.S., Russia and France All Launch Nuclear-Capable Missiles Within Hours of One Another as Treaty Falls Apart
The United States, Russia and France have all test-launched nuclear-capable missiles within hours of one another as international fears of a global arms control collapse heightened.
The U.S. and Russia have, in recent days, suspended their 1987 Intermediate-range Nuclear Forces (INF) treaty banning land-based missiles with ranges from 310 to 3,420 miles following Washington's accusations that Moscow violated the deal with its new Novator 9M729 missile. As the two sides continued to swap threats of escalation, the three countries believed to have the most nuclear weapons in the world demonstrated their strategic capabilities.
First, the French military said Tuesday that its air force conducted a rare test Monday of the nuclear-capable medium-range air-to-surface missile (ASMP). The U.S. then fired a nuclear-capable Minuteman III intercontinental ballistic missile (ICBM) later Tuesday night in local time and, about an hour and a half later, the Russian armed forces fired a nuclear-capable RS-24 Yars ICBM.
Though none of the tests were said to have been equipped with nuclear warheads and all were likely scheduled far ahead of time, they came at a period of major uncertainty as key nonproliferation agreements were dismantled.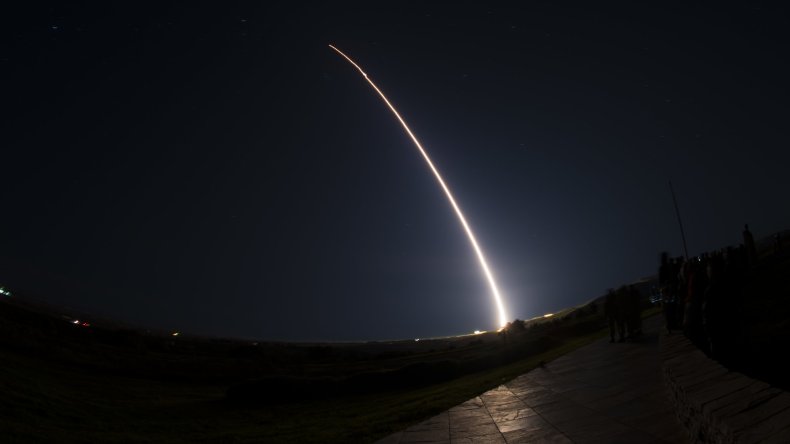 In a press release, the French Ministry of Defense hailed a "successful demonstration" of the ASMP. Aircraft from Fighter Squadron 2/4 La Fayette departing from Saint-Dizier – Robinson Air Base in northwestern France were supported by the 31st Strategic Supply and Transport Aerial Escadre and fired the unarmed weapon at a testing center of the DGA Essais de missiles, near Biscarrosse, in southwestern France.
The ministry said that the 11-hour mission had been "planned for a long time" and was a "demonstration of the reliability of the airborne weapons system over time."
The U.S. Air Force's 30th Space Wing conducted what was described as a "developmental test" of the Minuteman III at around 11:01 p.m. PST, or 2:01 a.m. EST. In a statement sent to local NBC affiliate KSBY, Global Strike Command said its representatives "assert that missile tests are scheduled months or years in advance, this test comes just four short days after the Trump administration suspended...the U.S. from the Intermediate-Range Nuclear Forces (INF) Treaty, a crucial landmark Treaty between the U.S. and Russia that eliminated entire categories of nuclear weapons."
Just 90 minutes later, at 11:31 a.m. in Moscow and 12:31 a.m. in California, Russia's RS-24 Yars flew from the Plesetsk Cosmodrome in the northwestern Mirny, Arkhangelsk Oblast toward a target positioned more than 3,000 miles away at the Kura Missile Test Range on the far eastern Kamatchka Peninsula. The Russian Defense Ministry said that the weapon was "equipped with multiple warheads" and that "the purpose of the launch was to confirm the tactical, technical and flight characteristics of the advanced missile system."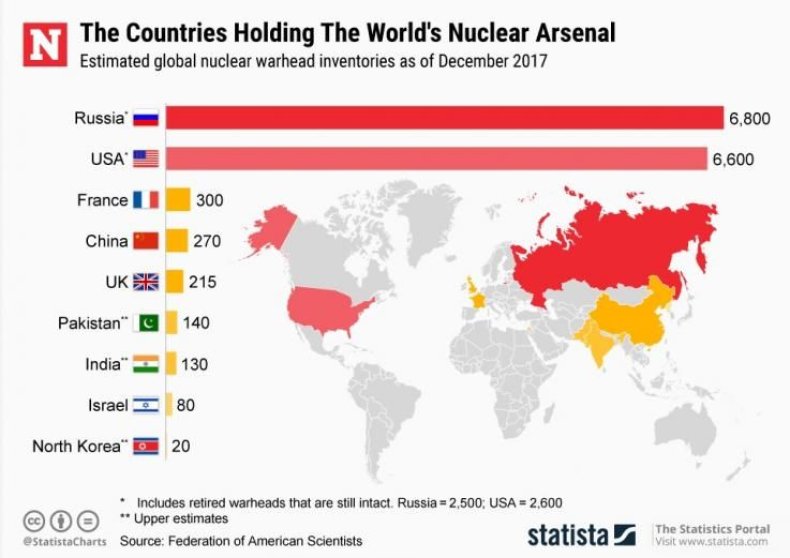 Russia is believed to possess the largest nuclear weapons arsenal on Earth, with an estimated 6,800 warheads. The U.S. is a close second with about 6,000. Both countries have vastly limited their active and deployed nuclear weapons, however, as part of the New Strategic Reduction Arms Treaty (New START) signed in 2011 as a sequel to the earlier START signed in 1991.
With the INF set to be abandoned, Moscow has warned that Washington also appeared uninterested in starting negotiations to renew New START, which was set to expire in 2021. Though not bound by either the INF or New START, France, the world's third nuclear power, joined Russia, the U.S., China and U.K. as part of the 1968 Treaty on the Non-Proliferation of Nuclear Weapons.
Pakistan, India, Israel and North Korea are also believed by the international community to possess nuclear weapons. The rivalry between New Delhi and Islamabad has left South Asia a stagnant flashpoint in global conflict, while Israel has neither confirmed nor denied its possession of weapons of mass destruction and North Korean supreme leader Kim Jong Un was set to meet President Donald Trump later this month for their second summit of a historic denuclearization-for-peace process.