Where Will U.S. Go to War Next? China, Iran, North Korea Among Top Concerns for 2019, Report Shows
Conflicts with China, Iran and North Korea were among the top concerns of experts looking ahead at a new year filled with international tensions.
The United States is only weeks away from entering 2019 already embroiled in multiple, overlapping foreign wars, a trend since the world's biggest military power embarked a roughly $6 trillion fight against violent Islamist groups some 17 years ago. As the "War on Terror" enters its 18th year, however, the New York-based Council on Foreign Relations' Center for Preventative Action compiled on Tuesday some of the more pressing global disputes that threatened to erupt into full-scale conflict.
In the top tier of this report, scenarios described as "high" impact and "moderate" likelihood included "Renewed tensions on the Korean Peninsula following a collapse of the denuclearization negotiations," an "armed confrontation between Iran and the United States or one of its allies over Iran's involvement in regional conflicts and support of militant proxy groups" and an "armed confrontation over disputed maritime areas in the South China Sea between China and one or more Southeast Asian claimants (Brunei, Malaysia, Philippines, Taiwan, and Vietnam)."
This category also included potential catastrophes at home, such as "a highly disruptive cyberattack on U.S. critical infrastructure and networks" as well as a "mass casualty terrorist attack on the U.S. homeland or a treaty ally by either (a) foreign or homegrown terrorist(s)."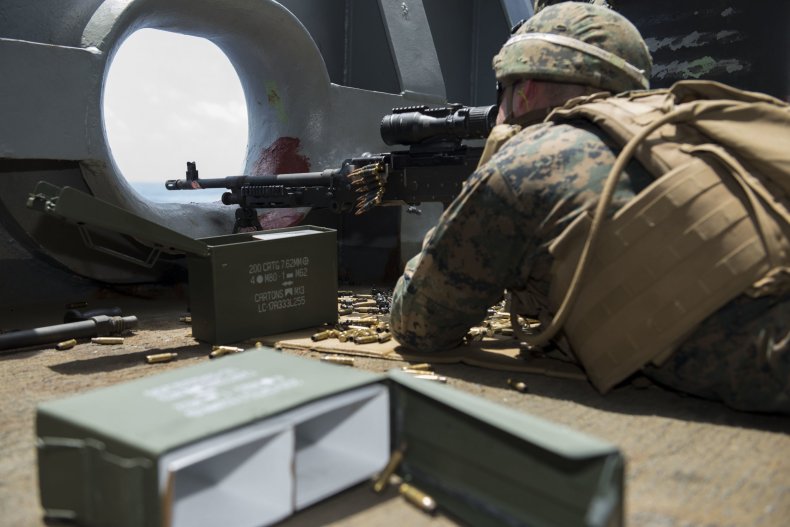 Throughout 2018, the U.S. ratcheted up tensions with China and Iran, challenging Beijing's vast claims to the contested South China Sea and entering into a full-blown trade war, while at the same time abandoning a multilateral nuclear deal with Tehran after accusing it of supporting militant groups abroad and developing ballistic missiles. In contrast, the U.S. has sought to forge an unprecedented path toward peace with Pyongyang, but fragile talks aimed at convincing North Korean supreme leader to give up nuclear weapons his country has long argued were necessary for self-defense remained uncertain in the leadup to a planned second summit early next year.
The Tier 1 category in Tuesday's report also included cases that had a "moderate impact," but "high" likelihood. Among these were Syria—backed by Russia and Iran—continuing victories against rebels and jihadis thus "leading to further civilian casualties and heightened tensions among external parties to the conflict," the "deepening economic crisis and political instability in Venezuela leading to violent civil unrest and increased refugee outflows," a "worsening of the humanitarian crisis in Yemen, exacerbated by ongoing foreign intervention in the civil war" and "Increased violence and instability in Afghanistan resulting from the Taliban insurgency and potential government collapse."
The Senate made the unprecedented step last week of voting to end U.S. support for Saudi Arabia's war against the Zaidi Shiite Muslim rebel group known as Ansar Allah or the Houthis in Yemen, though Republicans in the House of Representatives managed to sneak in a bill that would hold off debate questioning President Donald Trump's military mandate there until next year. The move came amid mounting criticism over Saudi Crown Prince Mohammed bin Salman's role in the death of journalist Jamal Khashoggi and widespread reports of war crimes committed by the Saudi-led coalition.
The U.S. and its allies have nearly defeated the Islamic State militant group (ISIS) in Syria, but Washington has increasingly warned that targeting Iranian presence would be a priority and has threatened to attack Assad's government directly in response to alleged human rights abuses. In the Pentagon's longest-ever war, the Afghan security forces continued to lose territory to the Taliban, raising concerns over the prospects of peace talks as the government's control was reduced.
The Trump administration has also considered taking military action in the Western Hemisphere, against the left-wing government of Venezuelan President Nicolas Maduro. As U.S. sanctions, soaring inflation and demonstrations against the administration's mishandling of an economic crisis hit the embattled Latin American country, Russia sent nuclear-capable bombers on a visit there.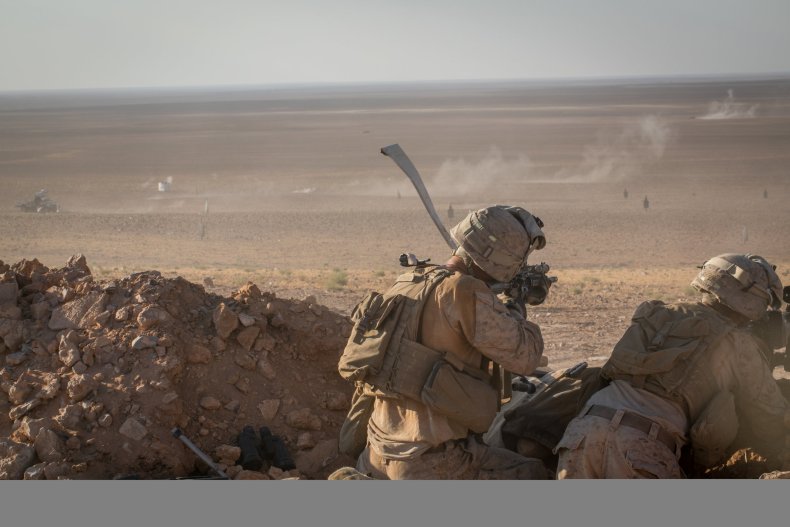 The deteriorating ties between Washington and Moscow made Tier II of the report, as did a second appearance of the South China Sea issue. This category detailed two events with a "high" impact and "low" likelihood, both hypothetical conflicts between the U.S. and its top-peer competitors.
The first scenario described a "deliberate or unintended military confrontation between Russia and NATO members, stemming from assertive Russian behavior in eastern Europe," where the U.S.-led Western military alliance has spread in recent years, leading to dueling military buildups. The second case involved "a crisis between the United States and China over Taiwan, as a result of China's intensifying political and economic pressure campaign ahead of Taiwan's elections in 2020," an event not recognized by Beijing, which claims the self-ruling island as its own.
The next outcomes were considered to have both "moderate" impact and likelihood and dealt largely with a worsening of ongoing crises. In Latin America, this meant "the "Intensification of organized crime-related violence in Mexico" and the "Political violence and instability in Nicaragua worsening the migration crisis in Central America," while in Europe, worried eyes were following potential "Increased fighting in eastern Ukraine between Russian-backed militias and Ukrainian security forces."
This also included events in the Middle East such as "Intensified clashes between Israel and Iranian-backed forces, including Hezbollah, in Lebanon and/or Syria," the "Heightened tensions between Israelis and Palestinians leading to attacks against civilians, widespread protests, and armed confrontations" the "Increasing political instability in Iraq exacerbated by underlying sectarian tensions," and an "Escalation of violence between Turkey and various Kurdish armed groups within Turkey and in neighboring countries," a scenario that would leave the U.S. split between two allies.
The "moderate" impact and "low" likelihood conflicts of Tier III dealt specifically with tensions in South Asia, meaning a "severe India-Pakistan military confrontation triggered by a major terrorist attack or heightened unrest in Indian administered Kashmir" and a "new military confrontation between China and India over disputed border territories."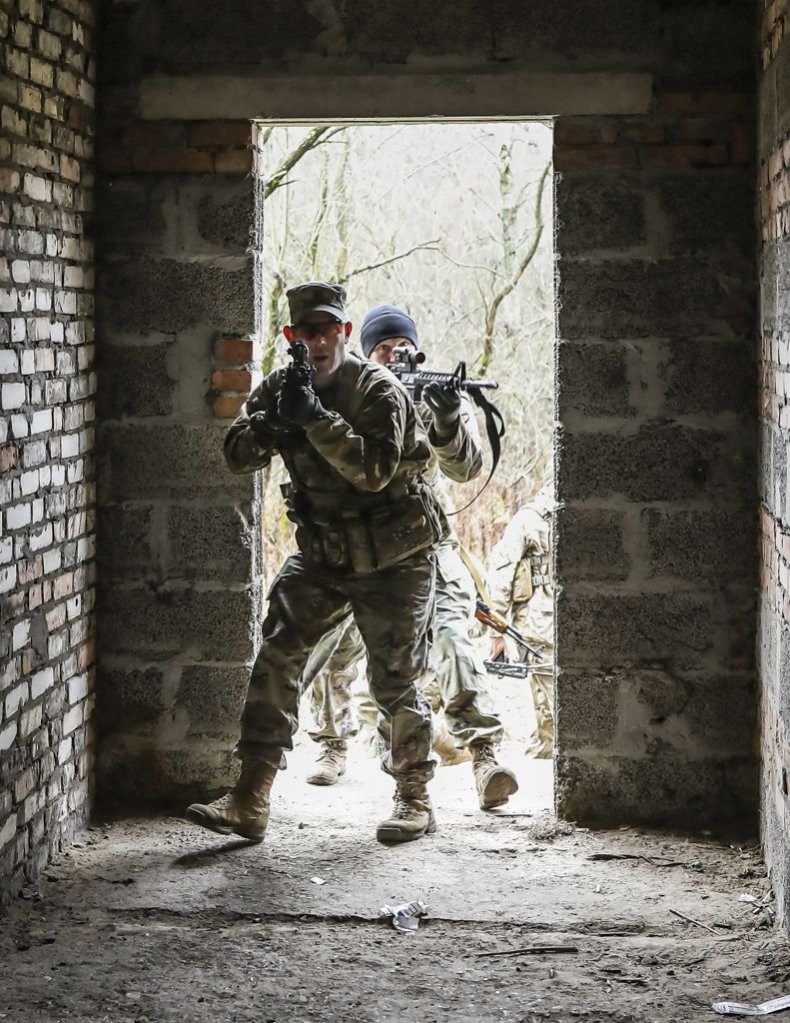 In the Tier III classification, "low" impact and "moderate" likelihood involved further bloodshed undermining stability across African nations such as Cameroon, the Central African Republic, the Democratic Republic of the Congo, Libya, Nigeria, Somalia, South Sudan and Zimbabwe, as well as in Myanmar in Southeast Asia.
The final "low" impact and likelihood category included "Escalating tensions and/or extremist violence in the Balkans—Albania, Bosnia and Herzegovina, Croatia, Kosovo, Macedonia, Montenegro, and Serbia—resulting in political instability and armed clashes."
With an anticipated military budget of $725 billion and some 800 military installations across the world, the U.S. is often heavily involved in global affairs. However, Russia and China's military rise, growing domestic fatigue over protracted conflicts in the Middle East and international opposition to Trump's attempts to isolate Iran have shifted the paradigm, leaving U.S. dominance as no absolute dynamic.