Chinese General Says Military Should Use Force Against U.S. Ships in South China Sea
A leading Chinese general has urged the military to use force to block U.S. ships from traversing waters claimed by Beijing in the South China Sea and retake Taiwan.
Senior Colonel Dai Xu, who serves as the president of the country's Marine Institute for Security and Cooperation, on Saturday lashed out against inaction over repeated U.S. Navy trips through disputed territory in the South China Sea, much of which is claimed by Beijing. Speaking at a conference organized by the ruling Communist Party's official newspaper The Global Times, Dai said that China should attack ships that violate its maritime claims.
"If the U.S. warships break into Chinese waters again, I suggest that two warships should be sent: one to stop it, and another one to ram it," Dai said during a panel discussion, according to The Global Times. "In our territorial waters, we won't allow U.S. warships to create disturbance."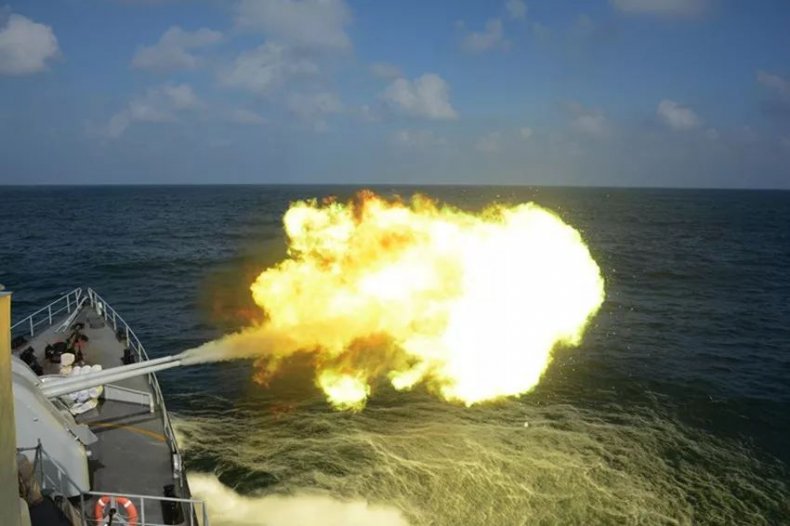 The U.S. Navy has sought to challenge vast Chinese claims to the South China Sea by conducting "freedom of navigation" operations, an activity detailed by the 1982 United Nations Convention on the Law of the Sea ratified by China, but not the U.S. Beijing has frequently complained about U.S. warships sailing near Taiwan—a self-ruling island state claimed by the Chinese government—as well as contested islands where China has reportedly begun building military infrastructure.
Under Chinese President Xi Jinping, the Chinese armed forces have undergone massive reforms and the leader has instituted a particular emphasis on modernizing his navy. China has held massive maritime displays of might in the past year, vowing to take Taiwan by force if necessary, and dismissing U.S. criticism as rhetoric reminiscent of the Cold War.
Late last month, the U.S. challenged China twice by sending the Ticonderoga-class guided-missile cruiser USS Chancellorsville toward the disputed Paracel Islands, and the Arleigh Burke-class guided-missile destroyer USS Stockdale and Henry J. Kaiser-class underway replenishment oiler USNS Pecos through the Taiwan Strait. Chinese Southern Theater Command spokesperson Colonel Li Huamin told a briefing last week that he mobilized an air and sea response to the Chancellorsville and Chinese patrols reportedly were stepped up in the Taiwan Strait as well.
"The Chinese military will remain on high alert and resolutely safeguard national sovereignty and territorial integrity,"Chinese Defense Ministry spokesperson Colonel Ren Guoqiang said to a press conference at the time.
While the U.S. maintains a sizeable military advantage over near-peer competitors Russia and China, this gap has narrowed in recent years. Speaking to this as well as China's rising economic and demographic power, Secretary of State Mike Pompeo told radio host Hugh Hewitt on Monday that "China presents the greatest challenge that the United States will face in the medium- to long-term."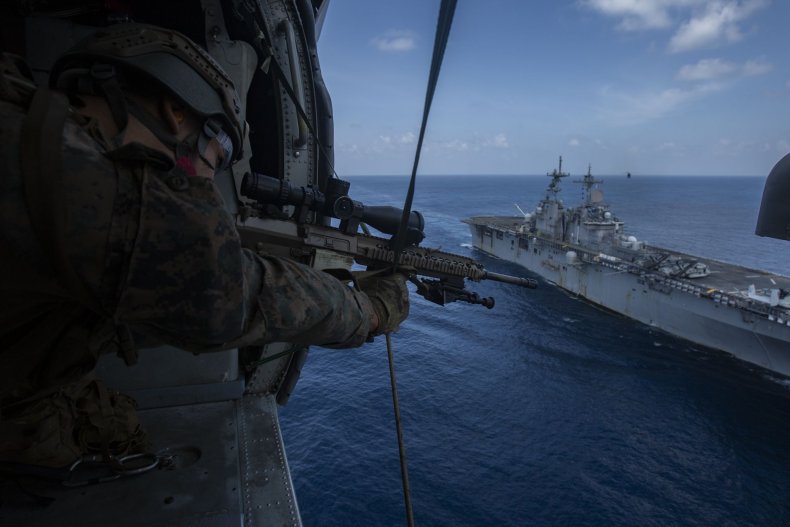 During Saturday's conference, Dai discussed the forceful reunification of China and Taiwan as well as the ongoing trade war between Washington and Beijing in light of the heightened tensions in the South China Sea. He advocated for military action to retake what Beijing has viewed as a renegade province since China's former nationalist government fled there in the wake of its defeat to the now-ruling Chinese Communist Party on the mainland in 1949.
"Why do we put the battlefield in the South China Sea and Taiwan? If cross-Straits tensions rise, there is no need to think too much. Though the economy is the most important aspect of overall development and we should definitely focus on saving it, once the opportunity for reunification comes, why not take it? Tensions will accelerate reunification and will only be the beginning of Taiwan's war of liberation," Dai said, as quoted by official China Military Online.
"Therefore, we do not have much to fear, so let's just wait and be prepared," he added. "Once a strategic opportunity emerges, we should be ready to take over Taiwan."