V-J Day: U.S. Military Power in Asia Grew After World War II, But Do We Still Need Bases There?
The U.S. military victory over Japanese Imperial forces on August 14, 1945, signified the end of the bloodiest conflict in modern history. It also ushered in a historic shift in global power, creating a growing and lasting U.S. military presence in Asia that has continued to this day—but not without its opponents.
Only days after the world's first atomic bomb attacks killed up to 250,000 people in the Japanese cities of Hiroshima and Nagasaki, Japan officially surrendered to the U.S. and fellow Allied powers, including the Soviet Union and the U.K, ending World War II. The event was known as V-J Day and is officially commemorated in the U.S. on September 2, the date in which the surrender document was signed. The Empire of Japan was then dismantled and, for the first time in the country's history, Japan was occupied by a foreign power.
The U.S. military occupation formally ended only years later in 1951, but the bases remained as a friendly Japanese government took over. Today, there are 122 "military base sites" in Japan, predominantly in Okinawa prefecture. With local and regional tensions mounting, anthropology professor and author David Vine said there are "very few reasons" to keep these installations today.
"More and more people are questioning their military value," Vine, who published Base Nation in 2016 and is currently working on a new piece about anti-U.S. military base movements around the world, told Newsweek. He called the "exaggerated" notion of a threat from China "a long-standing fear that has been trumpeted for years" and identified the bases' ulterior "role in keeping the Japanese government subservient, a sort of client state."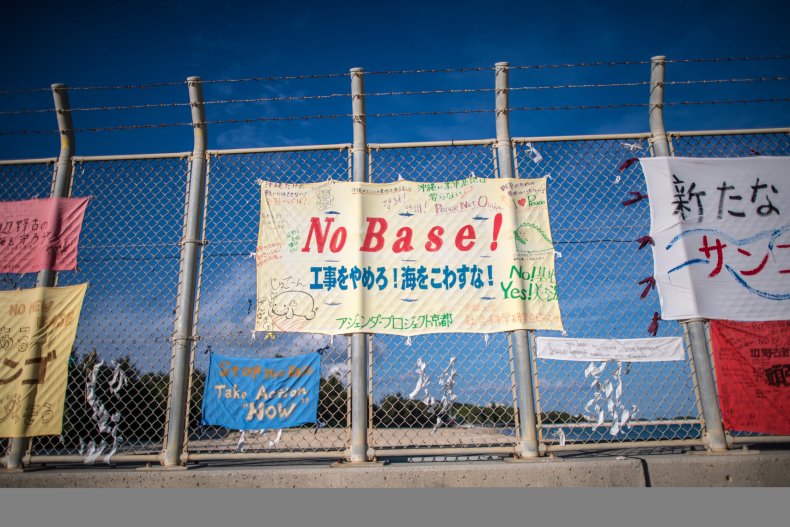 The bases, Vine said, "offer this sort of leverage and form of control over the Tokyo government." Many Okinawans have felt the same way. Unlike the rest of the country, the island of Okinawa was not granted self-rule until 1972 and it continues to host up to 73.9 percent of the areas designated for "exclusive use" by U.S. Forces in Japan. The prefecture's official English-language website has a section entitled "U.S. Military Issues" and argues "it is necessary to reduce and consolidate U.S. military bases in Okinawa."
Tensions between locals and the U.S. military spiraled throughout the post-war decades and hit an all-time low in the wake of a 1995 incident in which three U.S. servicemen abducted and raped a 12-year-old Japanese girl in Okinawa. It was neither the first nor last crime perpetrated by U.S. personnel: In another high-profile incident in 2016, a U.S. military worker raped and murdered a 20-year-old woman there. That same year, the U.S. Navy was forced to ban sailors from drinking alcohol after an officer was involved in a drunk-driving crash. Another ban was imposed by the entire U.S. Forces in Japan last year after a drunken Marine killed a local 61-year-old man in a collision. In 2017 alone, there have also been numerous military accidents that have prompted Okinawans to question the safety of having so many active U.S. installations nearby.
One of the most vocal critics of the U.S. military's behavior and expansive presence on the island was Okinawa Governor Takeshi Onaga, who died Wednesday after a bout of pancreatic cancer. Up to 70,000 protesters in Okinawa took to the streets Saturday to mourn Onaga's passing and protest the planned relocation of the U.S. Marine Corps Air Station Futenma—where the personnel that perpetrated the infamous 1995 rape were deployed—from its urban setting to a sparsely populated coastal site known as Camp Schwab, according to the Associated Press. Critics have argued the new location would be detrimental to the environment and want the base gone altogether.
The Okinawa Prefecture Election Board announced Monday that election to replace Onaga would take place on September 30, The Japan Times reported. As Okinawans decide who would replace their late firebrand leader, the State Department said ties between the U.S. and Japan as good as ever and remained vital for their mutual interests in the Asia-Pacific.
"For 70 years Japan has demonstrated an abiding commitment to peace, democracy and the rule of law. This record stands as a model for nations everywhere, and we appreciate Japan's constructive role in global and regional affairs," a State Department spokesperson said in a statement sent to Newsweek. "The United States and Japan, once bitter enemies, are now the closest of friends and allies. We believe that good relations between Japan and its neighbors promote peace and stability and serve the best interests of the region and of the United States."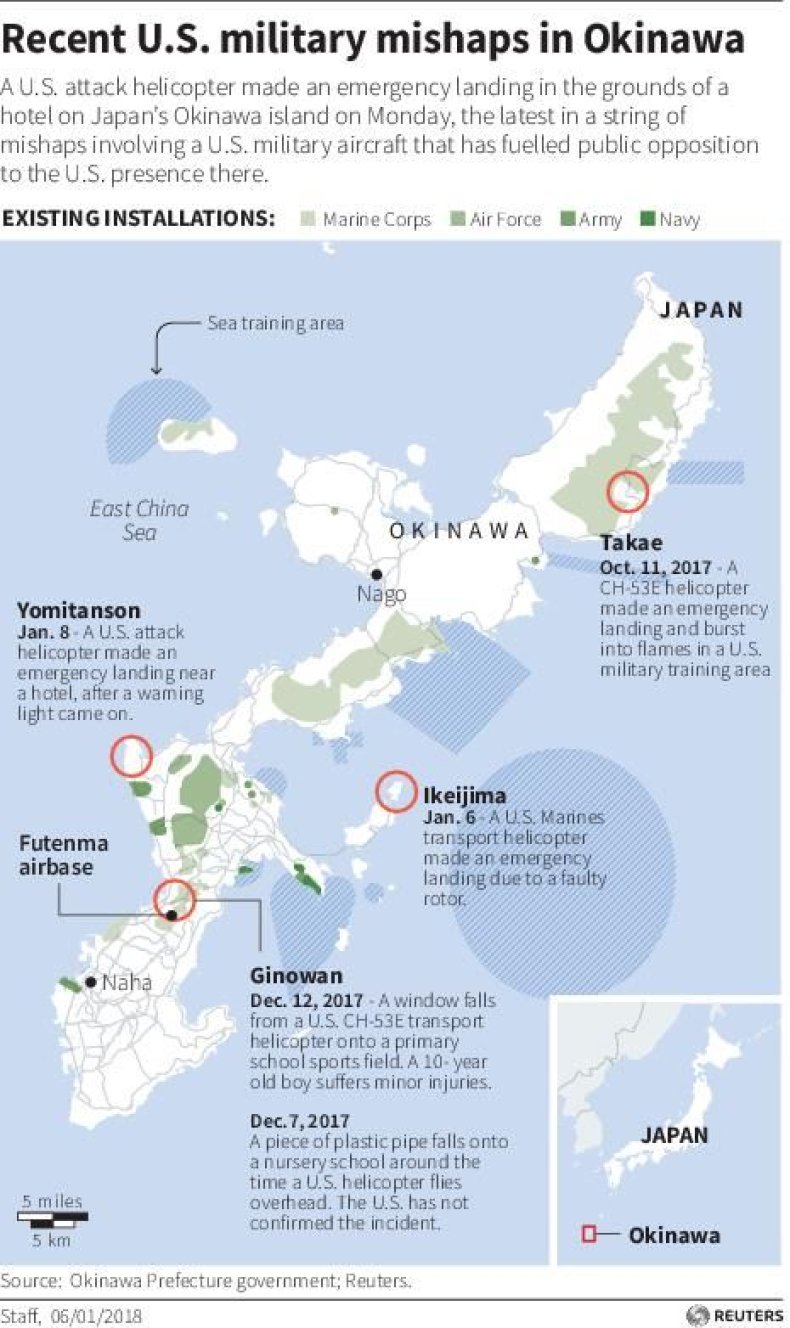 The U.S. military presence in Japan has always been linked to geopolitical maneuvering. In the final Pacific phase of World War II, the U.S. was not the only major Allied power battling Japan. Just as Washington prepared to launch its new atomic power, the Soviet Union declared war on Japan and opened a new front in occupied Manchuria. The U.S. managed to quickly seize the entirety of Japan's mainland after the bombings, but the neighboring Korean Peninsula was ultimately split between the U.S.-controlled South Korea and Soviet-backed North Korea.
Just a few years later, Chinese revolutionaries claimed victory in a civil war that produced a second major communist world power and heightened U.S. concerns about its status as a global superpower. In the first armed conflict of what would become the Cold War, the Soviet Union and China teamed up to support Pyongyang against Seoul, which received support from a U.S.-led United Nations coalition. The devastating three-year war ended in a stalemate and Washington has continued to invest heavily in its military installations in Japan and South Korea, despite heavy criticism from China, North Korea and Russia.
"Imagine how the U.S. would feel if China built bases anywhere near the U.S. coast," Vine said. "Why we would think China would respond anyway different is mysterious."
The U.S. has indeed reacted angrily in recent years to Chinese military activity on its own doorstep in the South China Sea, a roughly 1.4-million square mile stretch of water mostly claimed by Beijing. The U.S. has accused China of militarizing the region by developing artificial island bases in a set of islets and reefs known as the Spratly Islands, also partially occupied to a lesser degree by nearby Malaysia, the Philippines, Taiwan and Vietnam.
Besides the military facilities on the Spratly Islands, which China considers being part of its sovereign territory, Vine said "China has a grand total of one foreign base," a naval facility in Djibouti that opened last August to much criticism from the Pentagon. Meanwhile, the U.S. has approximately 800 bases worldwide, including 279 in the Asia-Pacific region alone, and up to 16 more in Afghanistan and Pakistan, located on China's western flank.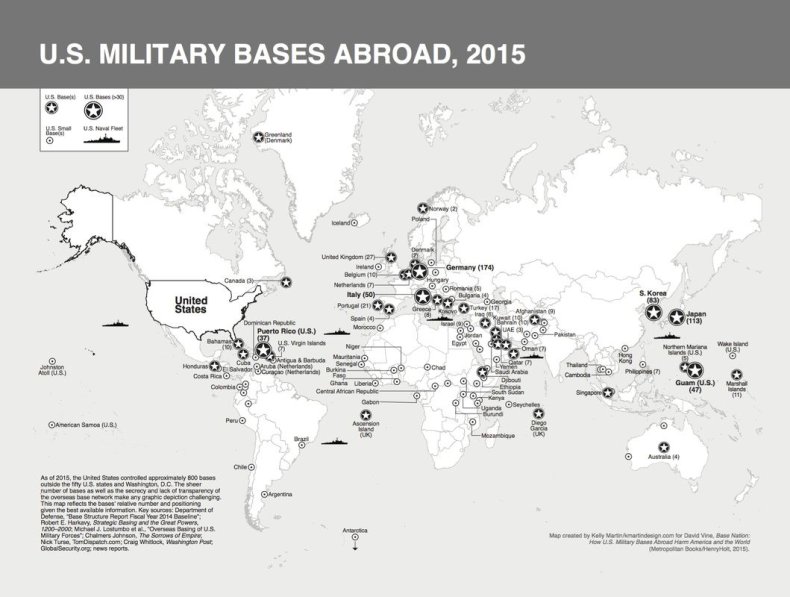 In the age of powerful ballistic missiles, large U.S. bases leave U.S. troops exposed should an actual conflict break out. The long-term stabilizing effects of U.S. military presence in various regions have also been the subject of debate, and a RAND Corp study on their deterrence or instigating abilities published in April found that "a substantial increase in U.S. combat capabilities in the vicinity of the contested islands [in the South China Sea] may help deter China from initiating major military operations against the states that have claims on the contested islands. However, that same increase in U.S. troop presence closer to China may lead to the intensification of Chinese militarized activities and provocations toward the partner states that host U.S. forces."
Maintaining such a global network of military activities is also extremely costly. "We found that there are annual recurring fixed costs to having a base open, ranging from an estimated $50 million to about $200 million per year, depending on service and region, with additional variable recurring costs depending on base size," a 2013 report by RAND stated, while Vine said via Politico in 2015 that the price had oscillated between $85 to $100 billion in fiscal year 2014. He also added at the time that the overall number "with bases and troops in war zones is $160 to $200 billion."
Indeed, President Donald Trump has urged allies in Europe and Asia to contribute more financially to their defenses, much of which came in the form of U.S.-built systems. Japan has, in fact, begun developing its "self-defense" force in recent years, investing billions in missile defense to bolster a military that Vine called "sizable" and "sophisticated," as well as "hardly defenseless" without direct U.S. military presence.
"These bases are literally wasting billions of dollars a year, undermining U.S. military posture and national security," Vine said. "I really would like to stress the danger that the status quo poses for the U.S. and the world and that the danger of expanding the U.S. military presence in East Asia is actually making the prospect of war more likely."