Can NATO Defeat Russia? U.S. Alliance Could Lose a War and Trump Is Not Helping
President Donald Trump has demanded that NATO allies increase their financial contributions to the U.S.-led Western military alliance, whose ability to respond to a Russian assault has been called into question by experts. After a circus-like summit among the alliance's leaders, the situation may be even worse than previously thought.
Rand Corp—a leading think tank financed by the U.S. government and private endowments—has closely monitored the tense military situation along NATO's far eastern borders in Poland and the three Baltic states of Estonia, Latvia and Lithuania, where the alliance added four multinational battle groups in 2016. That year, Rand Corp senior defense researcher David Shlapak and his colleague Michael Johnson learned through multiple simulated war games that Russian forces could likely overrun the Baltic capital cities in a matter of hours, with some scenarios playing out in just over one day.
When asked how this assessment has changed since then, Shlapak noted important "signaling" on NATO's part, such as increased training and exercises, that improve cooperation among members. "From an operational point of view," however, his findings were less optimistic, noting that the four eastern battlegroups would not prove much resistance to an all-out Russian attack.
"We don't see that it makes much of a difference," Shlapak told Newsweek. "They would be very limited in terms of their combat capabilities in the event of a fight."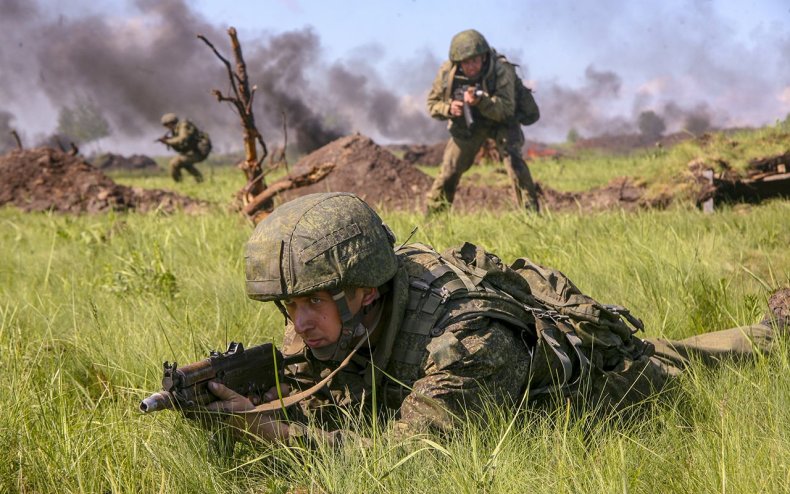 NATO was founded among the U.S. and Western allies in 1949, just as a burgeoning rivalry with the Soviet Union was erupting into the decades-spanning Cold War. The Soviet Union responded with the Warsaw Pact, a collective defense treaty of its own among Moscow's socialist satellite states. The two global factions managed to avoid any direct warfare, facing off instead in third-world proxy conflicts until the Soviet Union collapsed in the early 1990s, ushering in a calmer Western approach toward Russia and vastly downsizing NATO's costly combat posture.
As Russian President Vladimir Putin began rebuilding his country's military might through the 21st century, tensions have resurged. NATO has accused Putin of undermining regional stability, while Moscow has countered by accusing the Western coalition of threatening Russian national security. In 2014, Russia annexed the Crimean Peninsula from Ukraine as the neighboring country underwent a political uprising that Moscow said threatened the security of Crimea's ethnic Russian majority. NATO then moved to bolster its eastern flank by creating the four battlegroups at a 2016 summit in Warsaw, the very same city that witnessed the creation of the Soviet Union's own defense pact six decades previously.
Related: Who Are the Leaders of NATO? Here's a Closer Look at the Organization
Since then, however, Shlapak's 2016 report and other documents have shown how NATO's command structure has so severely deteriorated in the years since the Cold War that Russia may still have the advantage. In May, Rand Corp released another report that showed "how badly outnumbered and outgunned a NATO force defending the Baltic states would be in the initial days and weeks of a conventional fight."
As per the May report, the combined NATO forces are composed of 31,813 personnel with 129 tanks. They would face a Russian force of 78,000 and 757 tanks. NATO has four and a half times the number of aircraft if compared with Russia, and has the only fifth-generation warplanes on the battlefield, but "the Russians have advantages over current NATO forces in integrated air defense, long-range artillery, anti-armor munitions, and electronic warfare," according to the report.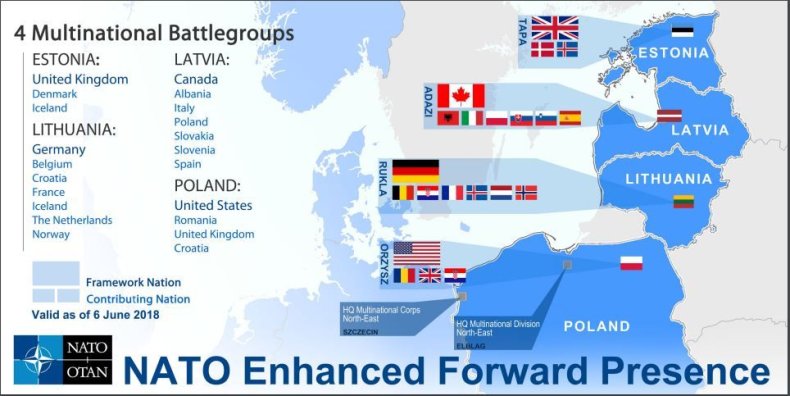 "Given NATO's current posture and capability, including the European eFP [Enhanced Forward Presence] battalions and rotational U.S. armored brigade combat team, Russia still enjoys a substantial time-distance advantage in the initial days and weeks of a conventional ground campaign against the Baltic States," the May 2018 report found. "Looking out past the initial weeks, the comparison on the ground would actually get worse for NATO before getting better," it added.
Meanwhile, Russia has improved its already highly capable forces in the Western Military District that borders the Baltic states. In the heavily militarized Baltic enclave of Kaliningrad, in particular, dual-purpose missiles have been moved and explosive exercises have been held. Shlapak told Newsweek that Russian leaders "have definitely sought to counter what NATO has done, and they have further plans to bolster their posture in the region."
Related: Russia Trolls Trump's Visit to 'Useless' NATO, Says It's Watching World Cup Instead
The U.S. alone, of course, remains a far more powerful force than Russia, but its European assets are thinly spread. Moving reinforcements to the battlefield would present major issues because of transcontinental bureaucracy quarrels, aging infrastructure and mismatching rail gauges, among other transportation obstacles, within NATO countries, which extended only as far as east West Germany during the Cold War. These shortcomings have prompted NATO to reorganize, but such reforms cost money, and the only U.S. president to ever call the alliance "obsolete" has reportedly gone so far as to threaten to pull out support if other members did not step up their military spending.
While U.S. spending for NATO has actually increased by at least 40 percent under the Trump administration, the alliance has faced tough criticism from the Republican leader. Trump, who has taken a somewhat softer stance on Putin than many U.S. allies in Europe, has demanded that they give more to the U.S.-dominated defense pact. NATO guidelines stipulate that members must spend at least 2 percent of their GDP on defense, but most of the alliance does not meet this figure and Trump wants to set the bar even higher at 4 percent.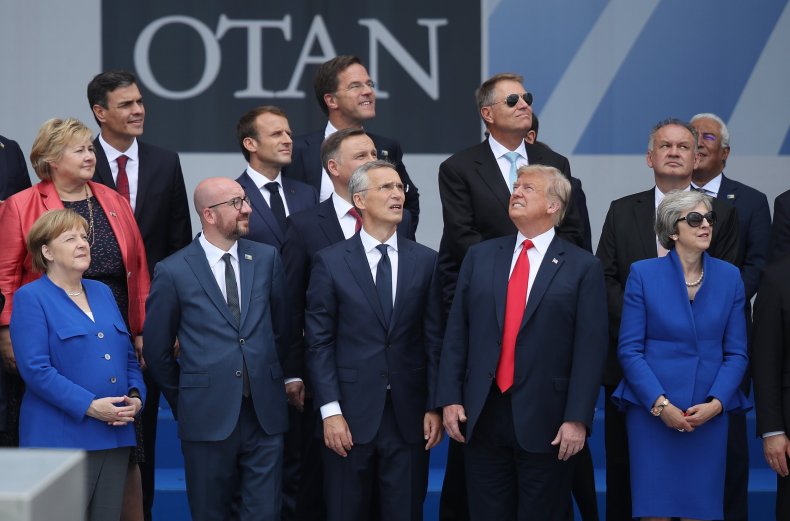 The dispute has led to a very public rift between Trump and other alliance leaders—including key U.S. allies such as Canada, France, Germany and the U.K.—at this year's NATO summit in Brussels. Trump called his visit a success, but the meeting was most notable for producing a slew of conflicting reports and awkward encounters, something that Shlapak said did not bode well for NATO or its ability to function as a cohesive collective defense pact.
"I don't think any actual progress was made," Shlapak said."I think what you see is the sort of reality show aspect of the political scene there, and I think that's something that Americans have come to expect—manufacturing a crisis where there isn't one, then coming up with a solution and claiming victory—but Europeans are feeling a bit of a backlash."
Shlapak added, "I think that President Trump has left feeling he scored one of his public relations victories, but in the end, he left people here feeling that they're in for a wild ride and not feeling sure where the U.S. stands."