Trump Complains NATO Costs Too Much, Outspends Obama by 40 Percent and Counting
President Donald Trump opened the NATO summit on Wednesday on a frosty note, grousing about disproportionate U.S. contributions to the alliance and reiterating his oft-tweeted mantra that NATO allies "must pay MORE, the United States must pay LESS." The numbers, however, tell a different story. The Trump administration has relentlessly boosted spending on military activity in Europe, topping Obama-era spending for training and operations by as much as 40 percent, adding $1.4 billion for drills and operations.
"The Trump administration has increased funding for the U.S. presence in Europe by 40 percent," NATO's Secretary General Jens Stoltenberg wrote in The Guardian last month. "The last U.S. battle tank left Europe in 2013, but now they are back in the form of a whole new U.S. armored brigade."
Stoltenberg was referring to the European Reassurance or Defense Initiative, a NATO official confirmed to Newsweek. President Barack Obama began the initiative in June 2014, at a high point of concern by European allies that Russia could repeat its annexation of Crimea elsewhere in Eastern Europe. The fund grew to $3.4 billion last year from an initial $1 billion in 2015. The Trump administration added another $1.4 billion to it in 2017. The money directly funds Operation Atlantic Resolve—a series of training events with Poland, the Baltics and other European allies, alongside thousands of U.S. troops rotating through Europe every year.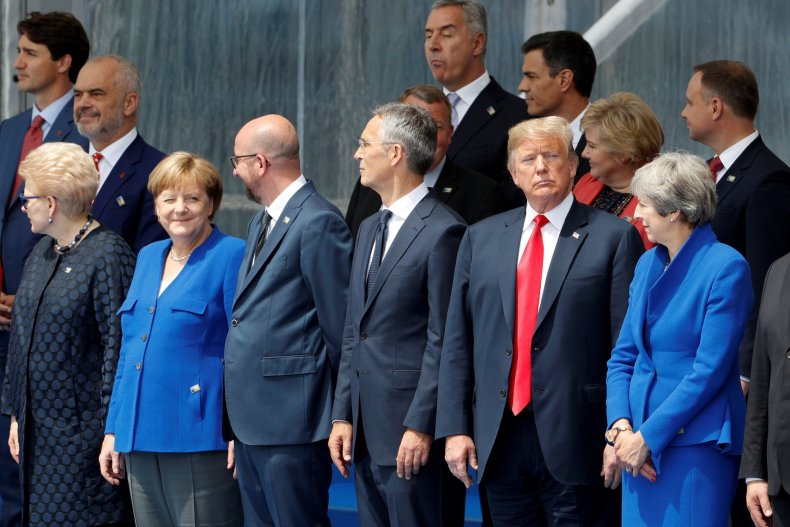 Adding to the discrepancy between words and deeds is Trump's refusal to openly criticize Russian President Vladimir Putin. He also opts not to refer to Russia as a military threat to the U.S. and the same allies he has asked to increase military spending.
"This issue reflects a difference that we have seen several times over the first 18 months of the Trump administration," Steve Pifer, a former U.S. ambassador to Ukraine, told Newsweek. "Senior administration officials support a mainstream U.S. foreign policy—in this case, using the European Reassurance Initiative to bolster the U.S. military presence in Europe—that appear at odds with President Trump's own thinking."
There's Trump, and then there's the adult in the room
At times, Trump's views appeared to contradict those of his own administration. A flurry of European visits by Vice President Mike Pence, Secretary of State Rex Tillerson and Defense Secretary James Mattis, a month into his presidency, gave some Europeans somewhat belated reassurance that Trump's derogatory campaign comments and "America First" references would not put the alliance in jeopardy. Mattis has retained his status as NATO's preferred interlocutor with the U.S. ever since, according to Reuters. Some view the general as "the most articulate adult in the room" when it comes to the Trump administration, a senior European official told the agency.
In the lead up to the summit Donald Tusk, the president of the European Council, tried to steer Trump toward a conciliatory approach, agreeing that Europe's defense budgets must be robust but also telling the U.S. president: "Appreciate your allies, after all, you don't have that many."
Tusk, once a prime minister of Russia's neighbor Poland, asked Trump to "please remember about this tomorrow when we meet at the NATO summit, but above all when you meet [the Russian] president, [Vladimir] Putin, in Helsinki. It is always worth knowing who is your strategic friend and who is your strategic problem."
Read More: U.S. still hasn't received soldiers' remains from North Korea, Pompeo says, contradicting Trump
Trump's request for more allied defense spending is not out of keeping with standard U.S. policy, but the tone in which he makes the request works against everyone's interest, Pifer said. "To be sure, European members of NATO need to increase their defense spending, but we have seen significant progress on this since 2014. Mr. Trump could and should claim this as a victory, while privately pressing allied leaders to do more."
Much of Trump's venting about defense spending centers on Germany and Chancellor Angela Merkel. In rallies and in tweets he has name-checked Germany for not putting as many resources into defense as he would like. The traditionally military-shy post–Cold War German state has so far committed to reaching a mere 1.5 percent of GDP by 2024, despite being the continent's economic powerhouse. Trump's poor relationship with Merkel and his tendency to shape policy according to personal feelings could mean his push for more money is more demonstrative than strategic.
Learning to take "yes" for an answer
"The big question is whether the president is making this point to improve the capabilities of the alliance or if he is using it as an excuse to weaken NATO," Daniel Fried, former assistant secretary of state for European and Eurasian Affairs, told Newsweek. "He can still have quite a good week if he can use the anxiety that he has produced among allies and turn it into actual useful pressure on allies to spend more."
"The trouble is he hits people and he keeps hitting. What you end up getting is not a better alliance but an irritated alliance," Fried said.
Poland, where Fried once served as ambassador, is among the five NATO nations that already meet the agreed military spending target of 2 percent of GDP. Others are on course to meet the target by 2024, as agreed to at the NATO summit in 2014. Trump's blanket ire at all allies and spurious claim that the U.S. is spending up to 90 percent, when it actually spends closer to 67 percent, risks neglecting an aspect of alliance besides capability—solidarity, Fried said.
"Trump needs to take yes for an answer," said Fried. "He put pressure on them and they are spending more. He should applaud them and count it as an accomplishment. If you just whack people, you won't tend to get help when you need it."
"If you are Eastern Europe you have a special message for the president, and that is 'We are spending more,' but also they've got to be wondering 'How do you think you won the Cold War, buddy?'"
Recalling the enthusiasm Eastern European nations such as Poland, the Czech Republic, Hungary, all of which had large anti-Soviet protests in different decades of the Cold War, Fried said they did not only vie to come under U.S. military protection but "wanted to be a part of this West. Don't take it from me. This is what I heard from Poles, some of whom were in Communist prisons then."
"There's another issue here as well," Fried continued. "You won't know when you are gonna need friends." The only NATO member to have ever invoked Article 5, which calls on the alliance members to mount a response when one of them is under attack, was the U.S. after September 11, 2001. "Over 1,000 non-U.S. NATO soldiers died fighting alongside us in Afghanistan," Fried said. "They died in alliance with us. Trump should remember that."