U.S. Still Hasn't Received Soldiers' Remains from North Korea, Says Pompeo
Despite President Donald Trump's boast at a rally that he had secured the remains of U.S. troops killed during the Korean War, his secretary of state says North Korea is yet to send any.
Around 7,700 U.S. soldiers remain unaccounted for from the conflict, the majority of whom are presumed dead in North Korea. As the U.S. military moved 100 wooden coffins to the border between North and South Korea in preparation last week, Trump told a rally in Minnesota: "We got back our great fallen heroes, the remains, in fact today already 200 have been sent back."
Speaking to the Senate Appropriations Committee on Wednesday, Trump's Secretary of State Mike Pompeo did not confirm the president's comments, when Senator Cynthia Shaheen raised the issue of the Korean War dead. Shaheen asked on behalf of charity workers who have dedicated years to repatriating the remains of U.S. soldiers missing in action.
"I am optimistic that we will begin to have two opportunities: One is to receive some remains in the not-too-distant future, but then there is a great deal of work with companies like the one you described, nonprofits," Pompeo said. Asked if this meant that the U.S. had in fact not yet received the remains, Pompeo confirmed that was correct. "We have not yet physically received them," he said.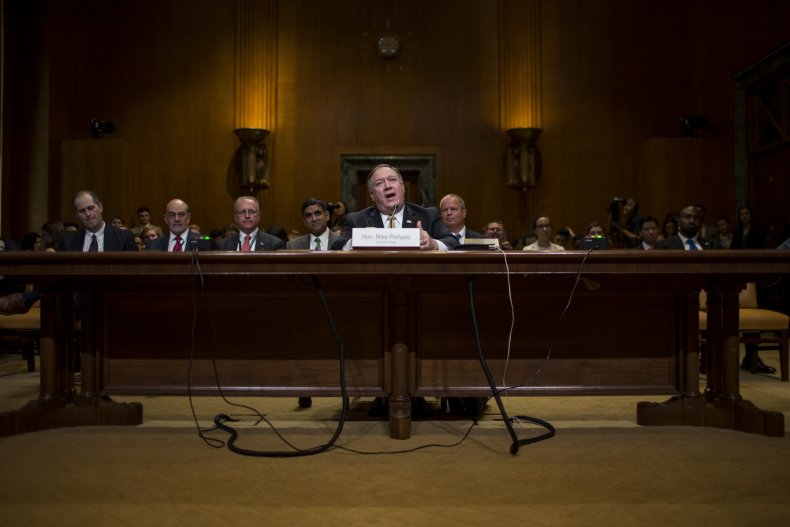 Although Trump himself has already branded it a success, his decision to meet North Korea's leader Kim Jong Un still has an unclear outcome. The regime had not yet delivered in a handful of areas, such as repatriating soldiers' remains.
"I signed an agreement where we get everything, everything," Trump said after the meeting. As fact-checker site Politifact points out, what the meeting produced was a not a specific agreement but a quotable communiqué, which commits the North Korean regime to no major change of course, explicitly.
The communiqué actually centered on a promise from Kim Jong Un to "work towards complete denuclearization of the Korean Peninsula," but it did not specify on what terms. North Korea's state propaganda has long argued that the U.S. is to blame for nuclearization and Washington should make concessions to entice North Korea into curbing its program. The agreement itself stated Kim Jong Un has only "reaffirmed his firm and unwavering commitment" to working for denuclearization, implying the leader agreed to no new approach.
Trump has since complimented Kim Jong Un repeatedly, claiming that the North Korean leader is in the process of making good on destroying some military test sites, saying: "They've already blown up one of their big test sites. In fact, it was actually four of their big test sites."
Related: Donald Trump weighs in on the World Cup and "Christian" Ronaldo
So far, the U.S. has identified the Sohae launch facility as one North Korea should destroy. But satellite images by monitoring group 38 North suggest the regime has not begun working on this as of earlier this month. The most recent report from the group actually shows satellite images of another facility used in the nuclear program—Yongbyon Nuclear Scientific Research Center—which North Korea is rapidly upgrading.
An alleged classified report from Israel's foreign ministry cast serious doubt over Trump's statements, concluding that irrespective of his claims of a quick fix, North Korea's progress "if it ever happens, will be long and slow."