U.S. Could Lose War With Russia Because of Traffic Jams in Europe
The decaying Cold War–era command structure of the U.S.-led NATO alliance and its members could prove a major obstacle in defending European borders from a potential Russian attack, current and former U.S. military officials say in a new report.
Bureaucratic quarrels, aging infrastructure and mismatching rail gauges were among the factors that could delay the U.S. and NATO's response to a Russian invasion by up to a month and a half, according to officials cited in an article published Sunday by The Washington Post. As NATO expanded into former Iron Curtain territory following the Soviet Union's collapse, it reportedly failed to properly maintain the routes needed to transport troops and equipment in the event of a major conflict, an oversight that has already led to continental traffic jams for the multinational coalition.
"We have to be able to move as fast or faster than Russia in order to be an effective deterrent," former U.S. Army Europe Commander Ben Hodges told the Post, warning that the U.S. and NATO must be able to "mass enough capability in place so that Russia doesn't make a terrible miscalculation."
Retired Army Lieutenant General Douglas Lute, who also served as the former U.S. envoy to NATO, told the newspaper that transportation was both "a problem in a very practical way" and "a symptom of a bigger problem" in Europe, which he said was no longer "whole, free and at peace."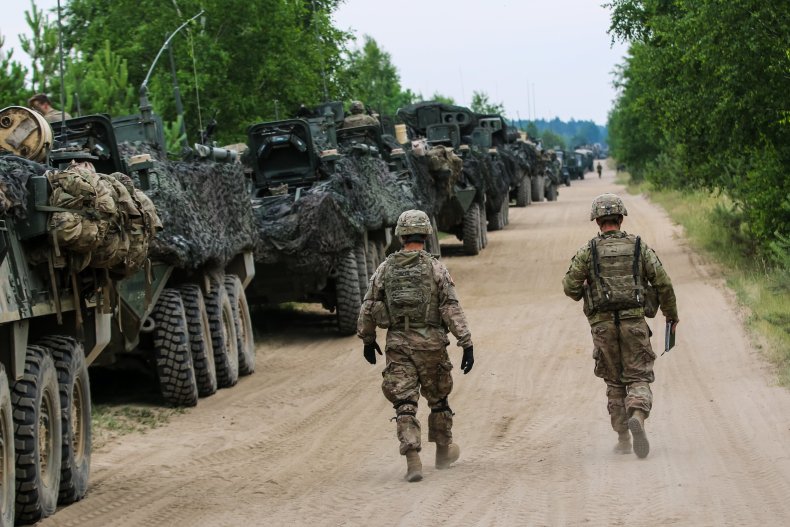 The extent of the issue was highlighted in an anecdote about a planned U.S. military exercise last year in Germany that required Stryker armored fighting vehicles stationed well over a thousand miles away in the Caucasian nation of Georgia. Squadron commander Lieutenant Colonel Adam Lackey told the Post that the two-week trip ended up taking four months due to various miscalculations, such as differing regulations in Hungary and Romania over how the vehicles should be fastened and strict German protocol regarding when military vehicles could be transported by rail.
Among other pitfalls of facilitating such movement across Europe: Sweden, a non-NATO country that often assists the alliance and participates in certain operations, reportedly requires up to three weeks' notice to permit military traffic to pass through the Scandinavian nation. Western railroad gauges are thinner than those in the Baltic states—a critical Eastern European stretch that has been fortified with NATO battle groups over fears of a Russian incursion—meaning any cargo needs to be unloaded and reloaded completely before entering via train.
Related: Russia's military built a 'terminator' and now it's getting smart weapons
"If you can get there in 45 days, you're just late to the fight," Major General Steven Shapiro, who heads the 21st Theater Sustainment Command tasked with U.S. military mobilization across Europe, told the Post.
Such complications further expose a major NATO vulnerability where member states Poland and Lithuania meet the heavily militarized Russian exclave of Kaliningrad. Russia's fortifications there and across the mainland led Rand Corp. analysts to conclude in a 2016 report that "across multiple plays of the game, Russian forces eliminated or bypassed all resistance and were at the gates of or actually entering Riga, Tallinn, or both, between 36 and 60 hours after the start of hostilities."
Rand, a leading think tank, came to a similar conclusion again in March, despite NATO enjoying a sizable advantage in terms of funding, manpower and technology. Curtis Scaparrotti, head of U.S. European Command and supreme allied commander, Europe, for NATO, told Congress that same month that "U.S. and allied ground forces in Europe are outmatched by Russia."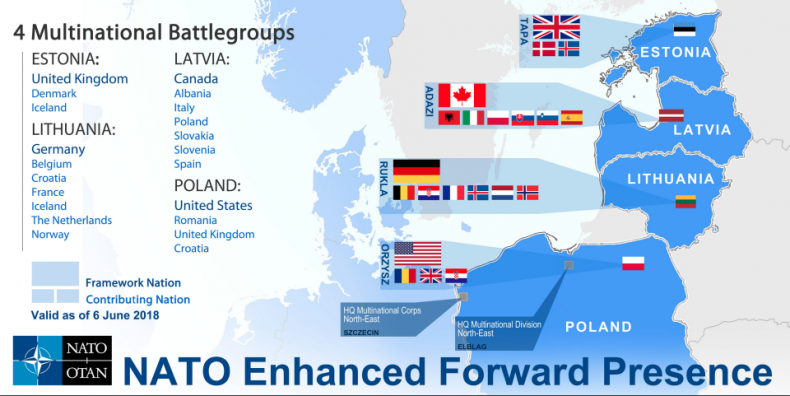 Rand was not the only source to disclose NATO weaknesses. A series of reports last year highlighted the trans-Atlantic defense pact's difficulty in keeping up to speed. In October, German newspaper Der Spiegel leaked a NATO document originating last July. It detailed how NATO's capabilities had "been atrophied" since the end of the Cold War, to the point where its command structure is "at best only partially fit for purpose and, while it has not been tested, would quickly fail if confronted with the full NATO Level of Ambition," a term reportedly used to refer to a direct conflict with Russia.
Such a conclusion reportedly prompted NATO to reorganize in October and establish a new command designated specifically to ease the transport of vital military assets across Europe. The following month, General Denis Mercier, the NATO supreme allied commander transformation, wrote in a report for the Atlantic Council that not only was power "shifting away from the West toward Asia" as Russia and China rapidly build their military strength and global political influence but the "risk for a major interstate conflict has increased."