U.S. Is Asia's Strongest Power, but China Is Catching Up and Russia Is Helping
China and Russia are working together to challenge U.S. dominance in Asia, according to the authors of a recently released report that maps out the precarious and intricate power dynamics of one of the world's most strategic locations.
The Lowy Institute released last week its Asia Power Index, a comprehensive project that lists 25 countries based on various measures weighing their strength and influence in the region. It may come as no surprise that the U.S. comes in first with a top score of 85, but "China, the emerging superpower, is rapidly closing in" with a rating of 75. Beijing also beats the U.S. in some key categories and benefits from a strategic relationship with Russia, often considered the U.S.'s leading global military rival.
The relationship may be vital for Moscow's standing in the race, as the report finds the country severely underperforming. The Asia Power Index ranks Russia at No. 5 with a score of 33, trailing "smart power" Japan and "giant of the future" India. China is also considered not to be living up to its full potential, motivating both nations to seek a more united front against a traditional West-led order.
Hervé Lemahieu, a senior fellow at the Lowy Institute and research director for the Asia Power Index, explained what was behind the "strong and merging relationship between Russia and China."
Since Chinese President Xi Jinping rose to power in 2013, the most heavily populated nation in the world and the largest standing army it commands have undergone major renovations. Looking beyond its immediate surroundings, China has projected its influence and economic clout across Asia and into Africa and Europe as part of Xi's One Belt, One Road project. China's rapid growth at home and abroad has produced the need for massive quantities of energy.
That's where Russia comes in. In 2016, Russia surpassed Saudi Arabia as the largest exporter of oil to China. The two nations have a complex Cold War history, first as fellow communist powers and later as ideological rivals. Russian President Vladimir Putin reached out once again to sign the Sino-Russian Treaty of Good-Neighborliness and Friendly Cooperation in 2001 and the relationship has thrived since then. In March, both Putin and Xi's terms were renewed as they consolidated power at home and tipped the global scales of influence from West to East.
Related: China looks for new ways to help Russia in Syria as U.S. backs Israel against Iran
"Russia plays a key role in offsetting Chinese energy dependence," Lemahieu told Newsweek. "Beijing is much more risk-averse; with Russia it's about creating a marriage of convenience. It's a very cold and calculated relationship where the benefits must outweigh the cost."
Unlike the Soviet era, Lemahieu says "Russia is the junior partner in the equation," and it knows it. The Asia Power Index ranks China as second and Russia as third in terms of military strength, contrary to most global rankings. The reason is that much of Russia's armed forces are postured in Europe and in Syria, whereas China is heavily concentrated in Asia. China also spends three-and-half more times on defense than Russia, while both are still easily dwarfed by the U.S.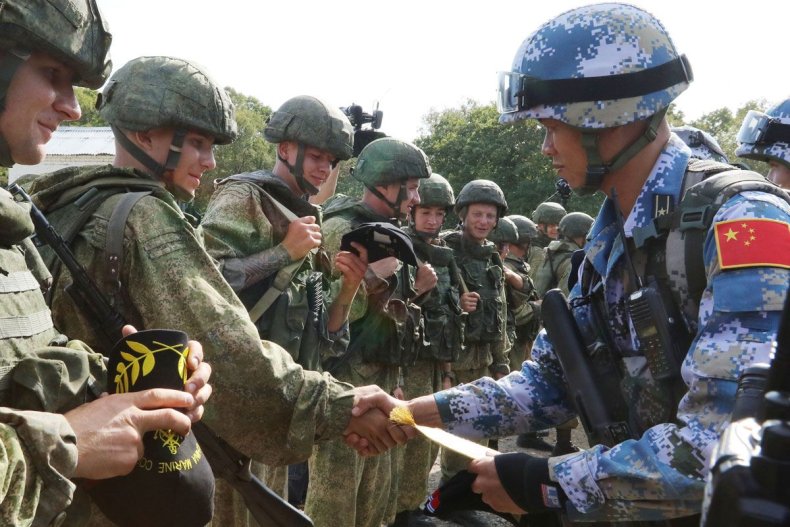 As the U.S. pushes back against Chinese policy in the South China Sea, where Beijing makes vast territorial claims disputed by regional countries, Russia has pursued a closer military alliance with its neighbor. Since 2012, Russia and China have participated together in a number of exercises, including missile and counterterrorism drills, as well as the annual Joint Sea maneuvers. Last month, the Chinese Defense Ministry announced that this year's training would take place in the Yellow Sea.
Beijing has also demonstrated a willingness to position itself close to Moscow as the Kremlin's relationship with Washington deteriorated. In past months, officials from both China and Russia have hailed an unprecedented level of political and military cooperation between the two countries. Chinese Defense Minister Wei Feng told his Russian counterpart, Sergei Shoigu, that "the Chinese side has come to show Americans the close ties between the armed forces of China and Russia, especially in this situation" and that "we've come to support you" at the annual Moscow International Security Conference in April.
Related: Russia and China will hold war games in Asia, checking U.S. military power in Pacific
China and Russia have aligned their position on some of the top geopolitical issues facing the U.S. For the nuclear crisis in East Asia, both nations support a "freeze-for-freeze" approach by which North Korea would suspend nuclear testing—which it has—and the U.S. would halt military drills. Russia and China also opposed the U.S.-led airstrikes against Syrian President Bashar al-Assad, whom the West has accused of using chemical weapons, and the unilateral U.S. decision to withdraw from a 2015 nuclear agreement with Iran. Russia, which has a strategic, pro-Assad alliance with Iran in Syria, and China, which buys oil from Iran, were also signatories of the landmark accords.
Putin is set to visit China in June as part of the Shanghai Cooperation Organization. A month later, Russia will host the fifth China-Russia Expo, highlighting the growing trade between the two countries that may soon exceed $100 billion, as Chinese Ministry of Commerce spokesman Gao Feng said during a press conference Thursday according to the state-run Tass Russian News Agency. With economic bonds flourishing among many Asian nations, the Lowy Institute observed, "Global wealth and power are shifting eastward" and China was pioneering in much of this recalibration.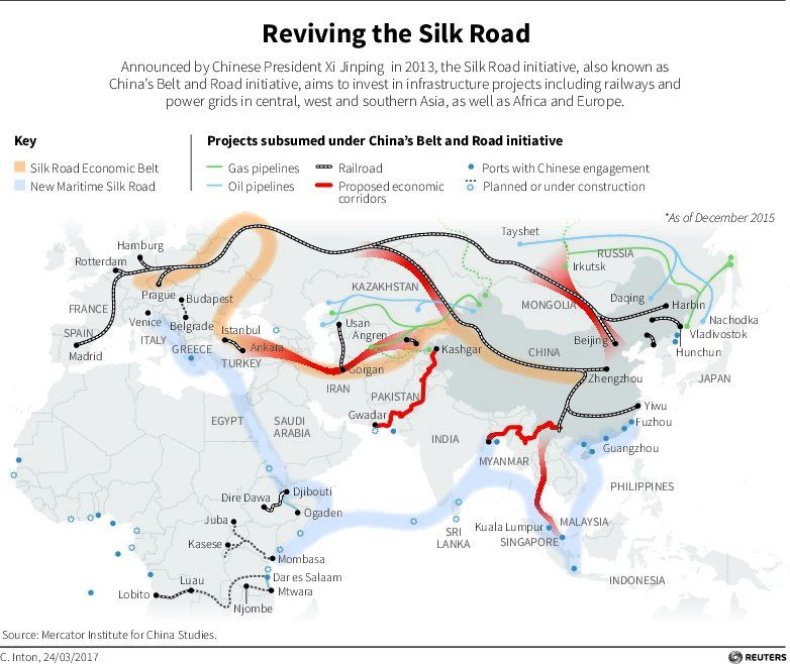 The Asia Power Index found that China beat the U.S. in three critical measures—future trends, diplomatic influence and economic relationships—and the two were nearly tied for economic resources. China was also seen as easily surpassing the U.S. in terms of gross domestic product by 2030 and as being more strategic with its regional ties, especially as Asian countries hesitate to deal with President Donald Trump. China's poorest category was defense networks, where it was ranked eighth due to its limited military relationships. The U.S., on the other hand, enjoyed close ties to seven other nations on the index—more than any other in the region.
China, which Lemahieu said was "hardly breaking a sweat yet for military expenditure," was clearly still disproportionately focused on naval warfare, but the country is accelerating its defense capabilities by investing heavily in artificial intelligence and more traditional weapons such as long-range missiles and aircraft carriers. As a result, the report found that "China and the United States are now firmly established as peer competitors in Asia."
"I can't say that China will become more powerful than the U.S.," Lemahieu said, "but it is looking that way."