Russia and China have announced they will host joint war games in the Asia-Pacific region, where the two major military powers have protested against growing U.S. presence.
Chinese Defense Ministry spokesman Senior Colonel Wu Qian told a press conference Thursday that the country's military leadership had reached agreements with Russia to host their Joint Sea 2018 exercise this year in the Yellow Sea waters off the Chinese east coast city of Qingdao. The annual multiphase drill has featured both maritime and land exercises designed to better integrate and prepare the U.S.'s most powerful rivals.
"At present, the military experts of the two countries are conducting the second round of consultations in Russia on the time, operation area and participating troops of the exercise. We will release information in due course about the specific arrangement of the exercise," Wu told reporters.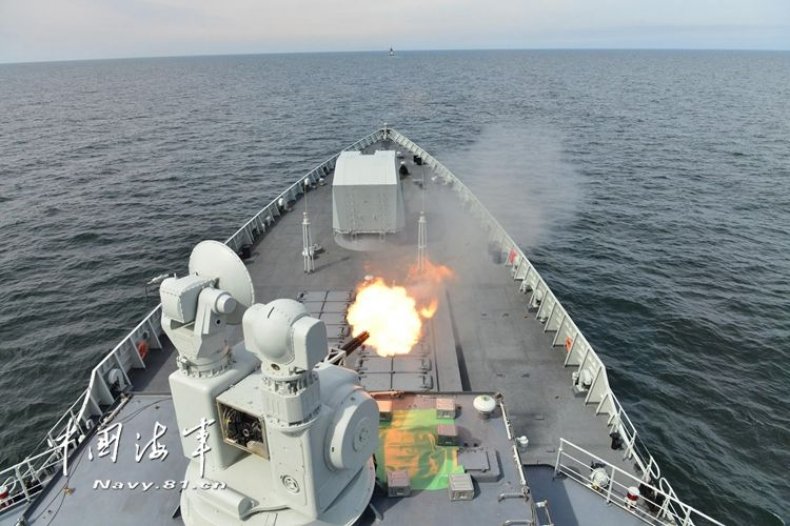 The first phase of last July's Joint Sea exercise saw the first-ever Russia-China naval drills in the Baltic Sea, another region where the U.S. was contending for influence with Moscow. At the time, Russian Ambassador to China Andrei Denisov dismissed Western fears over China's participation amid heightened tensions between U.S.-led military alliance NATO and Russia in Europe, saying "Those who are scared off are inclined to being scared."
In the second phase, Russian and Chinese marines trained in September at the Gornostay range in Russia's eastern province of Vladivostok, which borders both China and North Korea. Chinese and Russian personnel also participated in joint counterterrorism drills in Yinchuan, capital of Ningxia Hui autonomous region, and held joint anti-missile drills experts described as designed to defend against a potential U.S. invasion of North Korea.
Russia and China have signed off on Washington-led sanctions against North Korea and its nuclear weapons program, but have also been extremely wary of the U.S.'s increasing military reach across the Pacific. Moscow and Beijing have warned that advanced U.S. anti-missile systems such as the Terminal High Altitude Area Defense (THAAD) system installed in South Korea undermine Russia and China's national security. President Donald Trump criticized both countries for challenging the U.S. and undermining democracy in December's "America First" National Security Strategy, which was panned by Russia and China.
The upcoming Joint Sea drills would also come at a time when Russia and China are experiencing better ties than ever before. When Chinese Defense Minister Wei Feng attended the Moscow International Security Conference earlier this month, he pledged to strengthen cooperation between the two countries, saying, "We've come to support you" and "show Americans the close ties between the armed forces of China and Russia, especially in this situation."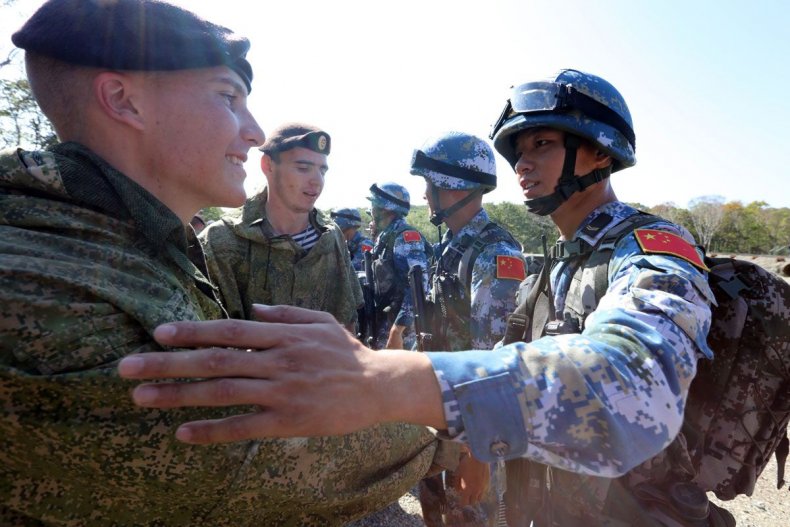 Earlier this week, Russian Foreign Minister Sergey Lavrov and Defense Minister Sergei Shoigu visited China as part of a Shanghai Cooperation Organization gathering. Shoigu said the two nations would continue "their strategic course toward further boosting friendly and trustworthy ties in the defense sphere," and the official China Military Online cited Chinese Central Military Commission Vice Chairman Air Force General Xu Qiliang as saying "the Sino-Russian relationship has reached new heights" and "an all-time high" together, "especially in military relations."
President Vladimir Putin and Chinese President Xi Jinping have also set out for a closer relationship as they consolidate power at home and challenge Western dominance abroad. The two leaders are set to meet again in June, when Putin will participate at the Shanghai Cooperation Organization summit in Qingdao.