China Military Training to Expand Across Asia and Around the World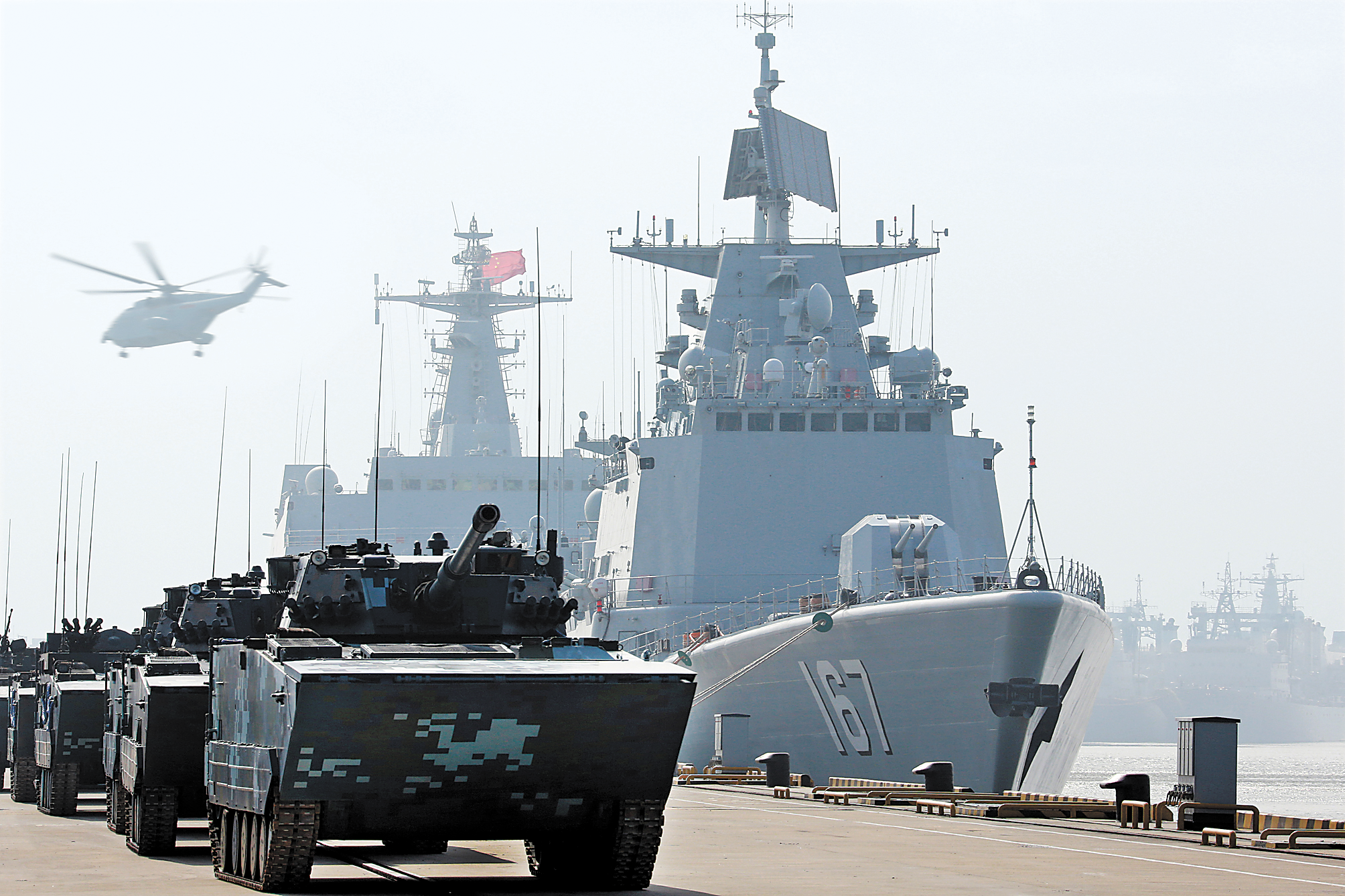 China's rapidly expanding global economic empire will be backed up by a military force that's training harder and more frequently than ever, according to a new report.
Hong Kong's South China Morning Post reported Thursday that the Chinese military conducted at least 45 exercises a year for the past two years, drills that integrated the massive force's air, land and sea assets and took place in an array of potential battlefields. China's armed forces have undergone massive reforms under Chinese President Xi Jinping, who has consolidated political control over the military and used this to bolster his Belt and Road Initiative, which seeks to expand historic trade routes across Asia, the Middle East, Africa and Europe.
Related: China Building Top Military and Economy, But "West May Not Be Able to Understand" Its Rise to Power
"When the country is on the brink of becoming a great military power, it's also stepping into a period with high risks to national security. War is not far from us," a recent commentary in the People's Liberation Army Daily read, according to the official China Military Online.
"Regional situations around China are complex and unstable, and dangers are hiding under the peace. China cannot afford a military failure, so we must be fully aware of potential crisis and be prepared for battle at all times," the article stated.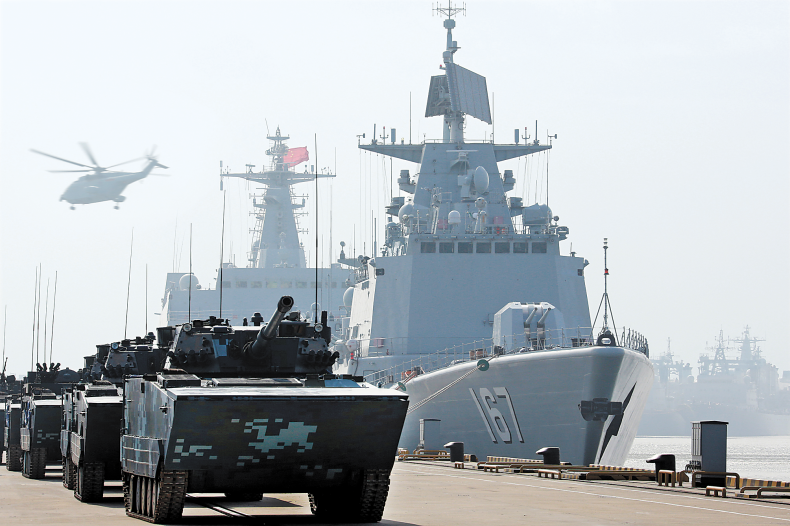 After a summer border dispute with India appeared to have been resolved diplomatically, talk of China getting into its first war in decades recently resurfaced after Indian military leaders touted their ability to take on China.
Indian Army Chief General Bipin Rawat challenged the Communist country last week, saying India "is capable of handling China's assertiveness" and that "China is a powerful nation, but we are not a weak nation," according to The Times of India.
Days later, India's Eastern Command chief Lieutenant General Abhay Krishna claimed China had been bested in the bout and "understood and apologized," India's NDTV reported. China's Communist party organ, The Global Times, struck back.
"If India continues making provocations, it should expect harsh punishment from the Chinese army. Confronting China entails an unbearably high strategic cost for India. New Delhi should cherish the amicable policy adopted by Beijing," the nationalist outlet wrote Tuesday.
It warned that India "had not learned its lessons from the Doklam standoff," referring to the border dispute between the countries that threatened to turn violent in July. China had begun construction near the Doklam, or Donglang, region, which borders the Chinese region of Tibet, Bhutan's Ha Valley and the Sikkim State of India. India sent its troops to confront Chinese forces, arguing that the construction compromised the security of Indian ally Bhutan.
The dispute was ultimately resolved, but recent rhetorical exchanges threatened to reignite tensions between the nuclear-armed states. China has increasingly reached out to Pakistan, a third nuclear power and India's primary rival. China and Pakistan have held joint military drills, and China has sought to build a naval base in the South Asian power that it considered a major asset to Xi's Belt and Road plan.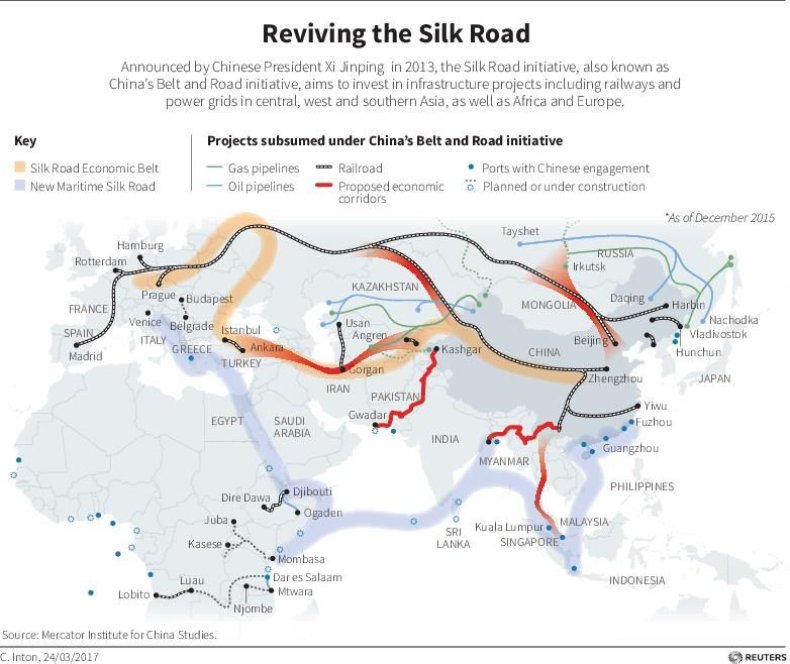 China's one and only other foreign military base was built in the East African country of Djibouti, where U.S., Japanese and French forces also operate. China has sent security forces to conduct security operations to a number of countries in Africa, a continent to which Xi pledged $60 billion in 2015. Chinese personnel have been especially engaged in battling piracy in Somalia and jihadi groups in northern Mali.
All of this has occurred under the increasingly close oversight of a man considered to be China's most influential leader since Communist founder Mao Zedong. Xi has reined the country's paramilitary forces under his control and uprooted corruption in the world's largest standing army, which he vowed to transform into a 21st-century, world-class military "built to fight" by 2050.
While China ranks third in terms of global military strength, its increasingly close alliance with runner-up Russia and blossoming international trade have left Western analysts concerned as to how long the U.S. can maintain absolute dominance.