Russia Pays 'Great Attention' as Its Strategic Partners China, India Clash
Russia has said it is closely watching reports of deadly clashes between its strategic partners China and India over contested land in the Himalayas.
Kremlin spokesperson Dmitry Peskov told reporters Wednesday that Moscow is "watching with great attention what is happening on the Chinese-Indian border" after what he described as "a very alarming report" about the conflict at the disputed territory between India-administered Ladakh and China-controlled Aksai Chin in Kashmir. Peskov said, however, that Beijing and New Delhi could resolve their dispute on their own.
"We consider that the two countries are capable of taking necessary steps to prevent such situations in the future and to ensure that there is predictability and stability in the region and that this is a safe region for nations, first of all, China and India," Peskov said, according to the state-run Tass Russian News Agency.
The Indian military has announced up to 20 deaths on its side after a confrontation with a Chinese patrol deteriorated into a battle at the divided Galway Valley. Beijing has not acknowledged any deaths or injuries, although the editor-in-chief of the Chinese Communist Party publication Global Times reported on Chinese casualties.
Peskov said India and China "have very close and mutually beneficial relations [with Russia] built on mutual respect."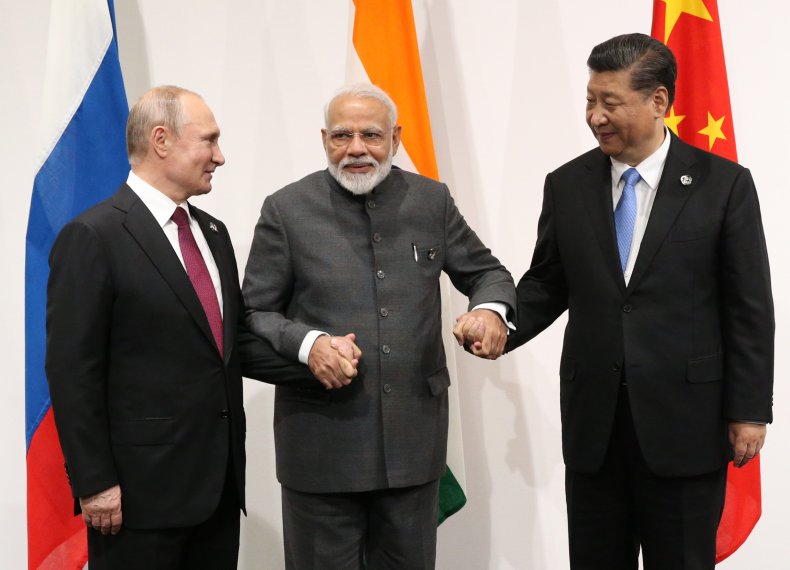 Moscow formed close ties with both Beijing and New Delhi during the Cold War but fell out with fellow communist China, which fought brief border wars with both the Soviet Union and India in the 1960s and grew close to Pakistan, which also controls a part of Kashmir. Russia and China have boosted relations exceptionally in recent years.
Today, China and India have both signed billion-dollar defense deals with Russia and have purchased the advanced S-400 surface-to-air missile system, defying threats of sanctions by the United States.
"We are closely monitoring the situation between Indian and Chinese forces along the Line of Actual Control," a State Department spokesperson told Newsweek of the latest border skirmish. "We note the Indian military has announced that 20 soldiers have died, and we offer our condolences to their families."
"Both India and China have expressed a desire to de-escalate, and we support a peaceful resolution of the current situation," the spokesperson added. "During their phone call on June 2, 2020, President Trump and Prime Minister Modi discussed the situation on the India-China border."
Trump and Putin attempted to resolve their countries' differences as well, but worsening ties with the U.S. and its Western allies have pushed the Kremlin to seek closer ties in Asia, where Russia and China have held exercises involving India and Pakistan.
Foreign Minister Sergey Lavrov told a press briefing following Wednesday's Russia-ASEAN (Association of Southeast Asian Nations) officials from Russia, India and China would talk on June 23. Bilateral issues such as the standoff were not set to be on the agenda.
He said Russian officials "welcome" the ongoing engagement between India and China.
Reached for comment, both China's embassy in Washington and the Indian Foreign Ministry referred Newsweek to official comments Wednesday about Chinese Foreign Minister Wang Yi and Indian Foreign Minister Subrahmanyam Jaishankar's call Wednesday.
Wang said Indian troops "openly broke the consensus reached at the military-level meeting" held last week by the two sides and of violently attacking Chinese forces stationed at the Line of Actual Control that separates the two nations of over one billion people each. "We strongly urge India not to miscalculate the situation and must not underestimate the Chinese side's firm will and resolve to defend our sovereignty and territorial integrity," Wang said, according to a readout.
Jaishankar, however, said that "the Chinese side took pre-meditated and planned action that was directly responsible for the resulting violence and casualties," according to a readout shared by his ministry. "It reflected an intent to change the facts on [the] ground in violation of all our agreements to not change the status quo."
Indian Prime Minister Narendra Modi said Wednesday that the deaths of Indian soldiers "will not be in vain" and that "India wants peace but it is capable to give a befitting reply if instigated."