Longtime foes India and Pakistan have jointly participated in anti-terror drills for the first time with support from Russia and China, which have also joined several other Asian powers in biennial exercises.
The Russian Defense Ministry said that the eight-nation Shanghai Cooperation Organization's (SCO) Peace Mission 2018 saw its active phase executed Wednesday, with up to 3,000 troops from China, India, Kazakhstan, Kyrgyzstan, Pakistan, Russia and Tajikistan—along with observers from Uzbekistan—and 500 pieces of equipment involved. The drills reportedly included the targeting of mock militant movements, described by NPR as an Islamist caliphate, such as that imagined by the Islamic State militant group (ISIS), in the Chelyabinsk region of Russia's Ural Mountains.
"A joint task force is to liberate a town from mock terrorists. According to the plan, drones and Su-24MR [attack aircraft] crews locate main positions of simulated terrorists, followed by aviation, artillery and assault groups of participating countries delivering a strike on aggressor forces," the ministry said.
"The operation involves over 50 aircraft—these are the helicopters and airplanes of Kazakhstan, China and Russia. Besides, there will be an air-landed assault. After the defeat, troops will pursue and eradicate retreating armed gangs," the ministry added.
The Shanghai Cooperation Organization was formed in June 2001 when Uzbekistan joined what was formerly known as the Shanghai Five. The group's stated goals are "strengthening mutual trust and neighbourliness among the member states; promoting their effective cooperation in politics, trade, the economy, research, technology and culture, as well as in education, energy, transport, tourism, environmental protection, and other areas," to name a few initiatives.
In 2017, India and Pakistan became members, and this year marked their debut at the Peace Mission, as well as the first time the two have trained together in counterterrorism maneuvers. The South Asian neighbors were split by the U.K. in August 1947, days before the British departed and left the two to fight a deadly war over their disputed borders. Since then, India and Pakistan have fought three more wars and numerous skirmishes, mostly over the contested region of Kashmir.
India has also clashed with China over land. The pair fought a brief but bloody conflict in 1962 and nearly fought again last summer when India accused China of building a road through a region known as Doklam or Donglang, which borders China's Tibet, India's Sikkim and Bhutan's Haa Valley. Both China and Indian ally Bhutan claim the area as their own, and New Delhi sent troops to the border, initiating a tense standoff that was ultimately resolved diplomatically but has remained a source of ongoing tension.
China has also grown close to Pakistan over the years, viewing the country as a solid defense partner and a lucrative link in its "One Belt, One Road" initiative that seeks to boost economic investment and trade across Asia, extending into Africa, Europe and the Americas. China has aimed to play a leading role in resolving the ongoing feud between India and Pakistan, offering to host a trilateral meeting.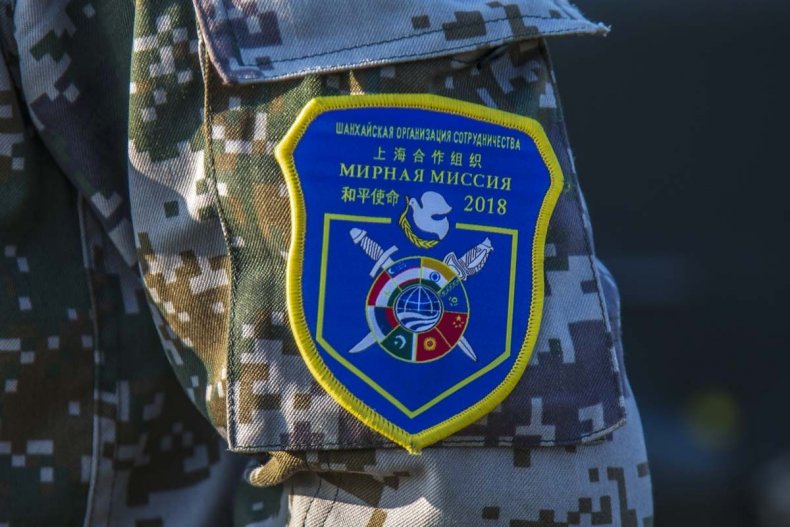 Addressing reporters at a regular press conference Monday, Chinese Foreign Ministry spokesperson Hua Chunying said, "We welcome the joint participation of Pakistan and India in the anti-terror exercise under the SCO framework."
She added, "Both Pakistan and India are important countries in South Asia. A stable Pakistan-India relationship is of great significance to the peace and stability of the region and the peace and development of the world. We sincerely hope that the two countries can strengthen dialogue and cooperation bilaterally and within such multilateral mechanisms as the SCO improve their relations and jointly uphold regional peace and stability."
In addition to holding their first joint security drills together, the armed forces of India and Pakistan faced off in a volleyball match for the first time ever during Peace Mission 2018. The Indian army, cheered on by Russia, beat its Pakistani counterpart, supported by China, 3-0, according to India's News 18, which noted that the two countries have participated together only in U.N. peacekeeping missions.