China is turning up the pressure on U.S.-aligned countries in Asia in an attempt to capitalize on Washington's triple domestic crises and Beijing's own perceived position of strength, pressing forward with a series of assertive moves across disputed territory that could reshape the region.
The U.S. crises—the coronavirus pandemic, the recession sparked by the illness and the protests triggered by the police killing of George Floyd—have created unique conditions for China to take advantage of its worldwide geopolitical expansion, already accelerated by Chinese President Xi Jinping's Belt and Road Initiative.
For the United States, it comes at an inopportune time, as Ali Wyne, a nonresident senior fellow at the Atlantic Council and a nonresident fellow at the Modern War Institute, told Newsweek. The country's series of overlapping woes at home "blurs its strategic vision and undercuts its diplomatic bandwidth at an unusually fraught moment in Asian-Pacific geopolitics."
"For the first time in its modern history, China is in a position to dictate the terms of its relationship with the rest of the world," Allen Carlson, associate professor in Cornell University's Government Department, told Newsweek.
U.S. strength in Asia is fueled by robust relations with regional states as well as an unchallenged military presence spanning hundreds of bases and tens of thousands of troops. China has made vast inroads across Asia, however, establishing an increasingly competitive economic, military and cultural foundation.
While the United States may not yet have lost its top spot in the international order, Carlson told Newsweek that other countries are trying out for the lead role on the world stage and "the most significant of such auditions is the one that Xi Jinping's China is making in regards to becoming a global power."
"Those that accept China's emerging star turn are rewarded with economic largess and friendly relations. Those that do not endorse Xi's agenda for China are facing repercussions for such reticence," Carlson said. "The string of more assertive measures is part and parcel of this later trend. The question is how far will Xi be willing to take such an approach."
This escalatory strategy can be seen in high-profile flashpoints. China has engaged in deadly clashes with Indian soldiers on the Himalayan border, taken more active measures to establish control over semi-autonomous Hong Kong and self-ruling Taiwan and ramped up confrontations with other countries, including the United States, in the South China Sea.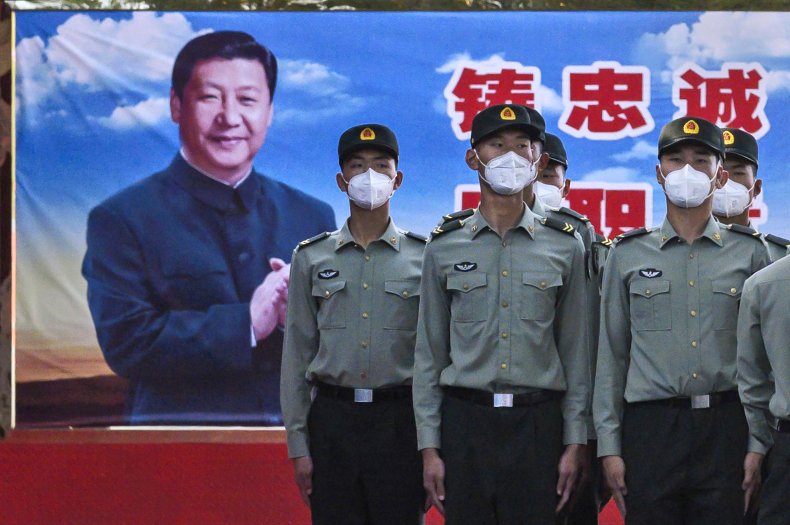 Adam Ni, director of the China Policy Centre and editor of China Story, told Newsweek that these moves "share something in common, that is, China's increasing assertiveness due to its rising power."
"China is more confident about its relative power, and thus more assertive in using its new-found power," he added. "The other thing is that the international community is more anxious about China's ambitions than one or two decades ago."
In the South China Sea, the U.S. has conducted "freedom of navigation" operations in a bid to check China's sprawling claims, but the People's Liberation Army continues to militarize internationally-disputed islands and reefs with impunity.
Chinese ships have attempted to interfere with operations in an increasingly contentious battle over waters holding what's estimated to be trillions of dollars worth of oil and gas reserves. China rammed a Vietnamese fishing vessel last week in the South China Sea, fueling a backlash against Beijing and Indonesia and the Philippines have also lodged protests against China's maritime claims there. A standoff between Chinese and Malaysian ships last month prompted the U.S. to send in its own forces.
Xi has also flexed China's military might near Taiwan, which he vows to reunify with the mainland by diplomacy or force. As some U.S. lawmakers continue to press for greater protections for the island, Chinese warplanes have buzzed Taiwan airspace at least five times in the past two weeks.
Washington has grown accustomed to acting near-freely in almost every corner of the Earth in the post-Cold War era, but Beijing has argued a far-spanning stretch of the South China Sea falls under its own exclusive rule, as does Hong Kong, which is now subject to a new national security law rejected by the U.S., United Kingdom, Canada and nearby Australia, which faces growing threats of a trade boycott over its resistance to growing Chinese influence. China has for years claimed sovereignty over Taiwan and Hong Kong, but a rising tide in nationalism has spurred calls for even more ambitious territorial designs.

Articles have appeared on China's vast webscape calling for various neighboring nations and areas such as Vietnam, Kazakhstan, Kyrgyzstan, parts of Nepal and India to "return to China." Claims in Kazakhstan so enraged the Central Asian country that it summoned Beijing's ambassador, prompting Chinese authorities to delete more than 150 social media accounts fueling such irredentist ideals among the country's populace.
This nationalistic fervor, further stoked by what was seen at home as a relatively quick and effective response to the coronavirus outbreak, has in many ways served Xi and the ruling Chinese Communist Party well, but it also presented a threat if left unchecked.
"For Xi, nationalism cuts both ways," Ni explained. "Too much popular nationalism may put pressure on foreign policy options; but it also uses nationalism to mobilize public support. It's a fine balancing act for Xi and the CCP."
Wyne told Newsweek heavy-handed tactics have incurred "significant reputational damage" for Beijing as it explores more aggressive messaging toward its neighbors, and Carlson warned that "there is the potential for conflict to spiral out of control, and dragging China into outright conflict (rather than limited engagements) with its neighbors."
China's gray zone strategy, employed in repeated incursions in areas like the Japan-controlled Senkaku Islands—known to China as Diaoyu, is designed to prod and creep at geopolitically sensitive areas, not to spark a major confrontation. The recent, fatal clashes between forces at the contested crossing point of China-administered Aksai Chin and India-administered Ladakh, have elicited global concerns that the world's two largest populations, already incited by nationalistic tendencies toward their respective rising nations, may be on a collision course.
The China-India clashes come as Indian Prime Minister Narendra Modi establishes close ties with President Donald Trump. In a statement sent to Newsweek, the State Department said it offered its condolences to Indian troops killed in the latest border skirmish and said that U.S. officials "support a peaceful resolution of the current situation."
Washington has also watched with dismay as burgeoning inter-Korean ties collapsed over the past week along with the Trump administration's own strategy there. After successfully courting the U.S. into direct diplomacy in 2018, the previously elusive North Korean supreme leader Kim Jong Un appeared to turn a new diplomatic leaf, embracing closer ties with both longtime rival the U.S. and longtime partner China.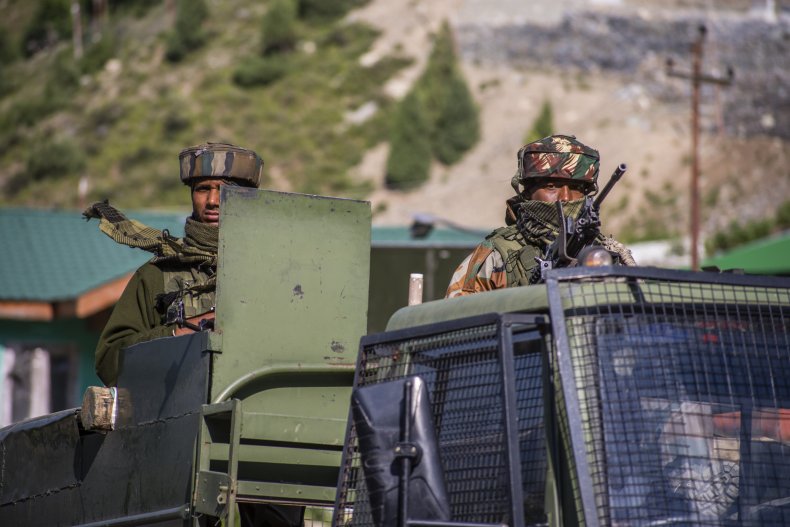 As the Trump administration's ties with both Beijing and Pyongyang deteriorated, however, a landmark denuclearization-for-peace process on the Korean Peninsula stalled. North Korea has severed all communications with U.S. ally South Korea, blown up their joint liaison office and declared a failing atmosphere in talks with the U.S. itself, all after Kim recently praised Xi's coronavirus response.
At a media briefing that followed a rare seven-hour meeting between Secretary of State Mike Pompeo and Chinese Communist Party Foreign Affairs Commission Director Yang Jiechi, Assistant Secretary for East Asian and Pacific Affairs David Stilwell told reporters Thursday that North Korea was an "obvious" area of cooperation between Washington and Beijing, though such opportunities "seem to be fewer and fewer."
Acting Assistant Secretary Of Defense For Indo-Pacific Security Affairs David Helvey told reporters Friday that the Pentagon "remains focused on adapting to the challenges of long-term competition and the return of strategic rivalry, including with China and that "North Korea continues to present an extraordinary threat to the region."
Reached for comment, Beijing's embassy in Washington referred Newsweek to Chinese Foreign Minister Wang Yi's May 24 remarks at the third session of the 13th National People's Congress. "There may be all kinds of interpretations and commentary about Chinese diplomacy," Wang said at the time, describing Beijing's approach as ultimately one of "peace, harmony, sincerity and integrity."
"For the fundamental and long-term interests of the Chinese and American people and the well-being and future of humanity, China and the U.S. should and must find a way of peaceful co-existence and mutually beneficial cooperation, demonstrating that this is possible between two countries with different systems and cultures," Wang also said in remarks sent to Newsweek.