China Warns Against Any Taiwan Ties After Ukraine Lawmakers Thank Island
A Chinese official in the United States has shared with Newsweek a warning from Beijing against other countries fostering contacts with rival Taiwan, after Ukraine's parliament expressed gratitude for the self-ruling island's support in the ongoing war with Russia.
The message from Kyiv came in the form of a post on the Verkhovna Rada's official Telegram account, where the legislative body shared an image Monday of a "die-in" demonstration recently held in the capital Taipei, stating that, "from the first days of Russia's full-scale invasion, Ukraine has been supported by distant Taiwan."
"The struggle for the future of Ukraine continues, and we are grateful for the support from around the world!" the message continued. "The world is with us, because the truth is behind us!"
The note marked a rare acknowledgment of Taiwan at a time when Ukrainian President Volodymyr Zelensky still appeared to be appealing to China to take a more active role in reining in its close strategic partner Russia as a war launched nearly two months ago raged on. Beijing has expressed neutrality over the conflict, calling for a diplomatic resolution to the fighting while simultaneously refusing to join sanctions against Moscow.
But at the same time China has expressed a clear stance against nations corresponding with Taiwan, which Beijing claims as part of Chinese territory since a Communist victory sent nationalists into exile there during a civil war more than seven decades ago.
Liu Pengyu, spokesperson for the Chinese embassy in Washington, reiterated his nation's stance to Newsweek.
"On Taiwan's support to Ukraine, the One-China policy is the political foundation for China to develop friendly relations with other countries," Liu said. "China firmly opposes countries having diplomatic relations with China to conduct any form of official exchanges with Taiwan. "
Newsweek reached out to the Ukrainian embassy in Washington for comment.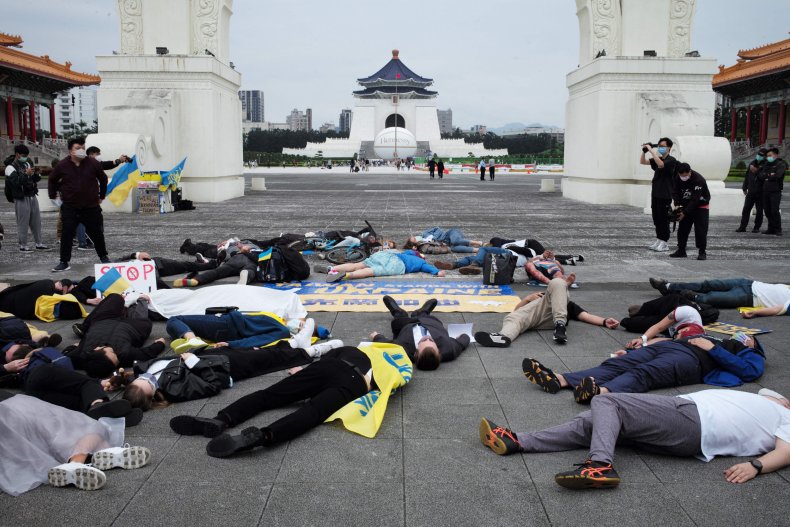 Taiwan, for its part, welcomed the gesture. Reached for comment, the Taipei Economic and Cultural Office in New York referred Newsweek to comments issued Tuesday by Foreign Ministry spokesperson Joanne Ou, who affirmed Taipei's solidarity with Kyiv.
"In the spirit of solidarity and mutual assistance among democratic countries, Taiwan reiterates its firm support for safeguarding Ukraine's sovereignty and territorial integrity," Ou said during a press conference Tuesday. "We oppose the use of force to unilaterally change the status quo and the inhumanity and invasion of the Ukrainian people by violence."
She stated that "Taiwan will work with like-minded countries to continue to provide aid and relief materials to the Ukrainian people who are in Ukraine and evacuated to neighboring European countries."
"Our country sincerely hopes that the war will end as soon as possible, Ukraine will return to its former tranquility and the people will be able to return to normal life as soon as possible," she added.
Taiwan President Tsai Ing-wen also expressed "solidarity" with Ukraine on Tuesday, saying on Twitter that, "through donations, demonstrations & our words, we want to show the Ukrainian people that you are not alone in your fight for freedom."
China does not maintain diplomatic relations with countries that recognize Taiwan, which today has formal ties with only 13 nations and Vatican City. As part of the Soviet Union throughout much of the 20th century, Ukraine fell squarely in the pro-Beijing camp amid an international divide between the two rival entities claiming rightful control over China, and despite a Taiwanese official visit to Kyiv upon Ukraine's independence three decades ago, no relations or representative offices have ever been established.
Rather, Kyiv deepened its relationship with Beijing, especially as Ukraine forged a strategic partnership with China in 2011 and later joined Chinese President Xi Jinping's Belt and Road Initiative in 2017. China soon overtook Russia as Ukraine's largest trading partner, and Ukraine surpassed the United States as the largest supplier of corn to China.
The situation has grown geopolitically complicated, however, as Beijing has invested heavily in closer ties with Moscow, forming an unprecedented "comprehensive strategic partnership of coordination for the new era" that was touted by both Xi and Russian President Vladimir Putin roughly three weeks before the latter commenced his nation's war against Ukraine on February 24.
Since then, China has issued a six-point humanitarian plan for providing essential goods for Ukraine as the conflict ravaged the country. And while Chinese officials have expressed their opposition to the war, they have been careful not to condemn Russia and have continued to state their desire to boost relations between the two major powers.
Chinese officials have also shared Russia's concerns regarding NATO expansionism and U.S. military activities in Europe leading up to the conflict, and have drawn parallels with Washington's actions in the Asia-Pacific region. While the U.S. does not have formal ties with Taiwan either, it has long maintained informal relations that have increased significantly in recent years, angering China at a time of souring relations between the top rivals.
An increasing number of influential U.S. figures have defied Chinese protests in visiting Taiwan, including a recent delegation of lawmakers who expressed Washington's support for the island. The move was met with a severe reaction from Beijing, and Liu emphasized China's opposition to such visits.
"The visit of the mentioned members of the U.S. Congress to Taiwan gravely violates the one-China principle and the stipulations of the three Sino-U.S. Joint Communiques," Liu told Newsweek.
Lui's reference is to three statements declared by the two nations between 1972 and 1982, marking the foundation for relations established between Beijing and Washington in 1979. China has since accused the U.S. of running afoul of these statements as military and political relations between Taipei and Washington expand.
"China firmly opposes this and has lodged sternrepresentation with the U.S. side," Liu said. "We urge the US side to honor its commitment of adhering to the one-China policy, earnestly abide by the one-China principle and the three Sino-US Joint Communiques, immediately stop all forms of official interactions with Taiwan and avoid sending wrong signals to the 'Taiwan independence' separatist forces, lest it should further undermine China-U.S. relations and peace and stability across the Taiwan Strait."
As the U.S. legislators visited the island, People's Liberation Army Eastern Theater Command spokesperson Colonel Shi Yi announced that Chinese forces conducted a "multi-service joint combat readiness patrol in the East China Sea and in the sea and airspace around Taiwan Island."
"This action was organized in response to the recent frequent release of wrong signals by the United States on the Taiwan issue," Shi said at the time. "The evil deeds and tricks of the United States are completely futile and very dangerous, and those who play with fire will set themselves on fire."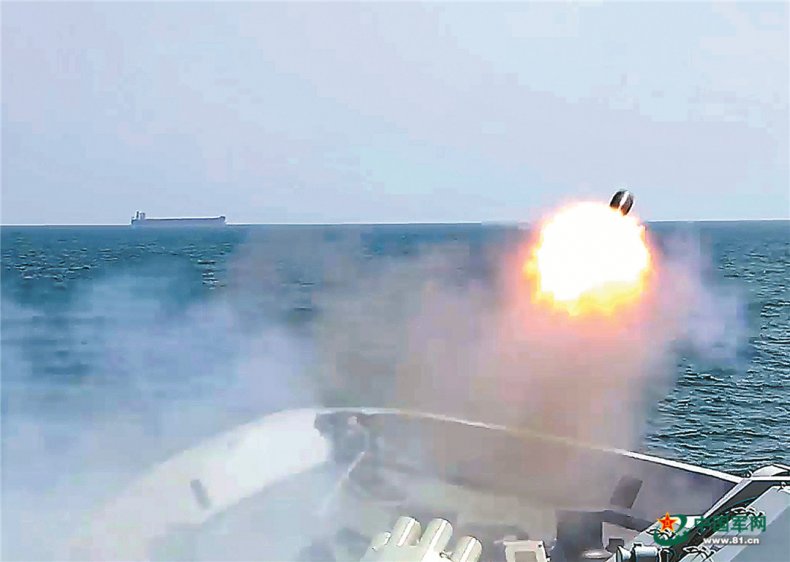 The dispute over Taiwan has been a central issue for U.S.-China relations, and was featured prominently in the readouts issued by the Chinese Foreign Ministry following talks last month between White House national security adviser Jake Sullivan and Chinese Central Foreign Affairs Commission Director Yang Jiechi, and between Xi and U.S. President Joe Biden.
Chinese Defense Minister General Wei Fenghe also brought the issue up to U.S. counterpart Lloyd Austin during the latest high-level contact between the two nations on Wednesday.
"General Wei Fenghe said that China and the US should earnestly implement the consensus reached by the two heads of state, respect each other, coexist peacefully and avoid confrontation," the Chinese Defense Ministry said, "and the US side should fulfill its commitment that it has no intention to seek a new Cold War or change China's system, that the revitalization of US alliances is not anti-China, that the US does not support 'Taiwan independence', and that it is not looking for conflict or confrontation with China."
Wei was said to have called for better ties between the two nations and to have "also expressed solemn stance on the Taiwan question, stressing that Taiwan is an inalienable part of China, which is a fact and status quo that no one can change."
"If the Taiwan question is not handled properly, it will have a subversive effect on the China-US relations," Wei was cited as saying. "The Chinese military will resolutely safeguard national sovereignty, security and territorial integrity."
Austin largely concurred, according to the Chinese Defense Ministry, which cited the Pentagon chief as saying that "the US adheres to the one-China principle," and "the two sides should manage competition and risks in a responsible way and properly handle the difficult problems in the military-to-military relationship."
Maritime disputes and the war in Ukraine were also mentioned, as the Chinese Defense Ministry said "China urged the US to stop military provocations at sea and refrain from using the Ukraine issue to smear and sow evidence against China, or threaten and put pressure on China."
This article has been updated to include comments from Taiwan Foreign Ministry spokesperson Joanne Ou and President Tsai Ing-wen.