As athletes from across the international community gather to compete at the Winter Olympic Games in Beijing, Newsweek has analyzed China's extensive network of partnerships with countries from around the world and the system with which the People's Republic ranks them.
The list was compiled by parsing through online materials issued by the Chinese Foreign Ministry, as well as some state-run media reports. The Chinese government does not maintain an official public record of these partnerships, a fact confirmed to Newsweek by Beijing's embassy in Washington, so each bilateral relationship was examined on an individual basis.
Some sources offered conflicting assessments, and therefore the list cannot claim to be authoritative or exhaustive to the extent either term applies to the nature of this system.
Newsweek also consulted experts who have studied this system and gained their insight into the hierarchy and significance of China's various partnerships.
The result is an overview of how the nation with the largest diplomatic network on Earth regards its dynamics with the rest of the world.
At the very top of the list is another of the world's most powerful countries, Russia. The phrasing used by China to refer to its relationship with Russia has evolved over time, along with the character and content of the increasingly tight ties between the two nations. Their dynamic has officially been branded a "comprehensive strategic partnership of coordination for a new era."
This unprecedented association was on full display earlier this month as Russian President Vladimir Putin traveled to Beijing to meet his Chinese counterpart Xi Jinping for their 38th meeting since the latter took power in 2013, and their first in-person encounter since the onset of the pandemic.
Xi would go on to meet a number of heads of state, but none garnered more international attention than his sitdown with Putin, which also marked Xi's first nonvirtual talks with any world leader in more than two years.
And though Beijing and Moscow have accelerated their cooperation in various fields, including political, economic and military affairs, both sides have rejected the notion of forming a traditional alliance.
Min Ye, an associate professor at Boston University's Pardee School of Global Studies, who is among the few to have studied China's global partnerships in this network in-depth, told Newsweek that China "does not pursue alliance-like alignment, and it must categorize different political relations with Chinese wording."
And in this broad naming scheme, she said the "China-Russia relationship is unique: it has a separate category on its own."
"It always has the coordination (协作) in their relationship; 1996, (战略协作伙伴关系) strategic partnership of coordination; 2011, (全面战略协作) comprehensive strategic partnership of coordination; 2019, (新时代全面战略协作) comprehensive strategic partnership of coordination for a new era," Ye explained.
"What it indicates is that at the present time, the two coordinate and support each other's core interests and foreign agendas in security, military, political, and economic arenas," Ye added. "It does not have war obligations like in NATO or U.S-led alliances, and it can change in the future."
In fact, China has only one treaty ally, North Korea, which appears to exist outside of the partnership framework, given the unique historic relationship between the two nations. And while these ties have ebbed and flowed over time, Xi and North Korean Supreme Leader Kim Jong Un decided to renew the 60-year-old Mutual Aid and Cooperation Friendship Treaty last July in a sign of continued solidarity between the two communist countries.
Just below Russia in China's hierarchical partnership network is another neighboring country with a far different national ideology: the Islamic Republic of Pakistan. Their relationship is officially called an "all-weather strategic cooperative partnership," and this high-level category is reflected in their myriad interactions, not the least of which is the establishment of the China-Pakistan Economic Corridor, a key hub of Xi's Belt and Road Initiative of infrastructure projects around the world.
The Chinese embassy in Washington shared with Newsweek an official public record of 200 Belt and Road Initiative agreements signed by 148 countries and 32 international organizations.
While China's treaty with North Korea signifies Beijing's closest relationship on paper, Mercator Institute for China Studies lead analyst Helena Legarda, who has also explored and ranked a substantial portion of Beijing's foreign partnership network, told Newsweek that "the reality is completely different."
"China-Pakistan relations or China-Russia relations or cooperation in the international arena today is almost certainly closer than China and North Korea with issues of cooperation," she explained.
"Economically speaking it's a little bit different, because North Korea is almost entirely dependent on China," she added. "But if you look at sort of the geopolitical sphere, the treaty between China and North Korea doesn't necessarily put North Korea above Russia or Pakistan when it comes to actual outcomes and actual cooperation."
China also maintains at least two other tiers of top-level "cooperative" partnerships. The first is the "comprehensive strategic cooperative partnership" that China has forged with the nations of Belarus, Cambodia, Congo, Ethiopia, Guinea, Kenya, Laos, Mozambique, Myanmar, Namibia, Senegal, Sierra Leone, Thailand, Vietnam and Zimbabwe.
The second is the "strategic cooperative partnership" established with Afghanistan, Bangladesh, Brunei, India, Nepal, South Korea, Sri Lanka and Suriname, as well as the African Union.
Legarda said the highest levels involving Russia, Pakistan and those included in the two other levels of strategic cooperative partnerships "seem to entail quite a strong degree of actual cooperation and outcome."
And she pointed out that these levels come with high expectations.
"China expects to see things happening," Legarda said.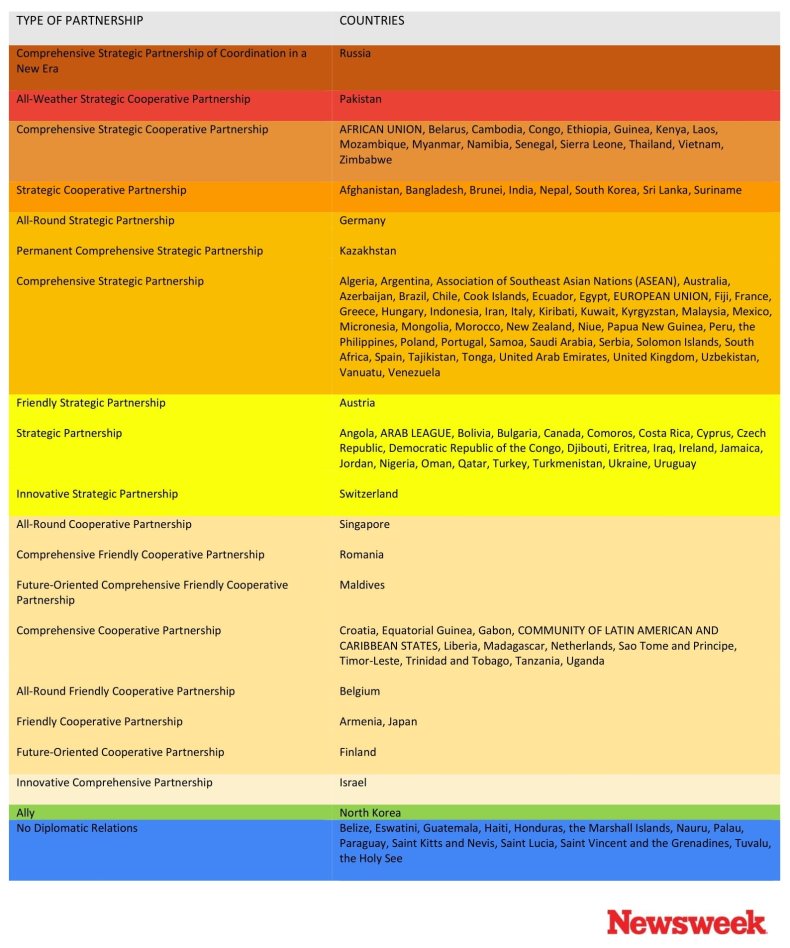 While many of the partnerships are officially announced and are often used consistently in official Chinese reports to refer to bilateral relationships, some appear to have fallen out of favor, especially in cases where the relationship has soured.
In the case of India, with which relations have grown strained in recent years, especially after a deadly border clash in summer of 2020, the term "strategic cooperative partnership" has not been used since just months before the standoff erupted in April of that year, despite relative frequent mentions of China-India relations by Chinese officials and media.
The same term was used in reference to Afghanistan at least as recently as last August, just about a week before the government fell to the Taliban. While Beijing has made significant diplomatic inroads with the newly formed Islamic Emirate, there is no clear indication as to whether or not such an agreement has been maintained, given the lack of international recognition for the new interim administration in Kabul.
Also less frequently mentioned in readouts are partnerships with certain Western-aligned countries that have grown critical of China, accusing it of human rights violations at home and geopolitical aggression near its claimed borders.
But when it comes to the next category of Chinese partnerships, one Western country stands in a class of its own. China and Germany enjoy a unique "all-round strategic partnership," the highest of any involving a member of the NATO military alliance. Also unique in this category is China's "permanent comprehensive strategic relationship" with neighboring Kazakhstan.
In the most prolific category of partnerships, there is at least one more standalone, the China-United Kingdom "global comprehensive strategic partnership for the 21st century," though this partnership, as the one with India, has not been mentioned in official language for some time.
The many others who have agreed to a "comprehensive strategic partnership" include the countries of Algeria, Argentina, Australia, Azerbaijan, Brazil, Chile, Cook Islands, Ecuador, Egypt, Fiji, France, Greece, Hungary, Indonesia, Iran, Italy, Kiribati, Kuwait, Kyrgyzstan, Malaysia, Mexico, Micronesia, Mongolia, Morocco, New Zealand, Niue, Papua New Guinea, Peru, the Philippines, Poland, Portugal, Samoa, the Solomon Islands, Saudi Arabia, Serbia, South Africa, Spain, Tajikistan, Tonga, the United Arab Emirates, Uzbekistan, Vanuatu and Venezuela.
Beijing also has established such a relationship with two regional organizations, the Association of Southeast Asian States and the European Union.
"The comprehensive strategic partnership is perhaps the most common indicator of robust relationships," Ye said. "China has this relationship with many countries in Asia, Europe, Africa and the Americas. East Asian and Western European countries made up for the early such partnerships, and newer ones came from Africa, Central Asia, and Latin America."
But as some of those early partnerships fade from official reports, Ye said that "countries that experience deterioration in the relationships with China are clear."
"The U.K. reached its high point in 2015, making a joint statement to establish a comprehensive strategic partnership, but then dropped," she explained. "Italy and Spain established a comprehensive strategic partnership in 2004 and 2005, but [there has been] no more deepening and development since. China's relationships with Japan and India were based on a set of cooperative joint statements, and there is no breakthrough in establishing stable political relations."
As for South Korea, Ye said it "reached its high point in a comprehensive strategic partnership in 2008, and there is a reduction in joint efforts to maintain the relationship."
Legarda notes that each partnership is rooted in "an agreement that is signed by both governments. It's not something that China imposes on another country."
So even when terms fall into a period of disuse, Legarda said it could very well be that the two countries "haven't officially downgraded it, but I do think it's a sign when they stop using it."
Margaret Myers, who has studied China's partnership engagement in the Western Hemisphere as director of the Inter-American Dialogue think tank's Asia and Latin America Program, told Newsweek that the categories represent "the extent to which a country prioritizes its relationship with China in addition to the breadth and depth of interactions."
And she said the evolution of language used to describe various partnerships "speaks for itself" in terms of growing or waning warmth.
Myers noted, however, that this does not necessarily mean a decline in real-world benefits for both sides in maintaining the partnership. She gave the example of Brazil, which under President Jair Bolsonaro has had "a very strained political relationship" with China, "and yet, the breadth and depth of activity remain more or less on track."
"Perhaps, the better way to characterize it is just kind of the extent of overall engagement and just how much is going on," Myers said, "and this sort of degree of dependence, perhaps on each other."
At the same time, China is building new ties every day, and phrases such as "comprehensive," "new era" and "all-round" and others are popping up with various nations.
A number of other partnerships are not considered "comprehensive," yet are still "strategic" for both parties. This includes at least three additional unique categories including a "friendly strategic partnership" with Austria, a "strategic partnership for mutually beneficial cooperation" with Ireland and an "innovative strategic partnership" with Switzerland. How these three compare with others in this category is difficult to qualify.
Others with a "strategic partnership" with China include Angola, Bolivia, Bulgaria, Canada, Comoros, Costa Rica, Cyprus, Czech Republic, the Democratic Republic of the Congo, Djibouti, Eritrea, Iraq, Jamaica, Jordan, Nigeria, Oman, Qatar, Turkey, Turkmenistan, Ukraine and Uruguay. The Arab League too has established a "strategic partnership" with Beijing that Chinese officials sometimes also described as "comprehensive" and featuring "cooperation."
"As far as I can tell, the strategic partnership just seems a lot more symbolic," Legarda said. "I think of there are probably expectations that there will be specific outcomes or of cooperation programs or projects, but what it seems to indicate mostly is that China considers those countries strategically important and that it wants to invest in higher levels of engagement."
"So, relations may not be fantastic," she added, "but China thinks they're important, so higher engagement. Will that lead to outcomes and projects and cooperation? Maybe, maybe not."
When partnerships are not "strategic" they may still be "cooperative." This is the case of the highest-level "all-round cooperative partnership" with Singapore as well as the "comprehensive friendly cooperative partnership" with Romania, and the "future-oriented comprehensive friendly cooperative partnership" with the Maldives.
And another category contains nations that have established a "comprehensive cooperative partnership" with China include Croatia, East Timor, Equatorial Guinea, Gabon, Liberia, Madagascar, Netherlands, Sao Tome and Principe, Trinidad and Tobago, Tanzania and Uganda. This classification also applies to the Community of Latin American and Caribbean States regional group.
Still "cooperative" but not "comprehensive" are China's "all-round friendly cooperative partnership" with Belgium, "friendly cooperative partnership" with Armenia and Japan and "future-oriented cooperative partnership" with Finland.
In the final category is the "innovative comprehensive partnership" with Israel, which, although appearing last, has generated significant cooperation between the two countries in fields such as science and technology, agriculture and health among other industries.
Beyond these countries, China regularly broadcasts warm interactions with nearly every country in the world. Terms such as "traditional friendship," "pragmatic cooperation" and "good partner" are regularly used to describe bonds with the rest of the international community. Some, such as fellow communist nation Cuba, receive particularly flamboyant descriptions, though never in the framework of the partnership network.
The only nations absent almost entirely are the few that maintain relations with the self-ruling island of Taiwan, which China claims as its own. These countries are Belize, Eswatini, Guatemala, Haiti, Honduras, the Marshall Islands, Nauru, Palau, Paraguay, Saint Kitts and Nevis, Saint Lucia, Saint Vincent and the Grenadines, Tuvalu, as well as the Holy See (the Vatican), which still maintains a provisional agreement on the appointment of bishops with Beijing.
Countries that recognize Taipei forfeit the opportunity to have any diplomatic ties to Beijing. While dozens of countries such as India, Japan and the United States maintain informal representation for Taiwan, the number of nations hosting an official embassy has dwindled over the years, with Nicaragua most recently embracing mainland China in December.
Legarda said it was "standard" for countries to endorse Beijing's One-China policy in any official joint statements with the People's Republic, not just in partnership agreements.
As pressure threatens to further erode Taiwan's international ties, Myers said she "didn't see any imminent movement at this juncture," but "there's always a possibility" of additional countries making the switch, especially given the Chinese Communist Party's cool relations with Taiwan's ruling Democratic Progressive Party (DPP).
"Certainly, as long as we see the DPP in leadership in Taiwan," Myers said, "there will be concerted efforts on the part of China to make this happen."
Another notable absence from China's global partnership network is the United States.
In the late 1990s, then-President Bill Clinton pursued a "constructive strategic partnership" with then-Chinese President Jiang Zemin, but the concept was lost after President George W. Bush took office, and growing tensions in recent years have led to different framings of this high-stake dynamic.
Among the more recent phrases that have emerged under Xi are a "new type of great power relations," and Legarda said another trend gaining traction among experts in China is describing U.S.-China relations as "having entered a state of strategic stalemate."
What is clear is that emphasis has been placed by officials both in Beijing and Washington on the importance of this bilateral relationship.
During his latest call with President Joe Biden in November, Xi "pointed out that the most important event in international relations over the past 50 years was the reopening and development of China-U.S. relations, which has benefited the two countries and the whole world," according to a Chinese Foreign Ministry readout.
"The most important event in international relations in the coming 50 years will be for China and the U.S. to find the right way to get along," the Ministry cited Xi as saying.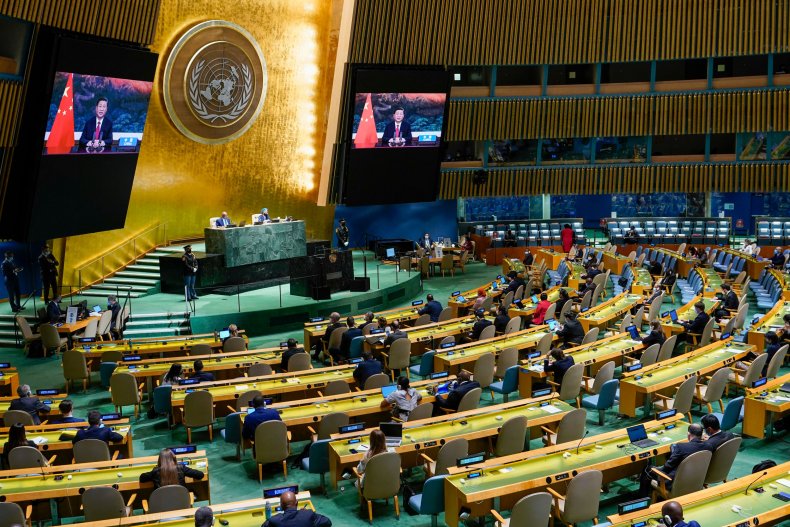 As China seeks to continue expanding and deepening its international partnership network, how exactly it fits into Beijing's overarching foreign policy strategy remains as opaque as the system itself.
Contacted for comment on this point, the Chinese embassy in Washington referred Newsweek to four recent high-profile policy speeches.
The first and most recent address was delivered by Xi last month at the 2022 World Economic Forum Virtual Session, where the Chinese leader hailed his country's participation in recent multilateral partnerships including the Regional Comprehensive Economic Partnership Agreement (RCEP), the Comprehensive and Progressive Agreement for Trans-Pacific Partnership (CPTPP) and the Digital Economy Partnership Agreement (DEPA).
Xi is widely considered to be the country's most influential leader since People's Republic founder Mao Zedong and his eventual successor, Deng Xiaoping, who began the "reform and opening up" process that Xi pledges to continue.
Today, the ideology of "Xi Jinping Thought on Socialism with Chinese Characteristics for a New Era" has been codified in official Chinese diplomatic language.
"The right way forward for humanity is peaceful development and win-win cooperation," Xi said via video link last month. "Different countries and civilizations may prosper together on the basis of respect for each other, and seek common ground and win-win outcomes by setting aside differences."
"We should follow the trend of history, work for a stable international order, advocate common values of humanity, and build a community with a shared future for mankind," he added. "We should choose dialogue over confrontation, inclusiveness over exclusion, and stand against all forms of unilateralism, protectionism, hegemony or power politics."
And Chinese Foreign Minister Wang Yi explicitly credited Xi Jinping Thought for the country's diplomatic successes during a New Year's Day address.
"What we have achieved in China's diplomacy over the past year fully shows that Xi Jinping Thought on Diplomacy closely integrates both our historical mission and the trend of our times, both China's national character and internationalism, and both a Chinese perspective and a global vision," Wang said.
"It radiates the light of truth of Marxism, generates the intellectual strength that drives the times forward, and provides the fundamental guidance that we must follow in the long run in conducting major-country diplomacy with Chinese characteristics in the new era," he added.
Analyzing China's broader foreign policy ethos, Ye characterized China as having "a relatively stable foreign policy posture" guided by the Five Principles of Peaceful Coexistence. They were first outlined in the 1954 Sino-Indian Agreement and later enshrined in bilateral documents with a number of other regional countries including Afghanistan, Cambodia, Myanmar, Pakistan and Nepal, as well as the preamble to the Chinese constitution.
These five principles are "mutual respect for each other's territorial integrity and sovereignty," "mutual non-aggression," "mutual non-interference in each other's internal affairs," "equality and co-operation for mutual benefit" and "peaceful co-existence."
Ye said that China "tries to follow the Five Principles of Coexistence as consistently as possible, and yet in the meantime, it must accommodate different geopolitical needs in different periods."
"Similarly, other countries have evolving relationships and interests in China," she added. "Different diplomatic relations reflect such [a] match between China's geopolitical imperatives and partner countries' interests. There is a certain level of consistency and logic behind the different relations, but there is also considerable ambiguity and flexibility."
The extent of this partnership network is a reflection of how China's rise has played out not only in rapid domestic development but also in carefully crafting a leading role on the world stage as well — and what that role entails for those seeking stronger ties with Beijing.
"These relations help China build political and economic ties with other countries," Ye said. "To other countries, the benefits are also tangible, access to Chinese markets, finance, and tacit political support in global programs."
"Meanwhile, there is an understanding of political obligations on both sides, at least on the global stage," she added. "A strategic partnership means mutual recognition of each other's core interest and agenda, promising no harm in multilateral settings."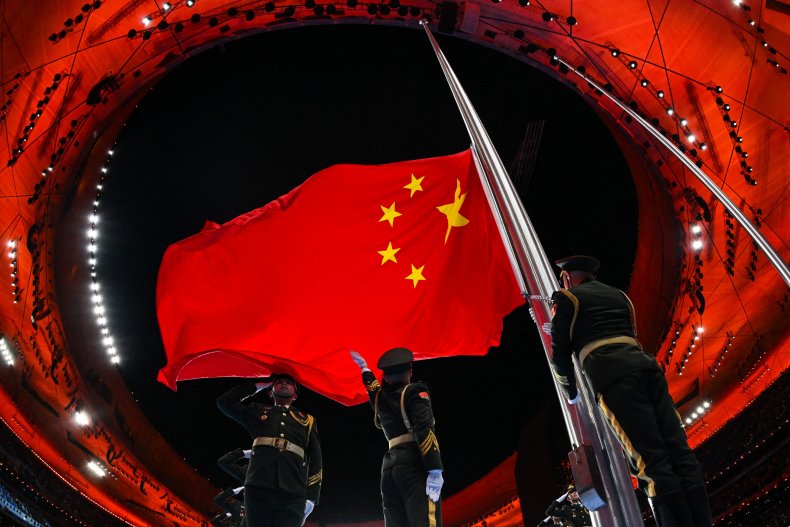 This article has been updated to include further partnerships identified shortly after publication.